BrightFire has expanded its Sales Tool Suite for insurance agency websites with our latest feature — Promo Panels. This new promotional feature is now available for all of our Insurance Agency Website customers.
What Are Promo Panels?
BrightFire's Promo Panels are subtle yet powerful on-screen notifications that appear on the bottom of your agency website. These notification boxes can improve your website's conversion rate by grabbing your website visitors' attention and prompting them to take the desired action of your choosing or help establish trust and credibility with website visitors.
Promo Panels offer a lot of flexibility in how your notifications are displayed. You can customize the content you want to promote on each Promo Panel, including text, multiple images, and a button in the expanded view. You can even customize the message shown when the Promo Panel is collapsed.
Expanded Promo Panel View
Collapsed Promo Panel View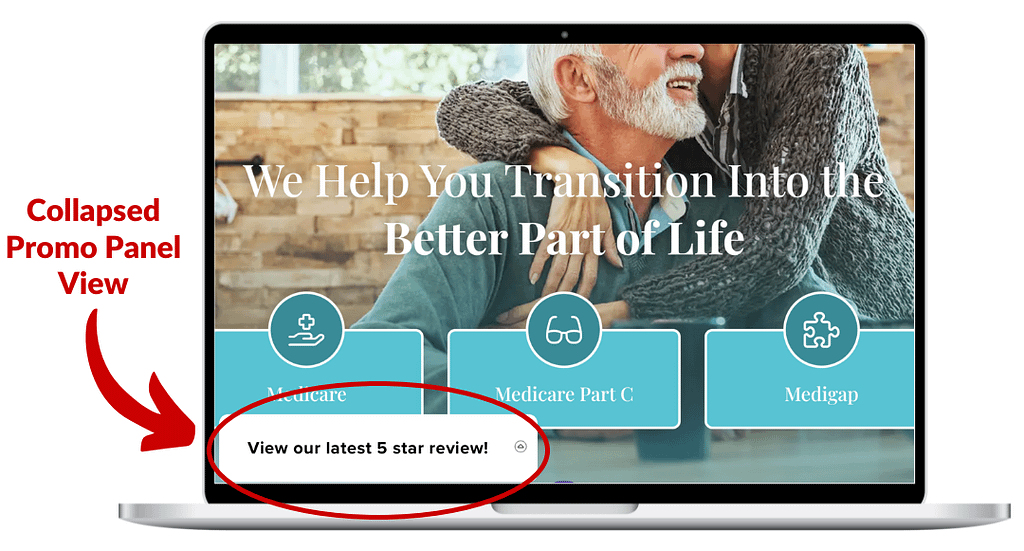 When To Use Promo Panels
There are several ways to leverage Promo Panels on your website to help visitors take the next step toward converting and becoming policyholders while also improving your agency's credibility.
Promote a Specific Product (Life Insurance Awareness Month or Medicare Open Enrollment)
Share Your Latest Customer Review
Feature An Industry Award
Promote Your Agency's Contests or Giveaways
Encourage Visitors to Get a Quote
Showcase the Benefits of Being Independent
And More
Additionally, multiple Promo Panels can be activated on your website simultaneously. Sorting functionality allows you to control the order of your active Promo Panels, and they will rotate like a slideshow as visitors browse your agency website.
Convert More Prospects With Our Insurance Agency Websites
BrightFire's Promo Panels are a great way to promote your services, convert more prospects, and improve your credibility. Take your digital marketing to the next level with a BrightFire Insurance Agency Website with Promo Panels!
To get started or for more information on BrightFire's Promo Panels feature or Insurance Agency Website service, please contact us, start a live chat with us in the bottom right corner, or call (888) 778-4393.