BrightFire is proud to announce the release of the latest feature for our Pay-Per-Click Advertising service. Meet BrightFire's user-friendly Call Tracking dashboard.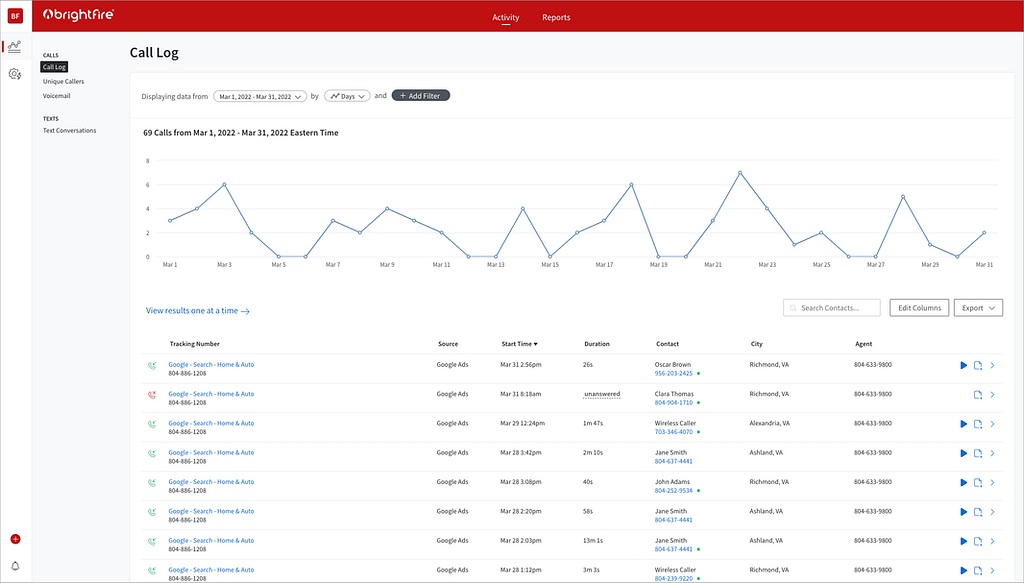 We introduced call tracking in September of 2021, and now you'll be able to log in to a call tracking dashboard for even better insights.
Call tracking takes the guesswork out of analyzing your ad campaigns and helps you better understand how your advertising marketing efforts are impacting your bottom line. When you understand which marketing efforts make your phones ring, you'll stop wasting money on efforts that don't.
With BrightFire's Call Tracking feature and dashboard, you'll be able to easily associate phone calls to specific ad campaigns and know how many total phone call leads your ads are really generating.
What Is Call Tracking and How Does It Work?
Call Tracking uses unique local phone numbers for your ad campaigns, allowing you to attribute your inbound calls to the specific campaign or channel a caller used before calling your agency. The unique number is routed directly to your agency's main phone number or any number you wish, so you don't have to worry about changing your business phone number.
Call Tracking Dashboard Features
Call Recording – Automatically record calls for training and peace of mind.
Call Log
Acquisition Reporting

Lead, Call, & Text Message Attribution
Calls by Number
Calls by Company

Behavior Reporting

Calls by Individual Agents
Calls by Tag
Calls by Day/Time
Missed Calls

Custom Reporting
BrightFire's Call Tracking feature and dashboard are designed to help you better understand your lead generation, know how callers found you, and improve your customer experience.
Gain Better Insights Into the Phone Calls Your Ads Are Generating
For more information on BrightFire's Call Tracking Dashboard for Pay-Per-Click Advertising and how it can help you improve your agency's digital advertising campaigns, please schedule a call with us or call (888) 778-4393.