As an insurance agency owner, you know how important it is to build loyal clientele that speaks highly of your agency's work and consistently refers new business. You understand the benefits of building and maintaining a good reputation that creates trust between you and new prospects.
View this webinar on-demand as BrightFire's Digital Marketing Coordinator Chelsea Peterson discussed why reviews are crucial for your agency's visibility in search engines.
How to Build a Successful Customer Review Strategy
In this webinar, we also discuss how your agency can build a successful cusotmer review strategy. Here are the highlights:
Create Profiles on Customer Review Sites
Reply to All Customer Reivews
Practice Consistent Review Generation
Add a Reviews Page to Your Website
Finally, Chelsea details how BrightFire's Reviews & Reputation Management, Insurance Agency Website, and Ultimate SEO Bundle services can help your agency establish an effective custom review strategy and increase your agency's visibility.
Watch The Webinar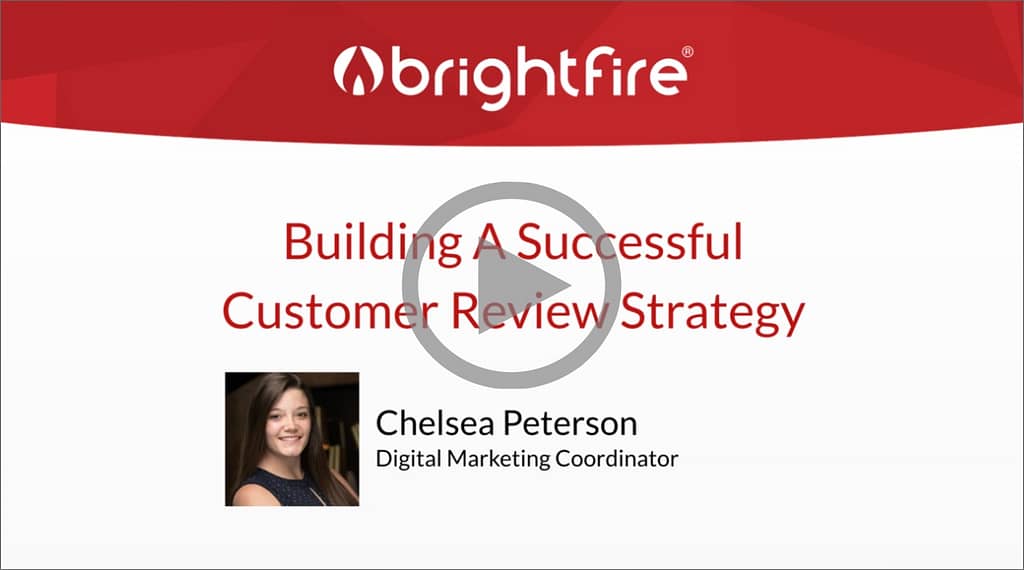 Additional Questions?
If you have any questions about this webinar, our Reviews & Reputation Management service, or any of our digital marketing solutions, please schedule a call with sales or call us at (888) 778-4393.
Webinar Transcript
Hello everyone! My name is Chelsea Peterson, and I'm a Digital Marketing Coordinator here at BrightFire, as well as your host for today's webinar. Thank you all for joining us.
In May, we covered SEO Best Practices for Blogging. If you missed it, or any of our previous webinars in the 20 Minute Marketing Webinar series, you can access the whole series on-demand by visiting brightfire.com/webinars.
Our goal with these webinars is to provide you with digital marketing advice and discuss current digital marketing topics in a brief 20-minute format followed by a Q&A period to answer any questions you may have. If you have questions during the webinar, please use the Q&A feature in Zoom found at the bottom of the screen. We'll do our best to answer all of the questions that come through; otherwise, we will personally reach out to you afterward.
Today's webinar topic is Building A Successful Customer Review Strategy. As an insurance agency owner, you know how important it is to build loyal clientele that speaks highly of your agency's work and consistently refers new business. You understand the benefits of building and maintaining a good reputation that creates trust between you and new prospects.
In this webinar, we'll explain why reviews are crucial for your agency's visibility in search engines. We'll also discuss how building a successful customer review strategy helps establish your agency's credibility, increase trust, and ultimately generate more leads.
Today's webinar is being recorded, so everything we discuss will be saved and emailed to you in the next business day or two so you can watch it later on-demand.
Lastly, we do have a couple of polls for today's webinar. When launched, you'll see the poll pop up on your screen with the question and multiple-choice options. You can select more than one response, and every poll is anonymous. We'll give you roughly 30 seconds to share your response, and then we'll discuss the results with the group.
About BrightFire
Before we discuss how to build an effective customer review strategy, I'd like to share a brief background on BrightFire, since we have a mix of current customers and agents that are new to BrightFire attending today.
BrightFire began by providing insurance agency websites in 2000. Over the years, as the needs of insurance agents grew, we expanded our digital marketing services beyond agency websites to also include:
Search Engine Optimization
Reviews & Reputation Management
Social Media Marketing
Local Listings Management
Pay-Per-Click Advertising
Currently, there are over 2,500 independent agencies across the nation using at least one of BrightFire's digital marketing services.
So with that background on BrightFire, let's get started.
What's Ahead
As you may experience in your own agency, it can be difficult to find the time to work to improve your online reputation. Many times, an agency only focuses on their online reputation when an issue arises, such as receiving a negative online review.
Today, we'll discuss the importance of customer reviews and the keys to building a successful customer review strategy. Then we'll dive into how we can help you manage, improve, and protect your online reputation with BrightFire's Reviews & Reputation Management service and how our Insurance Agency Website and Ultimate SEO Bundle services can help set up your agency for success with SEO.
Why Online Reviews Are Important
So, to begin, let's breakdown why online reviews are important for your independent agency in today's marketplace.
First and foremost, online reviews help build trust and awareness of your brand. In fact, 84% of people trust online reviews as much as a personal recommendation. When people see that others have done business with your agency from reading online reviews, they can feel more confident signing a new policy knowing that it is a legitimate agency, as well as understanding what kind of customer service, response time, and more that they can expect from your team.
Next, online reviews play an increasingly significant role in search engine rankings. This is because your reviews and overall star rating are displayed for your agency in the local pack on Google, and Google prioritizes promoting agencies that have a stronger online presence and reputation. So, the more others are talking about and engaging with your agency online, the more Google trusts that your agency is a helpful resource to the public and the more likely they will be to prioritize your website in online searches.
Finally, online reviews influence the click-through rate from search engine results pages to websites. In other words, showing up well in the search results is half the battle. Just because your agency's website pops up on someone's Google search, that doesn't mean they will click on your website. Consumers also have to decide that your agency has a good reputation and will be worth their time investment to contact. That's where having a substantial number of reviews and high star rating can strengthen consumers' trust in your agency and help increase traffic to your website from Google's local pack.
Create Profiles on Customer Review Sites
So, how should you go about gaining more positive reviews and building a successful customer review strategy? The first component we'll dive into is being present on major customer review sites like Google, Yelp, and Facebook. Start by ensuring you have company profiles set up with accurate information about your agency on each platform.
Being present on popular review platforms also helps improve your agency's visibility. The more important review sites that your agency appears on, the better.
Additionally, by including a description or bio of your agency and some company photos, you can add an extra layer of personalization and humanization to support the reviews from your policyholders.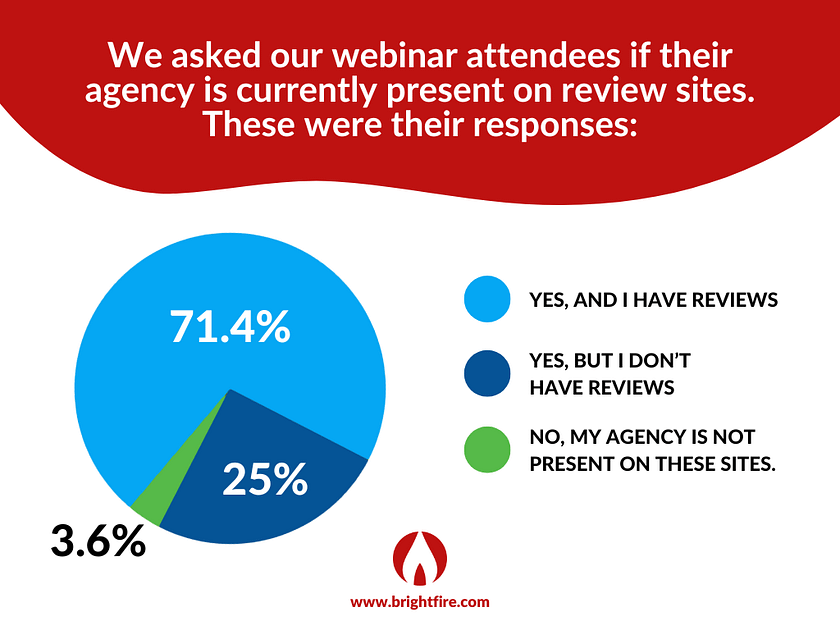 Reply to All Customer Reviews
The next topic we'll discuss is how to respond to your online reviews. A survey from BrightLocal found that 96% of consumers who read reviews also read the businesses' responses to them. So it's imperative you don't ignore replying to your reviews. Take a moment to answer each customer, showing your appreciation for their business and for taking the time to share their experience online.
While it may be tempting, you shouldn't fall into the trap of replying to every review with the same message. It's definitely easier to always reply to positive reviews with a standard message like, "Thanks for your great review, John! We love doing business with you." Or to negative reviews with a message like, "We're sorry to hear you had a poor experience. Please contact us so we can resolve the situation." But if consumers see the same comments over and over again, it will look impersonal and unauthentic.
Instead, offer a personalized response to each review. This doesn't have to be as difficult or time-consuming as it may seem, and it's okay to draft a handful of responses as a starting point for both positive and negative reviews ahead of time. Just be sure to leave room to customize each message with the policyholder's name and perhaps a statement or two acknowledging that you remember them and appreciate their business.
Practice Consistent Online Review Generation
Now let's jump into how you can consistently generate reviews for your agency.
There's no finish line when it comes to how many reviews your agency has online, so you should strive to always have a consistent flow of new reviews. Doing so sends signals to Google that your business has a great reputation and that customers are engaging with you online.
This also shows Google and consumers, who increasingly want to see recent reviews, that your agency provides excellent service consistently. A business may have a great overall rating and a large number of reviews, but if the reviews aren't recent, meaning the latest ones haven't been posted in the last three months, consumers may wonder if the customer experience has been negatively impacted since the last review. Google also values the recency of reviews when ranking businesses online. In fact, according to Search Engine Journal, 85% of consumers think local reviews older than three months aren't relevant.
So, you'll want to ensure that you're generating reviews on a regular basis. By continually receiving positive reviews, you're protecting yourself against the potential overall impact of a negative review. For example, if your agency only has a few reviews online and then receives a negative one, your overall rating will be greatly impacted, and a prospect who comes across your reviews will be less likely to reach out. However, if you have considerably more positive reviews, a consumer is likely going to view the negative review as far less important.
So how can you generate more reviews?
The first key is to actually ask for them! According to BrightLocal, 76% of consumers will leave a review if asked to. You can train your staff to ask for a review at key touch points they encounter on a daily basis, such as after a policy bind, savings after a re-quote, a positive claim experience, or any positive interaction.
You can also share new reviews as posts on social media and ask your followers to share their own experience with your agency. You can have signage in your office, give handouts to clients when they're in your office, or send out mailers requesting reviews from your policyholders.
Another way to generate new reviews is to feature your reviews on your agency website and include a call-to-action to write a review with links to your review networks. Two other popular methods of review generation are to add a link to write a review to your email signature and to launch bi-annual Net Promoter Score or NPS surveys via email.
No matter how you choose to do it, you'll want to leverage any opportunity you encounter to ask for reviews and make it very simple for clients to leave an online review.
Now let's discuss another way you can leverage reviews for your agency.
Add a Reviews Page to Your Insurance Agency Website
As we briefly mentioned on the last slide, highlighting reviews on your agency website can significantly improve the conversion rate of your website traffic that turns into new leads.
For example, placing positive reviews next to quote request forms can improve conversion rates on those forms by making a website visitor confident in their decision to move forward with working with your agency. So much so that one study found that displaying reviews on your website can increase conversion rates by up to 270%!
Addtionally, creating a dedicated page for reviews on your website allows visitors to see all of your reviews in one place. Potential customers will be able to read through all of your client experiences without leaving your website.
Ultimate Guide to Online Reviews
Now, you may be thinking that's a lot of information and want to take some time to dive deeper into the subject of managing online reviews in your own time.
We've created a comprehensive guide for insurance agencies to provide you with additional information and helpful tips on managing your online reviews, as well as how to ask for, manage, and utilize reviews to help your agency grow and protect its valuable online reputation.
You can view our Ultimate Guide to Online Reviews for Insurance Agencies at https://www.brightfire.com/ultimate-guide-reviews/.
How BrightFire Helps with Managing Online Reviews
When it comes to launching a successful customer review strategy like we've discussed today, BrightFire's Reviews & Reputation Management service is available to help you jumpstart your strategy and help your agency stand out from the competition.
At BrightFire, we know how important, yet tedious, it can be to manage all of your reviews. That's why our Reviews & Reputation Management service is designed to take the burden off of you and help your agency easily grow, nurture, and protect its online reputation.
With the support of our digital marketing experts, your agency will be able to generate new reviews with ease, improve your online rankings, and gauge your customers' happiness.
We provide everything you need to successfully manage your online reputation, including the:
Creation and management of review profiles.
Professional agency branding on review profiles.
Two BrightFire-managed review generation campaigns each year.
Two BrightFire-managed Net Promoter Score (NPS) surveys each year.
Unlimited individual & broadcast review requests via text message & email.
Ongoing review monitoring and management.
New review alerts.
Option to automatically share new positive reviews to Facebook & Instagram.
Optional automated customizable review responses.
A convenient, user-friendly dashboard.
And coaching on best practices for online reviews.
Additionally, as part of BrightFire's Insurance Agency Website service, we include a dedicated customer reviews page and a featured customer reviews slider that showcases your most powerful reviews throughout your website.
How to Get Started with BrightFire
If you're new to BrightFire and would like to take advantage of our services, you can sign up for BrightFire's Reviews & Reputation Management service for only $95 per month.
Yet our most valuable option is our Ultimate SEO Bundle, which includes our Insurance Agency Website, Reviews & Reputation Management, and Local Listings Management services, all for just $210 per month. This is discounted by $50 per month compared to the combined standalone prices of these three services.
Our digital marketing services don't have any setup fees or contracts and also include a 30-day money-back guarantee.
Onboarding typically consists of one 30-minute phone call, and your Reviews & Reputation Management services are usually live within a week of the onboarding call.
As a thank you for attending today, we're offering a $50 promo to webinar attendees. You can receive a $50 account credit for signing up for our Reviews & Reputation Management, Insurance Agency Website, or Ultimate SEO Bundle services. This promo ends August 3, 2022.
To get started with BrightFire, please visit our website at www.brightfire.com or give us a call at 888-778-4393. On our website, you can submit your purchase, start a live chat with us, or schedule a call with a BrightFire expert.
Q&A on Customer Review Strategies
That concludes our presentation on Building A Successful Customer Review Strategy. Now we'll head into our Q&A session, if anyone has any questions!
As a reminder to our attendees, we'll do our best to answer any questions that come through. If we aren't able to address your question during the webinar, someone from BrightFire will follow up with you via email to answer your question. Let's get started.
Which platform is the most important to generate online reviews?
That's a great question! There are many review sites, including Google, Facebook, Yelp, Better Business Bureau (BBB), Superpages, Yellow Pages, and a whole host of others. We recommend focusing primarily on Google reviews since these have the most online visibility and the greatest impact to your local SEO.
My agency already has a lot of positive reviews and a great overall star rating. Are you sure I need to continually get more reviews?
First of all, congratulations! That's great to hear that you have so many positive reviews. I'd encourage you to keep up the great work and strive for more reviews, because the more positive reviews you receive, the bigger the impact on your local SEO rankings, and the more credible you'll appear to consumers.
The better your agency is ranked on Google, the easier it will be for new potential customers to find you.
Additionally, the frequency at which you generate new reviews is an SEO factor. If you stop getting new reviews, eventually your current reviews will become outdated. And as we mentioned earlier, the average person considers reviews outdated after just three months. You'll also be leaving the door open for your competition to catch up and surpass you in terms of your online reputation.
The easiest way to think of this is to remember there is no finish line when it comes to your online reputation.
My insurance agency has multiple locations. How does that work with BrightFire's Local Listings Management service?
As we touched on a little today, it's imperative to claim and manage the profiles for your agency. It's important to keep in mind that each location has its own Google and Yelp listing. BrightFire's Reviews & Reputation Management service covers and maintains a single office location. We recommend you enroll in additional quantities of this service to cover each of your office locations.
Well, I think that is all the time we have for questions today. Thank you to everyone who submitted a question, and again, we'll follow up with you individually after the webinar if we didn't get to your question today.
But before we close, I'd like to remind everyone of our upcoming 20 Minute Marketing Webinar.
Upcoming 20 Minute Marketing Webinars
Our next webinar is in September and will cover Creating Social Media Content That Sells.

The average person spends an estimated 2.5 hours a day on social media, with over 80% of the U.S. population having an active social media account. That creates a great opportunity for your agency to find and attract your audience with creative content.
In this webinar, we'll share BrightFire's recipe for social media success! You'll not only learn how to determine what type of content your audience wants to see but also how to craft compelling content that leads to more prospects for your agency.
This webinar will be held Thursday, September 22 at 2:00 p.m. Eastern or 11:00 a.m. Pacific.
You can reserve your spot at these webinars by visiting the webinars page on our website at brightfire.com/webinars.
So that does it for today! From me and the rest of the BrightFire team, we'd like to thank all of you for attending.