The average person spends an estimated 2.5 hours a day on social media, with over 80% of the U.S. population having an active social media account. That creates a great opportunity for your agency to find and attract your audience with creative content.
View this webinar on-demand as Business Development Executive Spencer Breidenbach shares BrightFire's recipe for social media success! You'll not only learn how to determine what type of content your audience wants to see but also how to craft compelling content that leads to more prospects for your agency.
BrightFire's Recipe for Insurance Social Media Success
Watch the webinar, read through the full transcript, or jump ahead to the content you're most interested in by clicking the section names below to learn more about each ingredient in BrightFire's recipe for social media success.
Watch The Webinar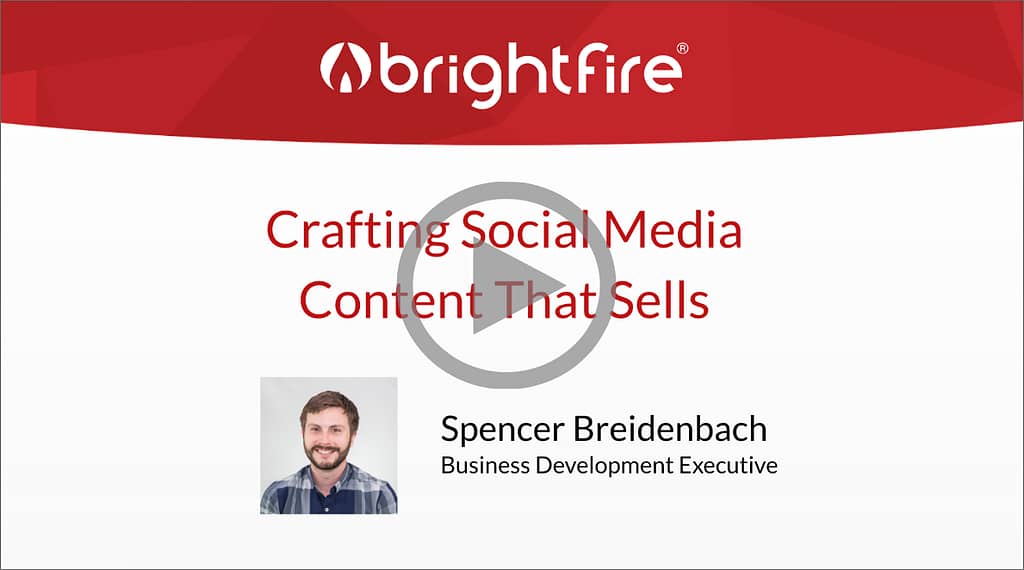 Additional Questions?
If you have any questions about this webinar, our Social Media Marketing service, or any of our digital marketing solutions, please schedule a call with sales or call us at (888) 778-4393.
Webinar Transcript
Hello everyone! My name is Spencer Breidenbach, and I'm a Business Development Executive here at BrightFire. Thank you all for joining us.
In July, we covered Building A Successful Customer Review Strategy. If you missed it, or any of our previous webinars in the 20 Minute Marketing Webinar series, you can access the whole series on-demand by visiting brightfire.com/webinars.
Our goal with these webinars is to provide you with digital marketing advice and discuss current digital marketing topics in a brief 20-minute format, followed by a Q&A period to answer any questions you may have. If you have questions during the webinar, please use the Q&A feature in Zoom found at the bottom of the screen. We'll do our best to answer all of the questions that come through; otherwise, we will personally reach out to you afterward.
Today's webinar topic is Crafting Social Media Content That Sells. The average person spends an estimated 2.5 hours a day on social media, with over 80% of the U.S. population having an active social media account (DataReportal). That creates a great opportunity for your agency to find and attract your audience with creative content.
So in this webinar, we'll share BrightFire's recipe for social media success! You'll not only learn how to determine what type of content your audience wants to see but also how to craft compelling content that leads to more prospects for your agency.
Today's webinar is being recorded, so everything we discuss will be saved and emailed to you in the next business day or two so you can watch it later on demand.
Lastly, we do have a couple of polls for today's webinar. When launched, you'll see the poll pop up on your screen with the question and multiple-choice options. You can select more than one response, and every poll is anonymous. We'll give you roughly 30 seconds to share your response, and then we'll discuss the results with the group.
About BrightFire
Before we dive into all things social media and share our recipe for success, I'd like to share a brief background on BrightFire, since we have a mix of current customers and agents that are new to BrightFire attending today.
BrightFire began by providing insurance agency websites in 2000. Over the years, as the needs of insurance agents grew, we expanded our digital marketing services beyond agency websites to also include:
Search Engine Optimization
Reviews & Reputation Management
Local Listings Management
Pay-Per-Click Advertising
Social Media Marketing
Currently, there are over 2,500 independent agencies across the nation using at least one of BrightFire's digital marketing services.
So with that background on BrightFire, let's get started.
What's Ahead
With so many different social media platforms and the many differing types of advice and best practices for how businesses should engage with followers, it can seem overwhelming to create an effective social media strategy while also staying relevant and professional.
So today, we'll first cover the prevalence and importance of social media for independent insurance agencies. Then, we'll dive into the five key ingredients that make up BrightFire's recipe for social media success — finding your ideal audience and platforms, planning out your content and cadence strategy, crafting compelling content that will help your agency better connect with your followers, testing various trends and content styles, and analyzing the data to adjust your content strategy accordingly.
Finally, if you find your agency doesn't have the bandwidth to build and execute an effective strategy on social media, or you would rather leave it to the digital marketing experts, we'll share how BrightFire can help set your agency up for success with our Social Media Marketing service.
Is Social Media A Must-Have?
So chances are, at some point in your career, you've asked yourself if social media is really something your agency needs as part of your marketing strategy. I know it can seem unnecessary at times and feel like you're just hoping it will pay off.
But the sheer, ever-growing number of people on social media proves just how much social media can benefit your agency when done strategically.
To offer some insight, here are a few social media statistics that prove its prevalence and impact.
4.7 billion people globally now use social media, and the average person spends 2.5 hours on social media every day (DataReportal).
70% of social media users log into their accounts at least once per day, and 49% say they check it multiple times a day (Pew Research Center).
60% of consumers who watch a piece of content on social media take some action after viewing it (Forbes).
The popularity of social media shows how your agency can easily increase brand awareness and visibility online to reach a wider audience without spending a lot of money on advertising. As you begin creating content and become active, you'll start building a loyal following and increasing consumers' trust in your agency as they understand what to expect from your agency online.
With social media, you can also humanize your brand by bringing your team to the forefront of your agency's account, as well as increase credibility online by establishing your agency as a thought leader. Another big perk of being active on social media is that you can increase website traffic and generate more leads by linking posts to your website.
Not only will driving more people to your website increase your search engine rankings on Google, but just being present on social media will increase your rankings, since many times a Facebook page or Instagram page will show up in search results when a consumer looks for your agency or an insurance agency near them.
But knowing that social media is important is only the first step to social media success. In order to leverage all of the benefits that social has to offer, it's important to be strategic in setting up your accounts and actually executing a marketing and content strategy through your various platforms.
Ingredient #1: Find Your Audience & Platforms
With that, let's go ahead and dive into BrightFire's recipe for insurance social media success! The first ingredient is to find your ideal audience and platforms.
Across all of the top channels, the largest age bracket that uses social media is 24-34-year-olds. However, studies show that of 30-49-year-olds, 77% use Facebook, 48% use Instagram, 36% use LinkedIn, and 27% use Twitter (Pew Research Center).
Of 50-64-year-olds, 73% use Facebook, 33% use LinkedIn, 29% use Instagram, and 18% use Twitter. For those older than 65 years of age, social media is not as commonly used; yet 50% in this age group still use Facebook.
From this information, you should be able to understand where your ideal audience spends their time and know which platforms your agency should focus its social media efforts.
Another way to help determine which channels your agency should be present on is to set specific and measurable goals. So for example, if you know that you want to grow your social media following, get even more specific about what type of followers you want more of — say business professionals, new parents, or maybe even new homeowners.
From there, you can analyze where your top competitors are active based on those goals and audiences. Keeping with that same scenario for example, if your agency is mostly focused on selling different types of commercial business insurance, chances are, you'll find your ideal audience is most active on LinkedIn.
Before we move on to the next ingredient, I want to quickly mention that once you have a good understanding of where your ideal audience is and which platforms you want to focus on most, take inventory of how much time you have to dedicate to social media. Even though you may find LinkedIn is where you want to focus most of your efforts, it can still be very beneficial for your agency to be present on Instagram, Twitter, or Facebook from an SEO and an availability perspective for your followers and potential customers.
While you may not need to be present on every social media platform, it can be beneficial to be present on a few channels and publish the same or similar content to each platform if your agency has the bandwidth to manage them all.
Ingredient #2: Plan Out Your Content & Cadence
Moving onto our next ingredient — it's time to plan out your content and cadence strategy. Before you ever start posting content, it's important to have a plan in place that reflects the type of content your agency has the ability to create consistently, such as video, blog content, or company updates.
Now, you may be asking, "How often should I post on social media?" Again, it may be different for each agency depending on your specific audience and how many followers you have, but a general rule of thumb is once per day on each platform. At minimum, your agency should post at least three times per week if possible.
At the end of the day, it's crucial to remember that quality will always be more important than quantity. The more relevant and useful your content is for your followers, the more likely they will be to engage with your content and your agency as a whole, which will improve brand awareness and overall social media performance far more than frequently posting.
The final component of planning your content and cadence strategy is to create an achievable routine for your agency, as I know that it can seem daunting to try to post on social media every single day.
So the first tip I would offer is to plan out who in your agency will take on the different tasks related to posting on social media, such as writing content, finding or taking photos, making videos, scheduling or publishing posts, and then also responding to and engaging with followers online.
Then, I would emphasize how helpful it is to create posts in batches and schedule them in advance. Consider having a weekly or monthly "shoot" day where your agency takes a number of photos or videos for posts that can be spread throughout the month, and then plan to have another day where you write all the captions, and maybe another where you schedule all your posts.
Whether it makes the most sense for your schedule to execute these steps daily, weekly, or monthly, creating a routine and planning out each of these details is essential for setting your agency up for success.
Finally, the last tip for planning out your content and cadence strategy is to create or use an online content calendar like the one we have shown here or create your own. Doing so can help visualize your content, save time, and more easily schedule a batch of content. There are several affordable online tools you can use to help schedule your content across each of your social media platforms, including the social media dashboard that BrightFire provides to your agency when you utilize our Social Media Marketing service.
Ingredient #3: Craft Compelling Content That Connects
The next part of the recipe for achieving social media success takes the last ingredient a step further and offers some tangible ways your agency can craft compelling social media content that helps followers and other consumers feel more connected with your team.
While studies show that 78% of consumers are willing to buy from a company after having a positive experience with them on social, the reality is, you can't expect people to just start buying policies left and right when you create an account and start posting (The Harris Poll).
Although we wish that were the case, you have to look at social media as a long-term strategy where you're building authentic relationships, consistently creating positive experiences, and striving to always provide value to your followers.
To determine if your content is providing value, a common question you should ask yourself regarding the content you're posting is, "Does this content inspire, educate, or entertain my followers?"
If it's not accomplishing one of these three items, go back to the drawing board and consider how you can write content that will educate, inspire, or entertain while resonating with your audience and potentially identifying or resolving one of their pain points within the insurance industry.
Some examples of inspirational content can be sharing customer testimonials and case studies, showcasing any industry awards your agency has won, and celebrating different milestones your business has reached, such as serving 1,000 happy customers or even reaching 500 followers. Sharing your agency's wins, as well as those of your customers, can inspire others to celebrate with you and build their desire to have the same success by working with your agency.
Then, you can easily educate your audience by sharing your latest blog content or offering educational tips about safety precautions to take during certain seasons or life events. A perfect example of this is talking about life insurance in September during Life Insurance Awareness Month or sharing Medicare content leading up to and during Open Enrollment. You can also educate your audience by having a Q&A series on social media answering some of your customers' most frequently asked questions.
And finally, creating content that entertains provides an opportunity to showcase your agency's personality with content such as going behind the scenes at your office, interviewing your staff to help your audience connect more with your agency, or even running a giveaway or contest where followers have to engage with your posts to enter.
Whatever content you come up with, just be sure to always tie it back to your bigger social media goals and content strategy by adding compelling calls to action that encourage followers to take the next step toward getting a quote or contacting your agency.
Ingredient #4: Test Trends & Content Styles
Now, let's jump into the next ingredient — testing various trends and content styles. This step is all about leveraging social media trends while using the compelling content mentioned in the last slide to help gain even more brand awareness and visibility.
The first and likely most important trend is posting short-form vertical video content like Instagram and Facebook reels and stories. This kind of video content is currently the most favored type of content for both the Instagram and Facebook algorithms, meaning it is more likely to be shown to others than a normal photo or carousel of images. It is also the kind of content that will generate the most engagement. And the best part is, many of these videos can be saved and repurposed for Twitter or LinkedIn as well.
The next trend to try out on your account is leveraging user-generated content. This is exactly what it sounds like — content that is generated about your agency from another user or customer.
If you know of some customers who love your agency, ask if they would be willing to talk about you in a social media post or story and tag your accounts. You could even motivate customers to do so by running a contest where followers who tag your agency in a post are entered for a chance to win a prize or be a part of your next marketing campaign.
User-generated content is a type of social proof that allows you to advertise your agency without being the one to brag about yourself. Similar to online reviews, when happy customers are the ones talking about your agency, other consumers will be more likely to listen to what they have to say and trust their experiences with your agency.
Next up is using local targeting in your posts and stories. If your agency attends or sponsors a local event, snap a few pictures or videos and post them on social media. Not only can you tag the company you're supporting and use any event hashtags in your captions, but you can also tag the location that you're at.
Say, for example, Joe Smith and his friends are at a local park and Joe tags a picture of his friends on social media. If he were to click on the tagged location on his post, he could view other people's recent posts that tagged that same location. So by geo-tagging your location at events, other social media users may be more likely to come across your posts and discover your agency.
The last trend to take advantage of on social media is using your platforms as a customer service channel. A Gartner study found that 60% of all customer service requests will be handled through digital channels by 2023. This indicates that more and more, your policyholders and prospects will want to reach out to your agency on social media and will expect a prompt response.
By jumping on board, you can improve your agency's customer experience and meet consumers where they are. With this trend, it's important to pay attention to comments on your posts and stories, as well as any direct messages you receive.
My only word of caution on this trend, however, is that you must make sure someone on your team has social media open throughout the day or receives notifications when comments and messages are received.
Ingredient #5: Analyze & Adjust Accordingly
Monitoring for comments and messages on social media brings us to the final ingredient of our recipe for social media success — analyzing your data and adjusting accordingly.
By looking for what others are saying about your agency online, gathering their feedback, and actively responding to or improving your agency from others' experiences, your agency is taking part in social listening.
The first part of analyzing how your agency is performing through social listening is what we just mentioned — promptly responding to any comments and direct messages your agency receives on social media. But it also entails keeping an eye on any agency-related keywords, searches, and hashtags to see what people are saying about your agency, even if they aren't directly tagging you.
You can also search for your competitors' accounts to see what people like and dislike about their agencies. Using social media to gain a competitive edge in this way is key in today's day and age, as 90% of marketers agree social data enables them to stay ahead of competitors (Sprout Social).
By proactively looking to see what others are saying about your agency online, you can nip any negative comments or sentiments in the bud, resolve any issues customers may have with your agency, and also thank people for their positive feedback. To really take advantage of social listening, though, you should consider making an actionable plan from the feedback you gather to address users' concerns.
So, if you see a handful of comments mentioning that customers couldn't get in touch with your agency in a timely manner, discuss internally how you can resolve the issue and create content on social media explaining what your agency is doing to improve response times.
The next part of this ingredient is analyzing the actual performance of your individual posts. Take note of which types of content are receiving the most impressions and engagements, such as likes, shares, and comments.
In doing so, you can begin to determine what your most popular and least popular content is for each platform and use this information to drive your future content. This will also help you build stronger relationships with prospects and ultimately know how to best convert them into policyholders.
How BrightFire Helps with Social Media Marketing
And that wraps up our recipe for social media success! So if you're ready to set your agency up for success, but maybe don't have the bandwidth to do so, or you'd like to leave it to the digital marketing experts, BrightFire's Social Media Marketing service is available.
This service supports Facebook, Instagram, LinkedIn, and Google Posts. If there's a social media network you don't have an account with yet, our experts can set that up for your agency and make sure your new profile is filled out and branded properly to be found more easily by people in your local area.
As part of our Social Media Marketing service, we audit your current social media profiles and can make updates to profile pictures and cover photos. We can also update the information and configuration of each profile, as well as help rapidly build your audience before we begin posting regular content by sending out an email blast inviting your current policyholders to follow you on social media. We also provide you with a comprehensive social media dashboard with metrics reporting so you can analyze your performance and make updates to your content strategy.
Since most people who follow you are probably policyholders, we break up the sales-related posts with lighthearted, helpful content that makes sense for any insurance agency. This content track is called General Safety & Preparedness, and we provide 13 of these posts each month. We also provide a Diversity & Inclusivity content track that observes nine different heritage months throughout the year.
We also provide three posts each month in each of the following insurance categories: personal, business, life, health, group benefits, and Medicare. You simply let us know which content tracks you'd like, and we will take care of the rest. This adds up to a total of 32 posts each month.
Custom campaigns are additional posts outside of the content we create for all of our Social Media Marketing clients. These are generally used to cover those advanced topics that we went over, like hosting giveaways or contests. They can also be used for things like customer spotlights, staff spotlights, or promoting your commercial clients.
Lastly, for agents who are not as tech savvy but want to better engage with their followers, we can walk you through how to manage your social media accounts, create stories, post videos, and share best practices so you are set up with an effective content strategy.
How to Get Started
If you're new to BrightFire and would like to further your agency's online reputation through social media success, you can get started with BrightFire's Social Media Marketing service for only $90 per month.
And as we've already mentioned, you have the option to purchase additional custom campaigns as needed for $65 each, or you can enroll in a recurring subscription if you plan to take advantage of Custom Campaigns every month.
None of our digital marketing services have any setup fees or contracts, and they do include a 30-day money-back guarantee.
Our onboarding process is designed to take the burden off of you as much as possible and consists of one 30-minute phone call. Typically, we can launch our Social Media Marketing service within a week of signing up.
As a thank you for attending today, we're offering a $50 promo to webinar attendees. You can receive a $50 account credit for signing up for our Social Media Marketing service. This promo ends next Wednesday, September 30.
To get started with BrightFire, please visit our website at www.brightfire.com or give us a call at 888-778-4393. On our website, you can submit your purchase, start a live chat with us, or schedule a call with a BrightFire expert.
Q&A Session
And that concludes our presentation on Crafting Social Media Content That Sells. Now we'll head into our Q&A session, if anyone has any questions!
As a reminder to our attendees, we'll do our best to answer any questions that come through. If we aren't able to address your question during the webinar, someone from BrightFire will follow up with you via email to answer your question. Let's get started.
Are insurance agents able to post additional content with BrightFire's Social Media Marketing service?
Great question, and absolutely! In fact, we highly recommend it! When you enroll in our Social Media Marketing service, you'll gain access to our social media dashboard that includes your agency's content calendar. It will show you all of the posts we have queued up for your agency, any of which you can edit, schedule for another day, or delete. It will also allow you to create your own posts, which can be a great way for your agency to add in those really personalized posts we mentioned in today's webinar, like getting to know your team members or highlighting any new industry awards or customer testimonials.
Does BrightFire's Social Media Marketing service allow agents to take part in social listening?
Another great question, and again the answer is yes! In the same dashboard you'll access when creating additional posts on your content calendar, you'll also be able to view different insights on your social media channels, such as post likes, comments, and private messages your agency received. You can even save time and energy by responding to users directly through the dashboard instead of going into each platform.
What are some tips for getting more social media followers?
There are so many that we could share! First and foremost, as I briefly mentioned a few slides ago, when you sign up for our Social Media Marketing service, we can help you build your following by sending out an email blast inviting your current policyholders to follow you on social media. Other ways you can build a following that come to mind are adding links to your social media channels on your website footer, as well as in your email signature.
On social media, you can gain followers by engaging with other people's posts that are relevant to insurance or your agency specifically. You can also add relevant hashtags to your posts because people searching for that topic will be more likely to engage with your posts and potentially also follow you. Finally, I would say taking part in any of the trends we discussed today, like creating Reels on Instagram or sharing user-generated content.
Well, I think that is all the time we have for questions today. Thank you to everyone who submitted a question. We'll follow up with you individually after the webinar if we didn't get to your question today.
Before we close, I'd like to remind everyone of our upcoming 20 Minute Marketing Webinar.
Upcoming 20 Minute Marketing Webinars
With the holidays fast approaching, we will be taking a short break for the rest of the year. Our next webinar will be held after the New Year on January 26, 2023, and will cover Designing an Agency Website that Converts.
The quality of user experience an individual receives when browsing your insurance agency's website often shapes the perception they will have of your agency as a whole and can determine whether or not they will choose to give you their business.
In this webinar, we'll unpack several aspects of website design to help you offer your visitors an exceptional customer experience that is sure to increase your website conversions.
Keep an eye on your inbox in early January for the registration details and invitation. Until then, you can view our past 20 Minute Marketing Webinars in the series by visiting the webinars page on our website at brightfire.com/webinars.
So that does it for today! From me and the rest of the BrightFire team, we'd like to thank all of you for attending.