The quality of user experience an individual receives when browsing your insurance agency's website often shapes the perception they will have of your agency and can determine whether or not they will choose to give you their business.
View this webinar on-demand as Digital Marketing Coordinator Chelsea Peterson unpacks several components of your agency's website design that can help you offer visitors an exceptional customer experience that is sure to increase website conversions.
Key Areas of Agency Website Design to Generate Leads
Watch the webinar, read through the full transcript, or jump ahead to the content you're most interested in by clicking the section names below to learn more about each agency website component that can help your agency increase conversions.
Watch the Webinar
Additional Questions?
If you have any questions about this webinar, our Insurance Agency Websites service, or any of our digital marketing solutions, please schedule a call with sales or call us at (888) 778-4393.
Webinar Transcript
Hello everyone! My name is Chelsea Peterson, and I'm a Digital Marketing Coordinator here at BrightFire, as well as your host for today's webinar. Thank you all for joining us.
Last quarter, we took a brief break from our 20 Minute Marketing Webinar series for the holidays. However, if you have missed any of our webinars in the 20 Minute Marketing Webinar series, you can access the whole series on-demand by visiting brightfire.com/webinars.
Our goal with these webinars is to provide you with digital marketing advice and discuss current digital marketing topics in a brief 20-minute format followed by a Q&A period to answer any questions you may have. If you have questions during the webinar, please use the Q&A feature in Zoom found at the bottom of the screen. We'll do our best to answer all of the questions that come through; otherwise, we will personally reach out to you afterward.
Today's webinar topic is How Agency Website Designs Generate Leads. The quality of user experience an individual receives when browsing your insurance agency's website often shapes the perception they will have of your agency and can determine whether or not they will choose to give you their business.
So in this webinar, we'll unpack several components of your agency's website design that can help you offer visitors an exceptional customer experience that is sure to increase website conversions.
Today's webinar is being recorded, so everything we discuss will be saved and emailed to you in the next business day or two so you can watch it later on-demand.
Lastly, we do have a couple of polls for today's webinar. When launched, you'll see the poll pop up on your screen with the question and multiple-choice options. You can select more than one response, and every poll is anonymous. We'll give you roughly 30 seconds to share your response, and then we'll discuss the results with the group.
About BrightFire
Before we discuss how effective website designs can generate more leads for your agency, I'd like to share a brief background on BrightFire, since we have a mix of current customers and agents that are new to BrightFire attending today.
BrightFire began by providing insurance agency websites in 2000. Over the years, as the needs of insurance agents grew, we expanded our digital marketing services beyond agency websites to also include:
Search Engine Optimization
Reviews & Reputation Management
Local Listings Management
Pay-Per-Click Advertising
Social Media Marketing
Currently, there are over 2,500 independent agencies across the nation using at least one of BrightFire's digital marketing services.
And with that background on BrightFire, let's get started.
What's Ahead
Research tells us that it takes just 50 milliseconds for someone to form an opinion about your website and decide if they want to stay or leave. And in that short amount of time, 94% of a website visitor's first impressions are related to the look and feel of your website's design.
This means if you don't catch your visitors' attention and show them relevant information in an aesthetically pleasing way right off the bat, you could be missing out on a lot of new prospects.
So today, we'll discuss how you can make your website work for your agency and increase your website's lead generation potential as we share five key areas to analyze and potentially improve — remember clarity is key, set a solid foundation, keep branding top of mind, build trust and credibility, and stand out from the competition.
Then, we'll dive into how BrightFire can help your agency increase website conversions even more with an amazing custom-designed website that looks as good as it performs through our Insurance Agency Websites service.
Clarity is Key
A study by Usability Geek found that 88% of online consumers are less likely to return to a website after a bad user experience. Additionally, 75% of consumers judge a company's credibility based on its website design. So first and foremost, when it comes to your website, you should remember that clarity is key as you think through the customer journey.
Is the website as a whole clean and attractive? Do you have an engaging layout that speaks directly to the needs of your target audience and makes it easy for them to find the information they need?
This should include having intuitive navigation, meaning the placement of your various product pages, support pages, and so on makes sense to the average consumer and flows well. Visitors should be able to easily access the information they're looking for, whether that's a specific type of insurance policy, how to get a quote, and how to contact your agency. If an individual gets confused or frustrated while they're trying to navigate your site, they will likely leave and search for another agency to give them the answers they are looking for.
In line with a clear navigation menu, your website should also include content that has bold and clear headings in a hierarchical structure where the most important topics are H1 — or the biggest heading — and the least important content or descriptive content should be in smaller heading sizes and paragraph text. Your content should naturally lead the visitor through your various website pages and include bold buttons with strong and straightforward calls to action that clearly tell the user what to do next, such as "Request a Quote" or "Schedule A Call".
If you provide too much content on any given page, you could easily lose their interest, while having too little information can leave them seeking answers from other agency websites. Similarly, if you bury buttons or calls to action within the text too much or don't make them stand out enough, visitors may not know how to take their next step in the customer journey.
By clearly stating what visitors should do next on each page, your website will be able to offer clear conversion paths that will help your agency generate more leads. For example, you can include quote forms on your product pages, forms to subscribe to your newsletter on your blog page, and even a live chat button on every page to help users further when they may not be able to find information immediately.
Set a Solid Foundation
The next topic I want to dive into today is setting a solid foundation by ensuring various technical aspects of your website are in order, such as your SEO strategies, SSL certificates, ADA accessibility, and more. Taking care of the backend of your website by optimizing it for search engines is crucial to getting found on the web.
So for example, I mentioned earlier about adding headings and having a hierarchical structure to your pages to keep each page nice and clean for website visitors. But adding these headings and structure, along with relevant keywords, page titles, and descriptive alternative texts to your images can also help search engines more easily understand what your agency provides so it can include your website in a user's search engine results.
Another technical aspect you should take into consideration is getting an SSL certificate. An SSL certificate, which stands for Secure Sockets Layer, is a digital certificate that states your website is secure and will keep a visitor's private information safe. When someone comes to your website, they will see the padlock icon to the left of your website URL if you have the SSL certificate. When this is seen, consumers often feel more comfortable filling out a form on your website and giving your agency their name and contact information.
Next, you should make sure your website is ADA compliant, meaning it provides "reasonable accessibility" to people with disabilities as determined by the Americans with Disabilities Act. This can include ensuring your website is compatible with screen-reading software that makes it easier for those who are blind or visually impaired to navigate your website. We won't dig too deep into ADA compliance today because it can be very complex. But if you're not sure whether your website meets the ADA standards or would like more information, BrightFire has a whole 20 Minute Marketing Webinar titled, "ADA Compliance for Agency Websites," that you can view on-demand.
Other ways you can help search engines prioritize your website in search results so you have a higher chance of generating more leads is to maintain an active blog, improve your page speed, and ensure your site is mobile-friendly since more than 60% of all web traffic comes from mobile devices. You can also increase the number of backlinks to your website. So for example, you can add your website URL to your social media profiles.
You may be asking yourself if these technical components of your website can really help your agency generate more leads. Well at the end of the day, having a website that is compliant with the different security features can make users trust that their personal information is safe, and having an ADA-compliant website will ensure users with various disabilities will also be able to easily navigate your website and interact with your agency online. Even the smaller details like mobile responsiveness and page speed or load times can affect whether a visitor will see your website on a search engine results page, as well as whether they will stay on your website long enough to fill out a form to take the next step with your agency.
Keep Branding Top of Mind
In everything your agency does, branding should always be top of mind, and your website is no exception. Just like your CSRs and agents are an extension of your brand, your website should be working for your agency and should reflect the main elements of your branding. Maintain consistency throughout your website with colors, fonts, and content that match your agency's brand. Your logo should also be used at a minimum in the header of your website so visitors will start recognizing your logo and recall your agency at a later time if they don't fill out a form or contact you on their first visit.
Even the images you choose to place on each page of your website can be crucial to complementing your brand and making your site memorable. For example, if your agency focuses solely on Medicare, your images should showcase that and include your target audience. You can also get creative with how you choose the imagery for your website by using illustrations instead of photography or videos.
Video can help attract as much as 155% more organic traffic to your website and can make your brand stand out from the crowd. Should you choose to also produce videos that highlight your staff, you could increase trust and credibility with your audience and make them feel more confident choosing your agency over the next.
We'll talk more about building trust and credibility on the next slide, but at the end of the day, it's important to remember that your website is the only employee that works for your agency and promotes your brand all day every day. So make sure it's effectively reflecting your agency's colors, personality, imagery, and tone of voice to best attract your ideal audience.
Build Trust & Credibility
Now let's dive into the concept of building trust and credibility on your website to improve lead generation. If you think about how you interact with websites you're considering making large purchases from, you likely check their reviews and customer testimonials, as well as read more about the company and any industry awards or certifications they may have.
Similarly, when a consumer is looking for insurance, they're likely going to browse your site for testimonials, awards, certifications, and your different carriers. They may even view your social media pages to see if you're active online or check your team page to get a feel for the agents and CSRs that they would be interacting with during a claim or when purchasing a new policy.
So, it's best to give your audience what they want and make it easy for them to gain trust and confidence in your agency. Create an industry awards page, or showcase your awards on a team page that also includes professional headshots of your staff. This team page will also help humanize your brand and let visitors know they would be receiving a more welcoming and personalized experience by choosing your agency. You should also create pages to highlight any carriers and professional associations your agency is affiliated with so prospects better understand how your agency's large network will be able to help get them the best coverage and value.
Another great way to help visitors feel more connected with your agency is to add your address to the footer and mention the area you serve in your content headings and paragraphs. By adding these localization elements, you can make sure visitors know you're close by and ready to help them at a moment's notice.
Additionally, you should create a testimonials page that includes the customer's name and photo so users can trust they're reading real reviews of your agency. When it comes to reviews, the icing on the cake is to showcase them near quote forms on your website. In doing so, you can improve visitors' confidence in your brand at key moments in the user experience and increase conversions.
For example, on a product page with content about homeowners insurance, you might have a form on the right side of the page that mentions requesting a quote. Above or below that form, you could add customer testimonials so visitors can see what your happy customers have to say about your brand before hitting submit and sending you their personal contact information.
Lastly, consider adding your agency's social media links to the footer of your website. Not only will this allow visitors to further trust your agency and see that you're active online, but it will allow them to also follow your agency, engage with your team, and keep you top of mind when they may need a new or updated insurance policy. By adding these various design elements to your website, you can improve your agency's credibility as a whole and increase the likelihood that website visitors will fill out lead generation forms.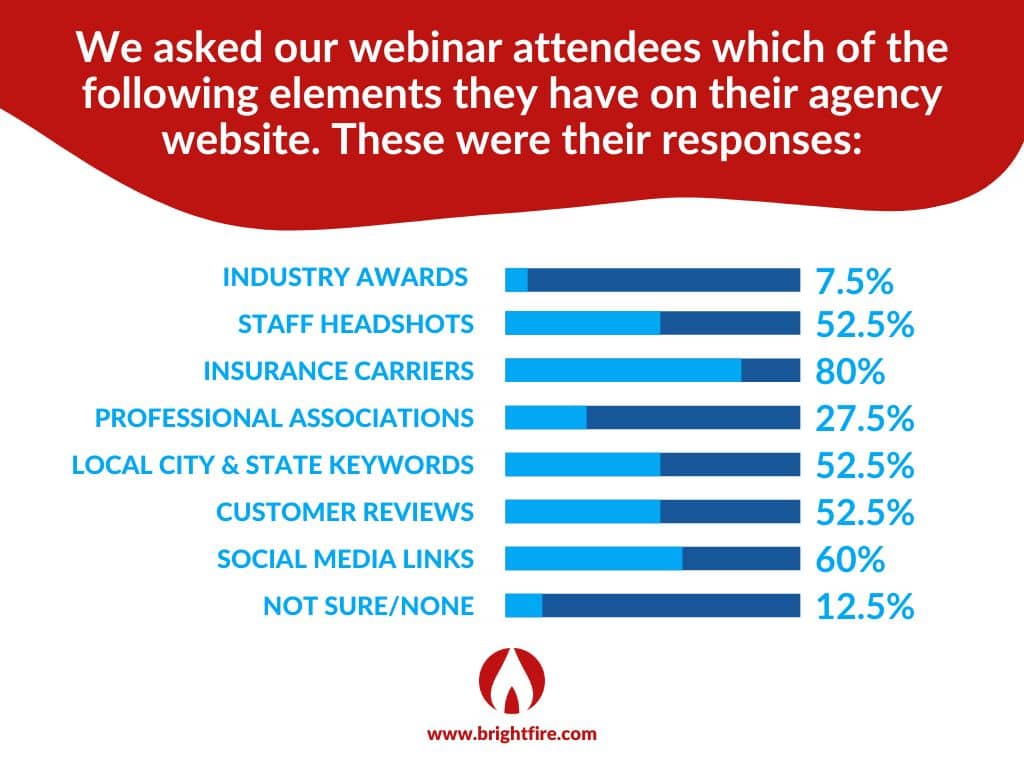 Stand Out from the Competition
The final key area of your website design that we will focus on today is different customizations that you should consider adding to stand out from the competition. Each of these website integrations is a part of BrightFire's Sales Tool Suite for Insurance Agency Websites and can help you improve your website's user experience, the customer service your agents are able to offer prospects, as well as the overall number of leads your website can generate from creating strategic asks and calls to action.
Video Proposals
Video Proposals allow agents to create and share recorded videos with a unique, private link specifically for a prospect. Not only is this a great way to make a personal connection with prospects and walk them through their proposal, but it also saves your agents time when a prospect's busy schedule doesn't allow them to jump on a call.
My Agent Personalization
My Agent Personalization gives your agents an edge by allowing them to share a unique link with any client that will display that agent's contact information on every page of your website. This tool keeps your agent's name top of mind and helps build stronger relationships with consumers at every stage of the sales cycle.
Promo Panels
Promo Panels are subtle yet powerful on-screen website notifications that highlight important messages to visitors and prompt them to take the next step toward converting and becoming policyholders.
Conversion Cues
Conversion Cues can use customizable triggers to grab website visitors' attention and convert more prospects at key moments during a consumer's journey through your website. For example, you can encourage consumers to request a quote when they've scrolled past a certain point of a web page, ask them to subscribe to your email list when they view your blog, or see if they'll check out your awesome customer reviews before they leave your website.
Real-Time Quoting
Our Real-Time Quoting integrations allow you to provide insurance quotes 24/7 through instant raters so consumers can access them quickly whenever they may be online.
Smart Quote Forms
Smart Quote Forms are designed specifically to convert visitors to leads by routing form submissions to the appropriate agent for following up, adding them automatically to your email marketing list, and integrating submissions to your instant quote services.
Appointment Scheduling
The Appointment Scheduling solution can be integrated with your website to allow your agents to save time and close more sales by letting visitors select an open time slot on an agent's calendar and schedule a call at their convenience.
Notification Bars
Notification Bars display important notices across the top of your website to make sure visitors know about any altered business hours, holiday office closures, promotions, and charitable events.
Live Chat
And finally, the Live Chat integration allows you to boost lead generation and conversions by offering visitors immediate answers to their questions while they're browsing your website. Many consumers prefer messaging in the early stages of the buying journey, so this tool can help your agency develop trust and build a relationship with prospects as you help move them down the sales funnel.
Ultimate Guide to Websites for Insurance Agencies
Now I know that was a lot of information to consider for your website's lead generation strategy, but this is really just the tip of the iceberg when it comes to the different ways you can make your website work for your agency. If you're interested in learning more, BrightFire published an Ultimate Guide to Websites for Insurance Agencies and updates it continuously.
In this guide, you'll find everything an effective agency website needs, from essential attributes of a successful website to incorporating your SEO strategy into your website and more. Check out the full guide at brightfire.com/ultimate-guide-websites.
How BrightFire Helps with Agency Websites
So, after everything we've discussed today, if you think your website could use a redesign, or if you're interested in having an entirely new website custom-designed for your agency with various lead generation tools and integrations, you can get started with BrightFire's Insurance Agency Websites service.
Our expert website developers and designers provide everything you need in an agency website to attract and convert insurance buyers online, including:
Custom Design
Lead Conversion Optimizations
Mobile Responsiveness
Ready-To-Go Insurance Pages
Search Engine Optimizations
Content Management System
Sales Tool Suite
Support Tool Suite
Featured Reviews
Monthly Report
Weekly Blog Posts
Managed Security
You'll also have the help of our friendly team of Digital Marketing experts who are here to provide support and answer any questions about your BrightFire website. Most customer-requested changes to the website are included at no cost.
How to Get Started with a BrightFire Website
If you're new to BrightFire and would like to take advantage of our services, you can sign up for BrightFire's Insurance Agency Websites service for only $115 per month.
You can also take advantage of our Ultimate SEO Bundle, which includes our Insurance Agency Website, Reviews & Reputation Management, and Local Listings Management services, all for just $210 per month. This is discounted by $50 per month compared to the combined standalone prices of these three services.
Our digital marketing services don't have any setup fees or contracts and also include a 30-day money-back guarantee.
Onboarding typically consists of two 30-minute phone calls and about an hour of your own time to review your website. We'll work with you until you're totally happy with your new website.
As a thank you for attending today, we're offering a $50 promo to webinar attendees. You can receive a $50 account credit for signing up for our Insurance Agency Website or Ultimate SEO Bundle services. This promo ends next Wednesday, February 1.
To get started with BrightFire, please visit our website at www.brightfire.com or give us a call at 888-778-4393. On our website, you can submit your purchase, start a live chat with us, or schedule a call with a BrightFire expert.
Q&A on Agency Website Designs that Generate Leads
That concludes our presentation on How Agency Website Designs Generate Leads. Now we'll head into our Q&A session if anyone has any questions!
As a reminder to our attendees, we'll do our best to answer any questions that come through. If we aren't able to address your question during the webinar, someone from BrightFire will follow up with you via email to answer your question. Let's get started.
What does BrightFire include in a custom agency website design?
Great question! When BrightFire develops your website, our web developers and designers ensure your agency's unique brand and personality will be captured on every page. We'll design a custom home page and internal page layout that can showcase various types of content based on your agency's needs.
Can BrightFire take care of hosting the website and keeping it secure?
Yes! Both are included in the cost of your new website. In fact, your BrightFire website must be hosted by BrightFire. We will provide and manage your SSL certificate, as well as any technology updates and security patches your website may need.
Can BrightFire provide website content to help generate leads?
Absolutely! We have ready-to-go product content for more than 80 insurance policy types in case you don't have unique content you would like to use. Also, we write two blog posts in a number of insurance categories each month to help improve your website's SEO and ultimately be able to increase traffic and website leads. The insurance categories we write blogs for are personal, business, life, health, group benefits, and Medicare. We can also provide diversity & inclusivity content that observes nine different heritage months.
Well, I think that is all the time we have for questions today. Thank you to everyone who submitted a question, and again, we'll follow up with you individually after the webinar if we didn't get to your question today.
But before we close, I'd like to remind everyone of our upcoming 20 Minute Marketing Webinar.
Upcoming 20 Minute Marketing Webinars
Our next webinar is in March and will cover The Rules of Remarketing in PPC Advertising.

On average, only 2% of your agency website visitors will convert into policyholders. Yet when you leverage Remarketing in your Pay-Per-Click Advertising strategy, you can reach the other 98% at the exact moment they search online for insurance policies.
So in this webinar, we'll show you what's possible with Remarketing ads and offer tips to help you increase brand awareness and website conversions in a cost-effective way.
This webinar will be held Thursday, March 30, at 2 PM Eastern or 11 AM Pacific.
You can reserve your spot at these webinars by visiting the webinars page on our website at brightfire.com/webinars.
So that does it for today! From me and the rest of the BrightFire team, we'd like to thank all of you for attending.