The importance of personalizing your prospects' and clients' online experiences only continues to increase as COVID-19 continues across the country.
In this webinar, BrightFire Sales Executive Spencer Breidenbach shows how video proposals can take your agency's sales efforts to the next level and offers strategies to convert more prospects, build client relationships, and grow your sales.
A few topics Spencer covers in this webinar include:
The Importance of Video
What is a Video Proposal, and What Goes In It?
Tips For Making A Great Video Proposal
Creating Video Proposal Templates
And More
Finally, Spencer details how BrightFire's Insurance Agency Websites service helps your agency create and share video proposals with clients and prospects so you can best personalize your sales efforts and convert more leads.
Watch The Webinar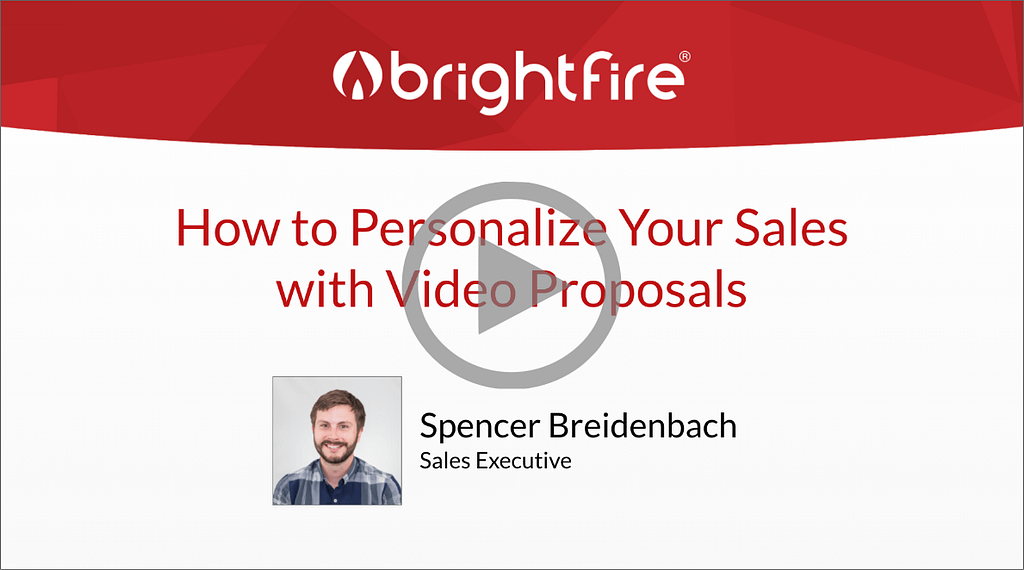 Additional Questions?
If you have any questions about this webinar or our Video Proposals included in our Insurance Agency Website service, please contact us or call us at (888) 778-4393.
Webinar Transcript
Chelsea: Hello everyone! My name is Chelsea Peterson and I'm a Digital Marketing Coordinator here at BrightFire, as well as your host for today's 20 Minute Marketing Webinar. Thank you all for joining us today.
Last month, we discussed 10 Tips to Humanize your Agency with Social Media Marketing. If you missed it, or any of our previous webinars in the series, you can access the whole 20 Minute Marketing Webinar series on-demand by visiting brightfire.com/webinars.
Our goal with these webinars is to provide you with digital marketing advice and discuss current digital marketing topics in a brief 20-minute format followed by a Q&A period to answer any questions you may have.
Today's webinar is focused on How to Personalize Your Sales with Video Proposals and will be presented by Spencer Breidenbach, a Sales Executive here at BrightFire.
We'll show how video proposals can take your agency's sales efforts to the next level through personalized online experiences, as well as offer key tips and strategies to help your agency build stronger relationships, convert more prospects, and grow your sales, even amid the COVID-19 pandemic.
If you have questions during the webinar, please use the Q&A feature in Zoom found at the bottom of the screen to submit them. We'll do our best to answer any questions that come through; otherwise, we will personally reach out to you after the webinar.
As a reminder, today's webinar is being recorded, so everything that we discuss today will be saved and emailed to you in the next business day or two so you can watch it on-demand for future reference.
With that being said, I'll go ahead and hand it over to Spencer to kick off today's webinar.
---
About BrightFire
Spencer: Thanks, Chelsea, and thank you to everyone joining in today. Before we get started, I want to offer a brief background on BrightFire since we have a mix of current customers and agents that are new to BrightFire attending today.
BrightFire began by providing insurance agency websites in 2000. Over the years as the needs of insurance agents grew, we expanded our digital marketing services beyond agency websites to also include Search Engine Optimization, Reviews & Reputation Management, Pay-Per-Click Advertising, Local Listings Management, And Social Media Marketing.
We've since also been able to expand the features and benefits available in our Insurance Agency Websites service through our Sales Tool Suite, which includes tools like My Agent Personalization, a customizable notification bar, weekly blog posts, and what we're talking about today – video proposals.
Currently, we provide our Insurance Agency Websites service to thousands of agents across the country, and we're always proud to say that our first agency customer in 2000 is still a BrightFire customer today.
So with that brief background, let's get started.
---
What's Ahead
By now, it's likely you are all aware that personalizing your marketing and sales messages to prospects and customers is really important. In fact, 80% of customers are more likely to purchase a product or service from a brand that provides personalized experiences (Epsilon).
But it's not always obvious how to implement personalized experiences into your everyday tasks. So today, I want to zone in on the following topics and highlight one really simple and effective way to personalize your sales efforts – using video proposals.
We'll talk about how important and powerful using video can be for your agency, what exactly a video proposal is, and why you should create them. We'll dive into some tips for making a great video proposal, as well as what your proposals should include. Then, we'll cover the process of sending out your video proposals using BrightFire's Insurance Agency Website service and how you can streamline the overall process by creating a few proposal templates.
Finally, we'll dive into how you can get started with BrightFire's Insurance Agency Website service to introduce personalized Video Proposals into your sales strategy.
---
The Importance of Video in Insurance
So let's take a look at just how important video is for businesses in all industries. For the sake of time, I won't read off all of these statistics, but in my opinion, these are all pretty eye-opening.
The first notable statistic here is that 72% of consumers say they'd rather learn about a product or service through video (HubSpot). It's no secret that insurance isn't the most exciting topic, but video can provide better engagement with prospects and customers by putting a face to your name and giving you a chance to add emphasis and excitement through your tone and voice inflection.
Another great statistic here is that people retain 95% of a message when they watch it in video versus 10% when they read it in text (Invisia). This is a HUGE opportunity for you to really articulate why someone should work with your team and why the policy you're selling is vital for that prospect.
Incorporating videos in your emails can increase your click rates by 300% (Hubspot). Adding the word video into your subject line can increase open rates. And we all know that increased clicks and engagements often lead to more conversions, so you can really use these strengths and benefits that video provides to boost your marketing strategy and see what works best for your agency.
The last statistic I want to point out on this slide is that 66% of marketers don't make videos because they think it's going to be too time-consuming, while 41% think that it's too complicated (Biteable).
My hope today is that I can show you just how simple, quick, and effective making Video Proposals for prospects and customers really can be.
---
What is a Video Proposal, and Why Create One?
But first, you may be wondering, "What exactly is a video proposal, and why should I bother making them?"
A video proposal is exactly what it sounds like. It is a video discussing a proposal you've created for a prospective customer. It doesn't have to be anything formal or fancy; in fact, it can just be a simple recording of your screen showing the digital version of a proposal you've written. However, I would recommend you also show yourself talking in the video using your webcam like I'm currently doing for this webinar. It's an easy way to help consumers connect with you and your agency that much more. But I'll dive deeper into tips for making Video Proposals a bit later in today's webinar.
Video Proposals are a great way to follow up with leads and walk them through an insurance proposal, especially when busy schedules don't allow for a call. In addition, they can help transform long, legal documents filled with technical insurance lingo into shorter, engaging videos that are much easier for an average customer to understand.
The last benefit I'll touch on today is that Video Proposals can help you increase your credibility with prospects as you quickly restate their problems to show them you understand their needs and explain how your agency can resolve them. People want to know that they aren't just another number. Their life stories and experiences are unique, and they want to know you will treat them as such with a customized policy and a personalized experience.
---
Tips for Making a Great Video Proposal
Now let's talk about what your proposal should include in order to most effectively detail the information you need to provide while still keeping their attention and standing out from the hundreds of videos consumers watch on a daily basis.
First thing's first, you have to offer a personalized introduction. Say hello with a warm smile and a genuine greeting. Look at the camera, say their name, and make them feel like you are in the same room as them by speaking directly to them.
Introduce yourself, your agency, and why you love doing what you do. Briefly cover any industry awards, recognitions, community involvements, and other similar trust indicators that your agency has received over the years to help build credibility with the prospect. I can't stress enough how important it is to remain sincere so viewers can feel your passion for your career and know they are in good hands.
As I mentioned previously, address the personal circumstances, problems, and needs of the individual, rather than simply listing the collective issues faced by your prospect's persona. State how the policy you are recommending is the answer to their problem, and why this is a better fit than other common alternatives. Don't forget to cut any technical terminology that your prospect may not understand. This is your chance to really get on the customer's level and break down how this policy will benefit their lives. Then, briefly go over the pricing details of the policy you're recommending, as well as the costs of the alternatives you just mentioned.
If applicable, you may even want to add in a short case study related to this individual's experience to offer one last visual and understanding of why you are the right agent to accommodate their needs. For example, you could say, "Just a few months ago I was able to help a customer add uninsured motorist protection to their auto policy, which came in handy when they were rear-ended by someone without insurance two months later. Thanks to their updated policy, they only had to pay $250 for their deductible instead of thousands of dollars."
Lastly, like any good close in sales, you have to provide them with a strong call to action that clearly states their next steps. Should they expect a call from you? Are they expected to call or email you? What is their next move toward getting this new or updated policy bound, and how can they best get in touch with you? Let them know exactly what you want them to do and how to do it so there is no confusion.
Probably the most challenging part in all of this is that videos under two minutes long get the most engagement, which is not a lot of time to dive into each of these elements. While I don't believe you need to live by that two-minute rule, just remember that the longer your video is, the more likely it will be turned off before you finish what you have to say.
---
A Quick Look at a Proposal for Insurance Agencies
I want to take a moment to talk about some best practices specific to the format and layout of the actual proposals you create.
We have two recommendations related specifically to business insurance proposals. First, incorporate your business prospect's brand colors and any other brand elements throughout the proposal. Secondly, be sure to include their logo on the cover page if possible. This is one easy way to personalize the proposal and show them that you are treating them as an individual and not generalizing your proposal or the policy you're recommending.
The rest of the recommendations here should work well with any kind of insurance proposal you may send out. Begin your proposal with a table of contents. While it may seem easy to quickly throw together a table of contents or overlook it altogether, it's so important and helpful for your prospects and customers to have a clear understanding of where your proposal is headed and how they can easily access or reference the information they need most. It's also a great idea to make your table of contents clickable so recipients can jump right to their desired section instead of having to scroll through the entire document.
Another helpful tip that I can't leave out because of how important it is, is to format your proposal so that each section is visually appealing, offers a personal touch, and stands out in some way. This can be achieved through bullet points, charts, graphs, or images. For example, you can include the recipient's name in headlines and throughout the content of your proposal and include images of your agency and staff.
You can even include images of clients, with their approval of course, if you have a relevant testimonial to add to the proposal. This is a great way to gain trust and credibility with your prospects and show how you deliver value to other individuals in similar situations. You can even take this a step further by asking a client or two if they would record a short video of them sharing their experiences with your team. Then, you can add the video or video link to your proposal to stand out that much more.
It's worth mentioning that you should also include a section in your proposal for team introductions. Who will the individual be working with, what does that person do, how can they help, and how can the individual get in touch with them? These are all essential questions you should answer to help consumers feel at ease knowing who they will be interacting with. Similar to the last point about client testimonials, seeing an image or a video showcasing these team members will help your prospects better connect with and trust your team.
One last tip for creating your proposal is to offer some kind of service demo when applicable. For instance, you could provide a quick overview of an online portal to show them how they will make claims and manage their account or policies. Add screenshots of the portal, or go through the portal as part of your Video Proposal. Four times as many consumers would rather watch a video than read through textual content (Animoto), so why not give consumers what they want and take that extra step to get their attention and hopefully win their business?
---
Creating Insurance Video Proposal Templates
At this point, you may be thinking, "This all sounds great, but there's no way I will ever have time for all of that!" Well, the good thing is that although our focus today is to personalize your sales with each prospect's proposal, you can still craft video templates for the common situations consumers find themselves in, or the popular types of policies you sell to speed up the buying process and make it easier on you, your team, and your clients.
So, the first step is to create a script for each policy you sell, as well as any typical bundled policy packages or anything of the sort you encounter often. Each of these scripts should include the elements we went over earlier that are relevant to the proposal template you're creating, such as a warm greeting, who you are and what you do, what the general situation is that someone with that policy experiences, a relevant case study, a call to action, and so on.
From there, you can add blocks of placeholder text where you want to personalize content, such as in the introduction and when you're addressing the prospect's problem at hand. And that's it! When it comes time to create a Video Proposal for a new lead, open up your template document, find the most relevant script you drafted, personalize the content from what you know about the prospect thus far, and start recording.
On the topic of creating video templates, this is a great time to mention that you don't have to limit yourself to videos for prospects or customers you are trying to sell a new policy. If you really want to take your sales personalization experiences to the next level, you can consider creating videos that align well with different stages of your sales funnel or for holidays and other celebrations.
Some examples include sending a welcome video to new customers to help them get started with their policy and account by sending them helpful tips about when to update their policy or file a claim, and to address other frequently asked questions. You can even create a video every year to say thank you for their business and show your appreciation.
Some of these examples may be a little harder to justify the time needed to personalize every customer's video, but depending on the email platform you use, you could simply add personalization tokens in the email for the customer's name or business name, as well as how many years they have been a customer, and then create a more general video to send with a personalized email. Either way, by sending videos and offering different personalized experiences to your prospects and customers, you'll be able to build stronger relationships, stand out from your competitors, and become a more valued resource for consumers.
---
How BrightFire Helps with Video Proposals
As I mentioned briefly at the beginning of this webinar, our platform provides agencies with their very own Video Proposals tool that is integrated into our Insurance Agency Website service.
Our Video Proposals tool makes it easy to record your screen and/or your webcam, complete with audio. You create these videos in the admin area of your website, and once you finish recording, you will receive a password-protected private link to share with your prospects or customers.
You can then send an email to your intended recipient, who will be able to watch the video on your website after they click the link and enter the password. After you've sent your video, you can log into your BrightFire website's dashboard to see how many times a particular video has been watched.
One really cool element of this tool is that our Video Proposals also work with other Sales Tool Suite features like BrightFire's My Agent Personalization. This lets you have your recipient watch their video while their specific agent's photo and contact information is displayed right next to the video on your website.
You can even include a calendar link if you've integrated a BrightFire-compatible service like Calendly, Acuity, or Doodle, so they can schedule a meeting with you after watching the video you made for them. All of these extra tools and features are included at no additional cost with BrightFire's Insurance Agency Websites service.
---
How to Get Started with Video Proposals
So, how can you get started? An Insurance Agency Website only costs $100 per month, and as I mentioned before, that includes the Sales Tool Suite with all of its features like Video Proposals, Notification Bar, My Agent Personalization, weekly blog posts, and more.
Like all of our digital marketing services, our Insurance Agency Website service does not have any setup fees or contracts, and it includes a 30-day money-back guarantee.
Additionally, our Ultimate SEO Bundle, which includes an Insurance Agency Website, Reviews & Reputation Management, and Local Listings Management, costs $190 per month and saves your agency $30 per month compared to the standalone cost of these services.
Our onboarding process is designed to take the burden off of you as much as possible and consists of two 30-minute phone calls. We'll work with you until you are totally happy with your new website.
As a thank you for attending today, we're offering a $50 promo to webinar attendees. You can receive a $50 account credit for signing up for our Insurance Agency Website service. This promo ends on March 29, 2021.
To get started personalizing your sales with Video Proposals through a BrightFire website, please visit brightfire.com, or you can also speak with a BrightFire expert at 888-778-4393.
---
Q&A on Video Proposals for Independent Insurance Agents
So that concludes our presentation on How to Personalize Your Sales with Video Proposals. Now I'll hand it back over to Chelsea so we can get that Q&A session started if anybody has any questions.
Chelsea: Awesome. Thanks, Spencer. As a reminder to everyone, we will do our best to answer all the questions that come through. You can still submit them now as well, but if we aren't able to get to all the questions, we will be sure to follow up with you all to get those answered. We'll go ahead and get started on the first question here.
"Is there software I have to install on my computer to use Video Proposals, or how exactly does that work?"
Spencer: Oh yeah. Good question. So it is very similar to Zoom. Everybody's familiar with that if you're in this webinar today. So just like Zoom, we'll have all single-time download that takes a couple of minutes. The first time you use Video Proposals, your website dashboard, when you log in, will guide you through the setup process. It's only a couple of clicks, and then after that initial install, you're good to go.
"Can I embed videos I create onto my website?"
Spencer: Yeah. Great question. Permanent video content on your website is an awesome idea. So BrightFire can embed YouTube or Vimeo videos for you anywhere on your website. The Video Proposals are a little more individualized in that they're automatically embedded into your website, and they'll have a password-protected URL for each video. So that would be something more you're using with individual clients or in some of those follow-up emails having some general videos like we were talking about earlier. But yeah, we can absolutely embed video content on your site for you.
"Do I have to have a BrightFire website to be able to use this? Or can I buy the Video Proposals feature separately to work with a non BrightFire website?"
Spencer: Oh, sure. Good question. It is only available with the BrightFire website since it's part of our whole platform that's built into the back end versus a separate standalone product.
"Is there a good way to post a video on our Insurance Agency Website as a commercial for different products or coverages that we offer?"
Spencer: Yeah, absolutely. I know a lot of folks will record things and then save it as a YouTube video. Then, they can just send it over to the BrightFire support team and let us know, "Hey guys, here's a general welcome video. I want this to go on my homepage above our reviews," for example, and we'll get that on there and taken care of for you guys.
"Do all agents log into BrightFire to do these videos on the admin section?"
Spencer: Right. Yeah. You would just log into the backend of your website. And if you haven't done that before or don't have that log-in info, we can reset that for you. Just like in any other platform, "Hey if you forget your Gmail login, you need to reset it and verify that it's you."
Chelsea: Perfect. Alright. Well, I think that's all the time that we have for the questions today. Thanks again, to everyone who submitted a question. If you do think of another question later on, feel free to give us a call or reach out to us on our website, and we'll be happy to get that answered for you. But before we close today, I would like to remind everyone of our upcoming 20 Minute Marketing Webinars.
---
Upcoming 20 Minute Marketing Webinars
Chelsea: Our next webinar is, "Why Customer Lifetime Value is Vital to Your Pay-Per-Click Advertising Success." When it comes to Pay-Per-Click Advertising, also referred to as PPC, knowing your Customer Lifetime Value or CLV is vital to understanding if your campaigns are generating a return on your investment. This insight will then enable you to make informed decisions on how to strengthen your advertising strategy and appropriately spend your advertising dollars.
In this webinar, you'll discover what Customer Lifetime Value is, how to calculate your PPC return on investment, and why it matters to your insurance agency.
This will be held Thursday, April 29, at 2:00 p.m. Eastern or 11:00 a.m. Pacific.
And then our webinar in May is about, "Recent Local Search Trends to Help Your Insurance Agency's Business Listings." Since 97% of people learn more about a local company online than anywhere else, it's imperative your agency stays on top of local search trends to rank as high as possible in Google.
In this webinar, we'll cover recent local search trends, offer tips to effectively manage your local business listings, and discuss how local listings play an integral role in your agency's overall efforts to reach more people and improve your website's SEO.
This will be held Thursday, May 27, at 2:00 p.m. Eastern or 11:00 a.m. Pacific.
You can reserve your spot at these webinars by visiting the webinars page on our website at brightfire.com/webinars.
So that does it for today! From me, Spencer, and the rest of the BrightFire team, we'd like to thank all of you for attending.