BrightFire is proud to announce the release of our new dashboard for our Local Listings Management service!
This new dashboard allows insurance agency owners to quickly see their current contact information from key citations as well as a list of links to every other live citation detected across the network of hundreds of local business directories our system monitors.
Local Listings Management Dashboard for Insurance Agencies
Let's walk through the three tabs of the dashboard: Key Citations, Live Citations, and Pending Citations
Key Citations
Key citations are business listings that we consider the cornerstone of your agency's local business listings. You can see your agency's live contact information on each of these citations right in the dashboard. Citations on this tab are managed directly by BrightFire.
Additionally, you can visit each citation if you'd like to confirm the accuracy of your listings or see what information about your agency is displayed on a given local business listing.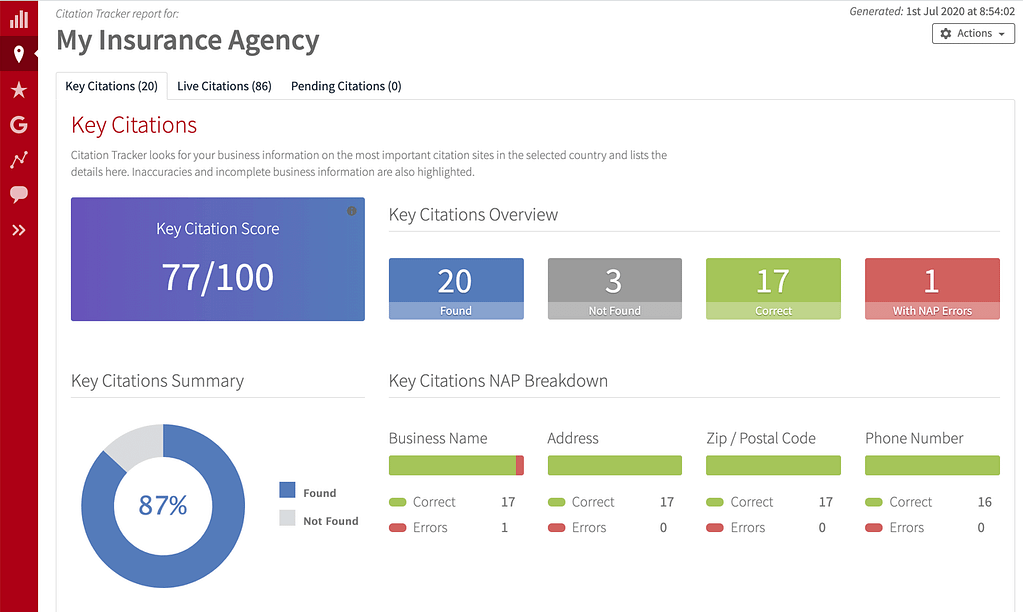 Live Citations
Live citations include key citations, as well as local business listings that are indirectly managed by BrightFire. Citations indirectly managed by BrightFire rely on the citations we manage directly as their source of data about your agency. You can visit any of your agency's live citations from this tab.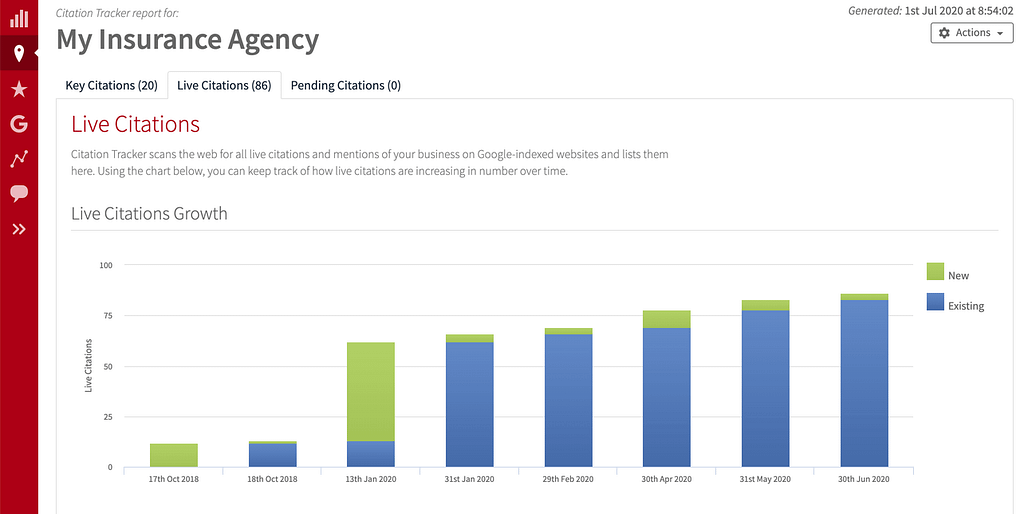 Pending Citations
Pending citations are any local business listings we're currently working to update. You can visit this tab any time to see if there are any listings we're currently updating.

Take Control of Your Local Business Listings
If your insurance agency is looking to improve your Search Engine Optimization (SEO), you should know that your local business listings play a significant role in local search rankings for insurance agencies.
BrightFire's Local Listings Management service allows your agency to improve your local SEO without taking on the additional burden of managing your own listings or navigating the world of citations on your own.
What's more, addressing your citations isn't a one-time project. It's important to keep track of your contact information across the digital ecosystem on an on-going basis since listings are paramount for local SEO. That's why BrightFire includes this service as part of our Ultimate SEO Bundle.
If you have questions about your agency's citations or our new dashboard for Local Business Listings, contact us today to see what's possible with BrightFire.