Your agency's Facebook page is an important part of your online brand. In our reviews of our agents' Facebook pages, we often see a few common, but important details that are missed or incomplete, so we recommend checking your Facebook page to ensure that all the information is correct and up to date.
What Are The Most Common Mistakes to Correct?
Although your Facebook page contains a wide range of fields detailing information about your agency, there are five sections that are especially important:
Categories
Phone Number
Website
Address
Hours
Categories
The Categories field comes directly under the map on the About page, so it will be one of the first things people see when searching for more information. This section lets you showcase the general industry (i.e., insurance) that you are in so that you are more likely to appear in related searches.
Although you can choose up to two Categories, only the first one will display at the top of the About page. In most cases, it is best to choose "Insurance Agent" as your primary category.
Phone Number
The Phone Number field appears on top of the map on the About page, as well as in the right sidebar on the Home page. Filling out this field correctly is critical to making sure that customers can contact your agency. It is especially important if you have a "Call Now" button on your page, as an incorrect number could lead to lost leads.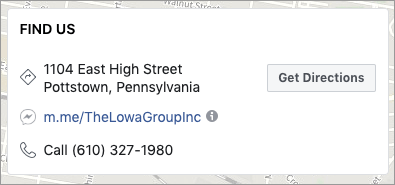 Website
Just like your agency's phone number, your website appears on both the About and Home pages. Since this is the link that Facebook visitors will take to access your website, you should ensure that it is formatted properly. This includes adding the proper "https" and "www" prefixes.
For example, if your business is Smith Agency, you should always display the website URL as https://www.smithagency.com

Address
Your agency's address appears in the map section on the About page, as well as in the right sidebar of the Home page. An accurate address not only helps customers find your office, but it can also improve your chances of showing up as a result when people in your area search for local insurance agencies through Facebook.
When filling out this section, make sure you include your street address (including the suite or office number as applicable), city, state, and zip code. If you do not have an office where you meet with clients (e.g., you work from your home), you can uncheck the box labeled "Customers visit my business at my street address" in order to keep the local search benefits without displaying your exact location.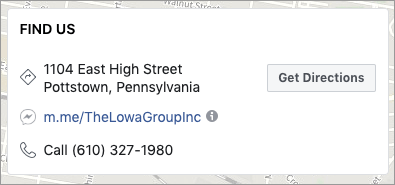 Hours
Like most of this information, your business hours will display on the About page and the Home page sidebar. Simply check the days that your agency is open and then select the appropriate opening and closing times from the provided options.

How Do I Edit My Facebook Page?
1. When you first go to this page, click the "About" tab on the left side (these tabs may be in a different order depending on your page).
2. Once you are on the "About" page, click "Edit Page Info" on the right side.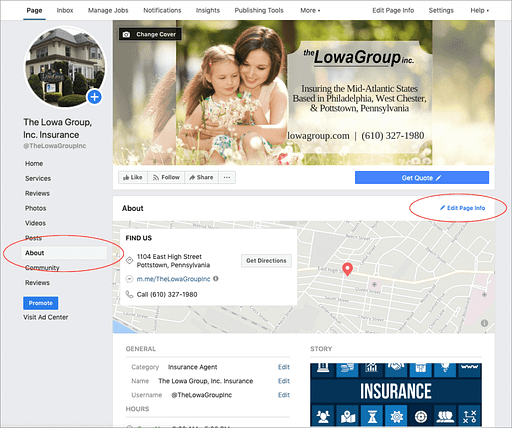 3. Fill out as many of the fields as you can, especially the Categories, Phone Number, Website, Address, and Hours. Make sure you click "Save Changes" after filling in each field.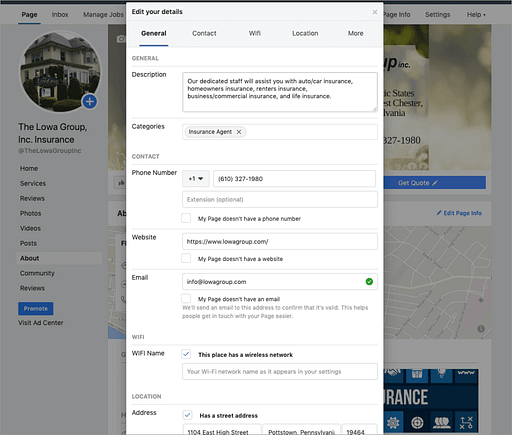 4. Once you have filled out and saved every field, click the X in the top right corner of the "Edit Page Info" box to return to the "About" page.
---
Want to Get The Most Out Of Your Facebook Page?
If you are interested in engaging with your customers on social media but don't have time to do so yourself, then one of our Social Media Marketing packages would be perfect for you.
You don't have to manage your social media alone – BrightFire can help you make the most of your agency's Facebook page, as well as your other social media profiles. To learn more, click the button above, reply to this email, or call us at 888-778-4393, Ext. 100.
---