BrightFire is excited to announce the formal launch of our STELLARTM Platform and the release of several new mobile responsive website designs today. Our new mobile responsive themes and links to demos are now available on our website at https://www.brightfire.com/solutions-for-insurance-agents/insurance-agency-websites/.
The initial release includes the first six design themes: IMPACT, HOMETOWN, FOCUS, INNOVATE, FOUNDATION, and CAPTIVATE. Two more themes are planned for February and March. All of our websites are created with custom color schemes for better agency branding.
The new mobile responsive themes are available today for upgrades or new websites.
BrightFire StellarTM
StellarTM is BrightFire's new WordPress based website platform built for the specific needs of insurance agents. StellarTM combines the power and flexibility of the WordPress Content Management System with the BrightFire developed website widgets, components, and functionality for insurance agencies.
This platform also enables BrightFire to release the newly created mobile responsive website design themes today and additional designs in the future.
What Are Mobile Responsive Websites?
A mobile responsive website is much more than just a "mobile friendly" website. A mobile responsive agency website will work seamlessly on any mobile device, tablet, laptop, or desktop screen and is designed to automatically adjust to meet the user's screen or device.
For many non-responsive websites, the mobile site has completely different content and/or a very limited amount of content and functionality.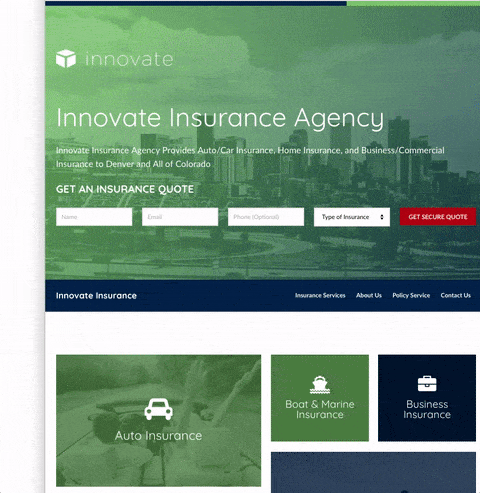 Why Are Mobile Responsive Websites Better?
Mobile Usage is Increasing
Take a step into the outside world and you'll notice a lot of people on their mobile phones. It seems that just about everyone is attached at the hip with their smartphone. However, there are many businesses who have not yet picked up on this trend and are missing out on making the experience easier for their users.
Preferred by Google (Better Rankings!)
Google has publicly stated that it prefers responsive web design as the recommended mobile configuration and uses it as a ranking factor.
But why does Google prefer responsive design? For starters, they favor responsive design because it makes their life easier. It's more efficient for Google to crawl a single website and then index and organize all the content instead of multiple websites.
Also, when there is just one website and URL, it's much easier for users to share, engage and interact with the content on that website as compared to a site that has different pages for mobile and desktop users.
Increase Visitor Conversion Rates
Since responsive website design adapts to any screen, it creates the best possible environment for your customers to use your website. If the users have to pinch and zoom or scroll horizontally, they will just get frustrated and leave your site and find another one that is easier to use.
Responsive web design will increase those coveted conversion rates from all of the mobile users. Why? If your agent website is awkward on mobile or tablet device or has limited usage, your chances of converting those users to phone calls and quote requests will be low.
Better User Experience
As we've explained above, responsive insurance agent website design gives users an easier and overall better experience. For example, users don't have to play around with scrolling left or right and shrinking the text or zooming images on screen. Instead, all of the content automatically adjusts to the screen of their device. This makes it easier and more convenient for users to read and navigate around your website.
Responsive Rocks!
Responsive web design allows you to meet the current needs of your users, regardless of the device, as well as accommodating for the future.
As more people are beginning to use mobile devices as their primary internet browsing device, having a mobile responsive agency website is critical for your success today.
View our mobile responsive themes and demos now at https://www.brightfire.com/solutions-for-insurance-agents/insurance-agency-websites/.