Because 97% of people learn more about a local company online than anywhere else, it's imperative your independent insurance agency stays on top of local search trends to rank higher in Google.
In our latest 20 Minute Marketing Webinar, BrightFire Sales Executive Spencer Breidenbach covers recent local search trends, offers tips to effectively manage your listings, and discusses how local listings play an integral role in your agency's overall efforts to reach more people and improve your website's SEO.
What to expect from this webinar:
Why Pay Attention to Local Search Trends?
Late 2020 Local Search Trends
2021 Local Search Trends
Future Updates to Your Agency's Local Listings
How to Respond to Recent Local Search Updates
Finally, Spencer details how BrightFire's Local Listings Management service can support your insurance agency's need to stay informed of local search trends and keep your citations up to date on more than 40 of the most important listings sites.
Watch The Webinar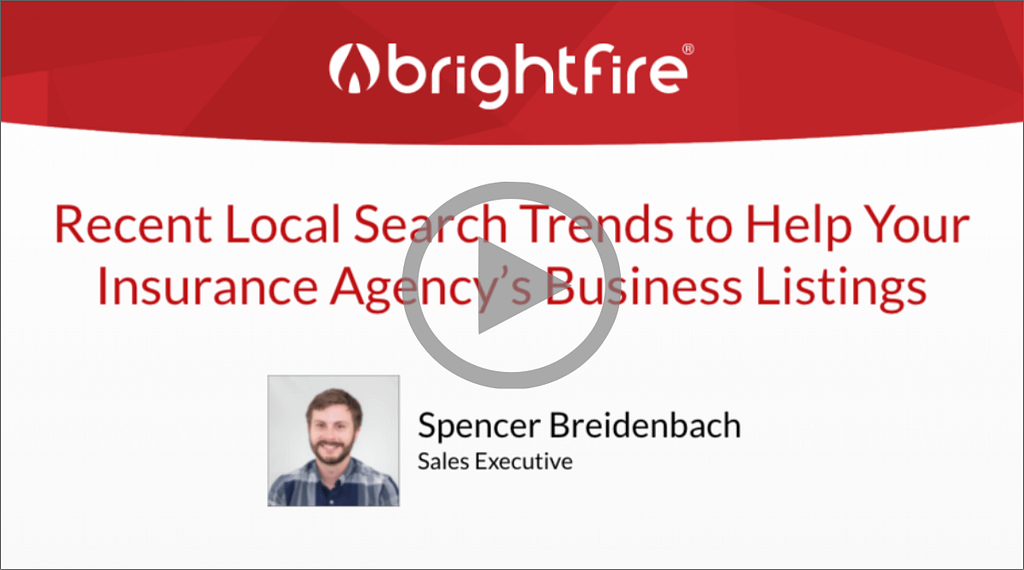 Additional Questions?
If you have any questions about this webinar or our Local Listings Management service, please contact us or call us at (888) 778-4393.
Webinar Transcript
Chelsea: Hello everyone. My name is Chelsea Peterson. I'm a Digital Marketing Coordinator here at BrightFire, as well as your host for today's 20 Minute Marketing Webinar. Thank you to everyone for joining us today. We are really excited to have you guys here. Last month if you joined us, we discussed Why Customer Lifetime Value is Vital to Your Pay-Per-Click Advertising Success. If you missed that webinar or any of our previous ones in the webinar series, you can access the whole 20 Minute Marketing Webinar series on-demand at www.brightfire.com/webinars. Our goal in these webinars every month is really just to provide you guys with digital marketing advice and discuss current topics in a brief 20-minute format, followed by a Q&A period at the end to answer any questions from the attendees. If you guys have any questions throughout the webinar, please use that Q&A feature at the bottom of the screen at any time.
Chelsea: We'll do our best to answer all the questions at the end that come through, but if for whatever reason we run out of time and can't get to all the questions, we will be sure to reach out to you guys afterward. Today's webinar will cover Recent Local Search Trends to Help Your Insurance Agency's Business Listings. That will be presented by Spencer Breidenbach, one of our Sales Executives here at BrighFire. He'll reveal why it is so imperative that your independent insurance agency stays on top of local search trends to rank higher in Google. He'll offer tips to effectively manage your local business listings and then discuss how listings play such an integral role in your agency's overall efforts to reach more people and improve your website's SEO. Today's webinar is being recorded, so everything we discuss will be saved and emailed to you in the next business day or two, that way you can watch it later on-demand as well.
Chelsea: Lastly, we do have a few polls for today's webinars. When those are launched, you'll see the poll pop up on your screen with the question as well as the multiple-choice options that we have. You can select more than one response, and every poll is anonymous. We'll give you about 30 seconds to share your response, and then we'll discuss the results with the group. And that's all the announcements I have for today. I'll go ahead and hand it over to Spencer to kick off today's webinar.
Spencer: Hey, thanks so much, Chelsea. And of course, thanks to everyone joining in, taking the time for this webinar today. Before we get started and dive into things, I want to offer a little bit of background on BrightFire, since we do have a mix of current clients and agents that are new to BrightFire attending. We started out providing Insurance Agency Websites back in 2000. Over the years, as consumer shopping patterns online changed, the needs of agencies grew along with it, and we expanded our services beyond just the website itself to handle things like SEO, helping clients generate more reviews, lead generation through Pay-Per-Click Ad campaigns, helping folks out with content marketing on social media, and then what we'll be diving deeper into today – Local Listings Management.
Spencer: We currently provide our Local Listings Management service to hundreds of agencies across the country. And we're all proud to say that our first agency customer back in 2000 is still working with us now. Over 20 years later, they're enrolled in our Local Listings Management service.
Spencer: With that little bit of background, let's get started. Today, we'll discuss why it's important that your insurance agency pays attention to local search trends. Then, we'll jump into some updates from Google My Business and Yelp over the last year that your agency should implement if it hasn't already. We'll cover some future updates from Google My Business and Apple Maps that will be really crucial to keep an eye on for the future. Then, we'll go over a few practical steps you can take to respond to those local search updates so your listings will be optimized to make sure you're getting found easily by consumers.
Spencer: Finally, we'll take a look at how BrightFire's Local Listings Management service can support your agency's need to stay informed about local search trends and make sure your citations are up to date on over 40 of the most important listing sites that Google's looking at for search rankings.
Spencer: So, first, the big key question I know you're probably thinking is, "Hey, why should I pay attention to local search trends at all?" For starters, you may already be aware that Google is the most popular search engine worldwide and has almost three-quarters of the search engine market share of those searches (Smart Insights). Almost half of those show a local intent (BrightLocal) such as, "Hey, I'm trying to find a service, or a business that can offer something around my area. Not like across the world or something that I can get anywhere."
Spencer: That means that there is a really high likelihood that your Google My Business account is often the first experience users are going to have with your agency when they're out there researching your insurance options. Because of that, you really want to make sure you're optimizing that Google My Business listing and taking advantage of all the new features they offer. In a more general sense, local search engine optimization, or local SEO, offers huge benefits and is a big opportunity for your agency to get brand recognition and get visibility online from people who are highly interested and ready to make that purchase. Nobody tends to Google search "auto insurance" or "contractors policy" for fun. These are folks raising their hand saying, "Hey, I'm actively seeking out options and feeling some kind of urgency to that. Let me find, identify some good options to research. And then I want to make a buying decision quickly."
Spencer: In fact, 72% of consumers who did a local search visited a store within five miles (WordStream). 50% of those who did a local search on their phone visited a store within a day, and for people on computers and tablets, 34% visited a store within a day (Google). This data is all possible because of the fact that local SEO is putting businesses in front of those interested consumers at the exact moment that they're searching for a product. For insurance specifically, consumers are searching for a certain policy, making it much more likely that they're going to make a purchase, or at the very least become a prospect for your agency. There are so many more statistics we could go through together, but hopefully these give a little bit more insight into why it is really relevant and important for your agency to pay attention to the various local search sites and these updated features and benefits so you can stay competitive and stay top of mind with policyholders and prospects.
Spencer: Now I think it's a good time to see how our attendees are staying updated on local search trends, if at all. I'm going to go ahead and launch our first poll. Hopefully this will pop up on your screen in just a moment: What do you do to keep up to date with local search trends on sites like Google My Business and Yelp? As a reminder, all of these are anonymous and you can select more than one option, which could potentially be relevant for this. Go ahead and take 30 seconds to respond to the first poll and we'll take a look and compare the results.
Spencer: I see quite a few people have had a chance to respond. I'll leave it open for just a few more seconds so everybody can get a chance. Let's go ahead and take a look and I'll share those results so you can see those on the screen. We've got a pretty good mix. More than half of you are keeping track of updates in some way. I see a good sizable minority, 33%, that will review any emails from those sites. Another third of folks will do research on the latest trends such as searching Yelp to look for trends or maybe updates from associations that you're a part of. It's good that over half of you all are already active with this kind of thing.
Spencer: Thanks to everyone who participated on that one. With the understanding of the importance of paying attention to local search trends, let's go ahead and dive into some of the big announcements and updates from Google My Business and Yelp through the end of last year. In September, Google added new COVID-19 health and safety attributes so business owners can let consumers know masks are required, you are doing temperature checks for consumers or staff, as well as whether appointments or reservations are needed before an individual can enter the business. Yelp created a consumer alert to stand against racism in October, which allowed consumers to flag companies if they experience or witness an incident involving racism. This is an important feature for your agency to be aware of so you can manage your Yelp listings closely and best manager your insurance agency's online reputation.
Spencer: Then in December, it was all about communication for Google My Business. First off, they made it possible for business owners to respond directly to reviews in the Google Maps and Google My Business Smartphone Apps, making them a lot more accessible and pragmatic. Google My Business also made it possible to reply to messages your business receives directly from the Google Maps Smartphone App, as well as on the desktop version of Google My Business. If you turn those messaging capabilities on, your Google My Business posts can even feature a messaging button so consumers are able to start a conversation from any posts you create. One important note on that messaging feature is that Google has a policy requiring business owners to respond through the platform within 24 hours or they may revoke your ability to message consumers through it at all.
Spencer: They really want to ensure if people are reaching out to businesses on Google's direct channels like Maps or Google My Business that they're receiving a really good customer experience: "Hey, businesses are actually getting back to me." They don't want people to give up, saying, "Hey, somebody didn't respond to me once, so I'm not going to try to use that Google feature again." Moving onto the latest updates from this year. In January, Yelp added a new twist on health and safety features. While Yelp already permitted businesses to share what COVID-19 precautions they were taking as of last summer, the new January announcement allows consumers to offer feedback on whether a business' stated precautions are actually met when they went into that business. That feature came after a Yelp study reported that businesses that added COVID-19 updates to their Yelp page between September and December of 2020 saw their consumer interest on Yelp increase by 41%.
Spencer: Allowing consumers to report on whether or not the safety precautions were met adds accountability to businesses to make sure that the stores and customers are safe and people are following through on promises that they advertised on Yelp. January also saw updates from Google My Business. They added inclusive highlights, which allows business owners to showcase their companies as women-led, veteran-led, black-owned or LGBTQ-friendly. There were quite a few local search updates in February with the first being that the Google My Business local pack now shows the year that the business is established, which is pretty cool.
Spencer: It can highlight your length of experience and people can see, "Hey, this is a really stable, experience, and seasoned business. I can definitely trust your credibility." Google also created a community feed in the explore tab of Google Maps, where your agency's Google My Business posts can receive up to two times the visibility that they had before that. The community feed makes it easier for consumers to discover places and businesses near them, by sharing both your agency's most recent posts, as well as the latest reviews, photos, and posts that other users in the area add into Google Maps.
Spencer: Then the last big February update was on Yelp. In an effort to only promote honest and organically earned reviews, Yelp updated their recommendation software to unrecommend any views that they detected had been paid for or came from review exchange groups. Not only does that update ensure consumers receive the most helpful and reliable information, but they also want to protect businesses that are working hard to build their online presence the right way and organically. In that same category of reviews, Google My Business did create a new Review Takedown Tool in March that allows businesses to more easily report illegitimate reviews, which I'm sure comes as a breath of fresh air to any of you who've received unwarranted reviews in the past that didn't accurately depict an experience someone had with your agency. Both of those review updates confirmed that it is really important to focus your efforts on receiving only honest and organic reviews to rank higher in local SEO.
Spencer: Lastly, the most recent update from Yelp in April is their new Asian-owned business feature. They had previously added the ability to label your business as women-, black- or Latino-owned, and now agency owners are able to promote their businesses is Asian-owned.
Spencer: Leverage any and all of these latest features on your Yelp and Google My Business listings to let your customers know your agency is safe to enter, and that you're trustworthy, friendly, and really well-established. Now that we've discussed all the recent updates, I'd like to go ahead and launch our next poll, which is "Which of these features have you already updated or experienced on your listings?" Let me go ahead and get that up for you guys. Make sure you see that pop up now. Again, I'll leave this open 15 to 30 seconds. All of these responses are anonymous. I see a lot of folks are having a chance to get those responses in. I'll have to leave it open a little while longer if anyone else wants to participate in that one.
Spencer: Okay. Let's take a look at our results. It looks like there is a good smattering of people using messaging, direct responses to reviews, as well as those health and safety attributes. Then, some of these don't have any adoption yet. It looks like everybody overall is really active on Google, which is interesting. I also see that we've got quite a few people who haven't used any of those features thus far. I definitely recommend taking a little time to at least familiarize yourself and make sure to monitor Yelp for feedback from folks. Make sure you're aware if there are ever negative reviews on there, if somebody ever does report on that stand against racism feature, as well as on feedback about your health and safety features through that platform.
Spencer: Thanks again to everybody who participated in that. There are a couple of feature updates that I really want to cover that could definitely make a big impact on how you manage your local listings and online brand reputation as a whole. The first thing is currently in beta testing and it's called Google My Business Call Tracking. This future feature will give the listing account owner deeper insight into how many calls were received from people placing a call from your Google My Business listing when they find you online, as well as how many of those calls were picked up and connected or missed. Google's going to be able to better track those phone analytics because when a consumer clicks on your phone number in your listing, they'll actually be connected through a call forwarding number.
Spencer: On your end, when you pick up one of those calls, you'll get an automated message letting you know you've received a call from Google so that you can know, "Hey, this is where this call is coming from" and better personalize that conversation knowing this is how a lead is finding you. The other big feature to keep a lookout for is on Apple Maps. Soon they'll introduce their own native rating and review system instead of what they're doing currently, where they rely on a third-party review site like Yelp. Research is showing that Apple Maps is working on creating a feature that will allow consumers to click a thumbs up or thumbs down on a business as a whole, as well as on individual products or services that the business offers.
Spencer: They'll also be able to include an area for consumers to add in their own photos that they've taken when doing business with a company. Not only will this new feature increase your need to closely monitor your Apple Maps listing and what's going on there, but it'll also be another platform to monitor for and respond to reviews to best manage your insurance agency's online reputation. As a quick side note, if you guys are interested in learning more about how to best respond to online reviews and improve your online reputation for SEO, you can check out everything you'll need to know in our Ultimate Guide to Online Reviews. Now that you've learned all about some recent local search trends from the past year, as well as a couple of new features coming down the pipeline, what do you do with all this info?
Spencer: Let's take a look at a few tips on how you can act on these trends and boost your agency's listings, improve your search rankings, and get found more easily. The first thing you want to do, of course, is make sure to claim and manage your listings. You can get listings automatically created for your agency on Google My Business, Yelp, and both Google and Apple Maps. So, you want to make sure to claim those listings to gain control over the info that's displayed, including having an accurate agency name, address, phone number, and so on. We've seen studies where 80% of people say that they lose faith in a local business if they see that their online listings don't have accurate info (Placeable Study). It is really important to build that credibility on the front end. If you haven't already, add in the year you were established from that new Google My Business feature we were talking about, as well as the health and safety precautions your agency is taking.
Spencer: For example, share whether your staff is wearing masks and you're requiring customers to wear them. Share whether you're allowing customers to come in by appointment only and any of those inclusivity tags that would be relevant to your business. Those are quick updates that can really help people relate to you or feel safe if they've got concerns around COVID-19. Another tip I would offer is to turn on and use that messaging feature. Being available to consumers, wherever they are at that exact moment they're trying to reach you at is really beneficial to them and eases that friction. So if somebody says, "Hey, I don't have time for a call right now, but I'm trying to get in touch," they can reach out really easily, and there's no barrier that might leave them reaching out to somebody else instead.
Spencer: Just remember that you want to make sure to respond to those messages within 24 hours and stay in Google's good graces with that. Next up, I'd recommend you all create frequent Google My Business posts on the community feed to give you more visibility on the usual search results page, treat that listing like any other social media platform where consumers can learn about the agency, see you're active, and message you directly when they find you on there. It's worth mentioning here that we do include posts on that platform as part of our Social Media Marketing service. So, definitely feel free to reach out about that if that's something that's a need or interest for you. In addition, remember that trying to game the system is not going to work well when it comes to reviews on those listings. There are many ways to go about creating authentic reviews.
Spencer: So, if you try to game the system by generating fake reviews or review gating, these platforms are always getting smarter and you're going to run the risk of getting your reviews deleted or listing issues created for you. That brings me up to our last tip for today, which is to closely monitor your listings and promptly respond to any reviews that you get. The more recent your reviews are and the more that you have in total, the more likely consumers are to trust you and those reviews. I know that was a lot of info, and keeping up with the latest local search trends can definitely be time-consuming and tricky. So, with our Local Listings Management service, we can help you stay abreast of all those trends and keep those local listings up to date on over 40 of the most important listing sites and directories so your consumers are able to find you where they want, with or without visiting the website.
Spencer: Our team of digital marketing experts will closely monitor your accounts and make sure that your important agency info is consistent across all of your listings, help your agency build brand awareness, and drive more leads. When you subscribe to Local Listings Management, we'll handle all the hard work, claiming and managing current listings, monitoring for duplicate listings or new inconsistencies as they pop up, and updating anything. For example, if your independent insurance agency ever moves or changes contact information, we will update everything automatically for you when you let us know. So how can you get started? Our Local Listings Management service costs $40 a month per location. Like any of our services, there are no setup fees or contracts, and a $30-day money-back guarantee to all is included with it.
Spencer: Additionally, our Ultimate SEO Bundle also includes an Insurance Agency Website and Reviews & Reputation Management in addition to Local Listings Management. This is geared at making sure you're addressing everything possible that is going into local SEO and costs $190 a month. That is discounted by $30 versus doing those individual services separately. We want to make sure all of our services are designed to be done for you. Typically, for Local Listings Management, it consists of one 30-minute setup call, and then after that, we can launch that Local Listings Management service within a week of your onboarding call.
Spencer: As a thank you for attending today, we are offering a $50 account credit as a promo for our webinar attendees. If you sign up for our Local Listings Management service by Tuesday, June 8, 2021, you'll be eligible, and we'll add on that $50 account credit automatically for you. To get started effectively managing your agency's listings, feel free to visit our website at www.brightfire.com or you can talk to us at (888) 778-4393. So that concludes our presentation on Recent Local Search Trends to Help Your Insurance Agency's Business Listings. Now I'll turn it back over to Chelsea to start that Q&A session if anyone has any questions.
Chelsea: Great. Thank you, Spencer. As a reminder to everyone, we will do our best to answer all the questions, but if we don't get to them, we will reach out to you individually afterward as well. So, Spencer, the first question we have here is, "What will BrightFire do if I have three locations?"
Spencer: Oh, yeah. Great question. The local listing service will cover a single office location. So, even if it's your one overall agency and you've got three separate offices, each of those is going to have their separate listings because each of them doesn't have their own separate address and contact info. We recommend that if you're looking for excellent visibility and to get leads for each of those, you will want to enroll in that service for each of those office locations because we don't have contracts. You don't have to talk to folks who will say, "Hey, I've got these three locations, let's start it out with one. Okay, this is going great for us. Let's add it in for the other two." So you're free to build things over time because we just want to make it really flexible and easy for you all.
Chelsea: Great. Okay. Our next question is, "How long does it take for updates to be made to my local listings?"
Spencer: Good question. It does depend on the specific listing network. Some networks allow for instantaneous updates while others are periodically looking for updates and windows for it. We'll monitor your local listings to make sure that depending on the specific platform, things get published as quickly as possible and taken care of for you.
Chelsea: Great. Someone else asked, "What if I already have listings that I'm managing through a third-party service or on my own?"
Spencer: Got you. So most agencies that come to us already have some listings, but may not be aware of all of them since some of those will get auto-generated if they're looking at another data aggregator that's got your info and they just pull it into theirs automatically. Typically many listings, especially ones that you guys aren't aware of, are going to have inaccurate or incomplete info. Our Local Listings Management service will be auditing and correcting your local listings in addition to creating new ones. We want to make sure for all of those that are already out there, that they get updated to be consistent with everything else for you.
Chelsea: Yeah. Absolutely. Next up we have, "Which sites besides Google and Yelp would you recommend that we check, update, and claim?"
Spencer: Sure. It's definitely good to take a look at some of the other big consumer-facing directories. Foursquare, MapQuest, and Apple Maps are going to be increasingly relevant players because of some of those things we talked about. If you look up some and maybe pick out, "Hey, here's like five or ten of the most important listings where consumers are most active," those would be the best places to go after those initially.
Chelsea: Great. Next up we have, "How can you show us how to update these on Google?"
Spencer: Sure. That's a little outside the scope of what we have time for today, but you can definitely Google that help section if you go in and look at a Google My Business account. They'll have tutorials on how to add or update some of these new features for you that will walk you through with screenshots and things like that.
Chelsea: Okay, perfect. Next we have, "How do local listings interface with my social media subscription?"
Spencer: Oh, good question. They complement each other hand in hand. For example, with your Google My Business page, we would optimize and get all of your info correct on there. You guys can send us over some of those new features that we were talking about if you let us know, saying, "Hey, BrightFire, we changed our office hours to A, B, and C, and this is our new COVID-19 policy." We will go ahead and make those updates to the Google My Business listing for you guys. Then with the social media subscription, we're not doing that part of it, but we are automatically posting the content that we do for Facebook, Instagram, and LinkedIn. It'll also get posted to your Google My Business listing. If somebody is looking up "homeowners insurance brokers near me" and they see you guys, they'll be able to see, "Hey, Smith insurance agency is super active. Here, let me reach out to them. I feel good about it because they're posting this stuff regularly. I feel confident that if I reach out and give them a call, they'll be responsive to me."
Chelsea: Great. And then the last question we have for today is, "What is the difference between Reviews & Reputation Management and Local Listings Management?"
Spencer: Sure. Good question. Basically, the local listing service is making sure you're listed and your information is accurate everywhere. Now Google, as well as a lot of consumers, would be expecting to find your info. Whereas the Reviews & Reputation Management service would be geared toward helping you guys generate more reviews out of your book of business. The biggest places to go after reviews with folks, and this may change as Apple Maps rolls that new feature out, would be Google My Business, Yelp, and Facebook. Basically, with Local Listings Management, we're getting you on dozens of different sites and making sure when Google's algorithm looks, they see that you're on all of those places accurately. Then, with Reviews & Reputation Management, we're helping you and kind of hyper-focusing on a few where those reviews are going to have the most impact and helping you guys get more feedback from folks like consumers are wanting to see.
Chelsea: Perfect. Thanks, Spencer. Well, I think that's all the time we have for questions today. Thanks again to everyone that submitted a question. And if we weren't able to answer it, we will email you all individually as well. But before we close, I'd like to go ahead and remind everyone of our upcoming 20 Minute Marketing Webinars. Our next webinar is Common Insurance SEO Myths Debunked. Keeping up with search engine algorithms and ranking factors can be really difficult, time-consuming, and confusing. It can also be hard to identify what advice is accurate and based on fact. For example, is content still king and our backlinks still relevant? Join us in this webinar as we identify and debunk common search engine optimization myths to help you create a successful long-term SEO strategy that will increase your insurance agency's visibility and SEO rankings. This webinar will be held on Thursday, June 24, 2021, at 2:00 PM Eastern or 11:00 AM Pacific.
Chelsea: Then our webinar in July is The 3 A's of Reputation Management for Insurance: Awareness, Assessment & Action. It's important that you know what policyholders are saying online about your independent insurance agency so that you can stay on top of consumers' minds while standing apart from the competition at the same time. In this webinar, we'll show you guys how to analyze your agency's current online reputation and then offer pragmatic steps to effectively manage your online reviews so that you can improve policyholder satisfaction, consumer engagement, and lead generation. This webinar will be held Thursday, July 29, 2021, at 2:00 PM, Eastern or 11:00 AM Pacific as well. You can reserve your spot to any of these webinars by visiting the webinars page on our website at www.brightfire.com/webinars. And that does it for today! From me, Spencer, and the rest of the BrightFire team, we'd like to thank you all so much for attending today.