It's important for your independent insurance agency to know what policyholders are saying online about your agency so you can stay on top of consumers' minds while standing apart from the competition.
View BrightFire's latest 20 Minute Marketing Webinar as Sales Advisor Spencer Breidenbach shows you how to analyze your agency's current online reputation and offers pragmatic steps to effectively manage your online reviews so you can improve policyholder satisfaction, consumer engagement, and lead generation.
What to expect from this webinar:
What is online reputation management
Why and how to assess your online reputation
How to take action to improve your online reputation
Finally, Spencer details how BrightFire's Reviews & Reputation Management and Social Media Marketing services offer everything your independent insurance agency needs to manage, improve, and protect your online reputation.
Watch The Webinar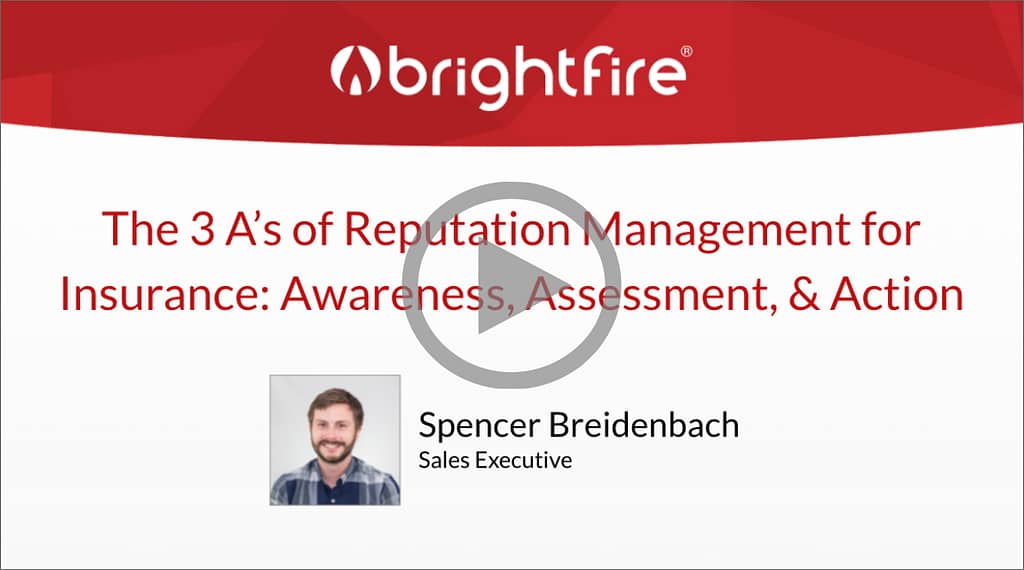 Additional Questions?
If you have any questions about this webinar or about BrightFire's Reviews & Reputation Management or Social Media Marketing services, please contact us or call us at (888) 778-4393.
Webinar Transcript
Chelsea: Hello everyone. My name is Chelsea Peterson, and I'm a Digital Marketing Coordinator here at BrightFire. I'll be your host for today's 20 Minute Marketing Webinar as well. Thank you again for joining us today. We really are excited to have you guys here. Last month, if you were with us, we covered Common Insurance SEO Myths Debunked. If you missed it or any of our previous webinars in the 20 Minute Marketing Webinar series, you can access the whole series on-demand by visiting www.brightfire.com/webinars. Our goal in these webinars is really just to provide you guys with some digital marketing advice and discuss current digital marketing topics in a brief 20-minute format, followed by a Q&A period at the end to answer any questions.
Chelsea: If you do have questions during the webinar at all, you can use that Q&A feature found at the bottom of your screen, and you can go ahead and submit those questions. We'll do our best to answer all of the questions at the end. If we can't get to all of them, we will be sure to email you guys personally afterward as well. Today's webinar topic is, The 3 A's of Reputation Management for Insurance: Awareness, Assessment, & Action. It will be presented by Spencer Breidenbach, one of our Sales Advisors here at BrightFire. It's so important for all of you guys to know what policyholders are saying online about your agency, that way you can stay on top of consumer's minds while still standing apart from the competition.
Chelsea: So today Spencer will show you guys how to analyze your agency's current online reputation and offer pragmatic steps to effectively manage your online reviews so that you can improve your policyholder satisfaction, consumer engagement, and lead generation. Today's webinar is being recorded, so everything that we discuss today will be saved and emailed to you in the next business day or two. That way you can reference it later for future use. Lastly, we do have a couple of polls for today's webinar. When those are launched, you'll see the poll pop up on your screen with the question and multiple-choice options. You can select more than one response, and every poll is anonymous. We'll give you guys roughly 30 seconds to share your response, and then Spencer will discuss the results with the group. With that being said, I'll go ahead and hand it over to Spencer to kick off today's webinar.
Spencer: Alright. Thanks so much, Chelsea. And thank you to everyone for taking a little time to join in with me today. As you may have very well experienced in your own agency, I know there are hundreds of things that an agency owner is responsible for, so it can be difficult to find time to work on improving your online reputation. Oftentimes, pragmatically, an agency only zeroes in on their own online reputation when there's a big issue that arises like, "Hey, we just got this one-star Google review. Somebody flew off the handle." So the first A of reputation management we want to discuss and tackle in today's webinar is focused on helping make sure agencies are aware of what online reputation management means and why it's important to have a plan in place to stay on top and consistently monitor and manage your online reputation versus being more on the back foot as things come up. Next, we'll go over how you can conduct an audit and assess your current online reputation to see where your agency stands against the actual competition in your market.
Spencer: We'll discuss a handful of categories to assess, like local business listings, reviews websites, and your social media channels, as well as checking out your competitors and seeing what footing you're on. From those results, we'll dive in and take some actions, see how you can improve your online reputation and effectively manage it on that ongoing basis, proactively. Finally, I'll cover how BrightFire can help you manage, improve, and protect your online reputation with our Reviews & Reputation Management service. Our Social Media Marketing service can also help you maintain the social media aspects of your reputation online. So as I mentioned previously, the first A of reputation management is awareness. Simply put, your company's reputation is defined as how others perceive your agency online. For example, Bob Smith is doing a Google search trying to find an auto policy or Medicare quote, and they see you guys listed on that page of Google search results. Are they going to have an overall negative or positive impression of your agency? Do your reviews from clients make you look credible and trustworthy?
Spencer: Is Bob going to feel confident about doing business, talking to, and engaging with your agency? There's just a few important considerations to take into account when you're analyzing your reputation online. So studies have shown that a brand's online reputation makes up more than 25% of its market value (Deloitte). So it's really vital to consistently monitor and manage this. Improving on your online reputation can also increase your overall trust in your agency. So, your current clients can be more loyal and help perceive, "Hey, they're doing great by me. This is the best option out there. I'm going to stick with them." Your reputation can also improve how you're showing up on Google and other search engines, as well as help you get more of the folks that find you converting, growing your sales in that overall book and giving you a good wake up compared with your local competitors. Your online reviews act as social proof that your agency is credible and trustworthy, and that you're going to deliver on the promises you make to your customers.
Spencer: So when a prospect reads positive reviews, and they definitely are going to, since roughly 95% of customers make sure to read reviews nowadays before making a decision (Spiegel), they will begin to believe, as they read through your reviews, that you're actually going to be able to follow through on any marketing claims you make and be able to meet the needs and expectations. But having a few online reviews isn't enough. It's really critical to keep a consistent stream of reviews coming in. 85% of consumers believe local reviews that are older than three months are irrelevant (BrightLocal). Somebody could say, "Oh, great. They have a four-point average and 50 reviews. Hey, this looks good. Oh, wait, their most recent one is from two years ago. What's going on? Are they out of business? Did the management change? These reviews don't have anything to do with their customer experience now." So while older reviews are still vital to your overall online reputation, newer reviews are going to tell your prospects that your agency's likely to offer that same high-quality service and customer experience as well.
Spencer: That's not just, "Hey, back six months ago, they were good." There's also more to your online reputation than positive reviews, such as having an agency website that's secure and professionally designed, as well as regularly posting content to your website blog and your social media profiles for the agency. So for the purpose of this webinar, though, we'll be focusing on monitoring and managing your online reputation through the channels you receive those reviews from. So, your local business listings and social media profiles like Facebook. Now that we've covered what online reputation management actually entails and why it's something to be bothered with, let's move on to the next A of reputation management. The second A is assessment. Conducting an assessment or audit of your online reputation is going to definitely give you a clear picture of what you are doing really well as an agency, where you can improve, and what expectations customers are bringing in when they start working with you. So what profiles and sites should we be looking at during this audit?
Spencer: A few important local business listings are top priority, including things like your Google My Business listing, or Bing and Yelp profiles. The first thing you want to check is to make sure that you've actually claimed each listing. If we look at these two Yelp listings, as an example, this one listing shows, "Hey, this is claimed." Whereas this one for Acme Insurance highlights this box and says, "Hey, nobody's claiming this business, is this yours? If so, please claim it." So when we leave those listings unclaimed, it's really a missed opportunity to control what's going on there and it doesn't reflect well on your agency in the eyes of consumers, if somebody finds you on Yelp and they're thinking, "Wait, what the heck? They don't have this listing claimed. Is the business active? What's going on here?" So the next item on the agenda to assess is what business info you need to complete or update on each of those listings. So, for example, do you have a short bio background about the agency? Is all of the contact info present and still up-to-date?
Spencer: Your website URL is great to humanize it and throw some photos on there, even if it's the outside of the building or agency owner. That kind of thing helps lend credibility, "Hey, I feel I know what I'm getting into, and this is a legitimate business," versus, just being this mystery really abstract brand that they can't really find a whole ton of concrete info on. It's also essential to pay attention to what your policyholders actually like the most about your agency, as well as the things that could use some improvement. So that's going to be vital info for when your agency is ready to take action on improving your online reputation after this assessment part when you're ready to actually dig in. I want to go ahead and pause here and launch our first poll for the day, which is, how are you notified of new online reviews that your agency receives? So here, let me get this launched for you guys, and I'll leave it going for 15, 30 seconds. These polls are anonymous, and you can select more than one response if these apply to you. I'll leave it open.
Spencer: Great, looks like we're getting some good responses in. I'll go ahead and leave it open for another 10 seconds or so, and we can take a look. Alright, let's take a look. Great. So it looks like the most popular response was, "Hey, I receive email notifications." That's great that you're going to stay abreast of what's going on out there. So I know some clients we work with have the push notifications going and understand that that's intrusive. That's your personal smartphone. As long as you're looking at those email notifications, that's great. This is a good middle position if you get those email notifications going, that's really going to help ensure consistency and that something doesn't fall through the cracks. It's better than nothing and it's good that you guys are keeping an eye on that. And then, definitely want to help you guys get reviews, so when folks look you up, you want to make sure they're finding reviews out there for you. Alright. Well, thanks again to everybody who participated in that poll.
Spencer: So next, let's move on to the next category of your online reputation to assess, and that being your social media channels. So similar to local listings, you can have unclaimed Facebook or LinkedIn accounts that were automatically created for you, just floating out there. When these social media profiles are unclaimed, they're going to lack branding and they may have incorrect info about your business. So I really recommend searching through your agency's name on Facebook and LinkedIn and looking for any pages or profiles you need to claim. Then, after you see that they're there, you want to take note and make sure each one's branded to your agency. If you take a look at these two accounts, these are good examples of branding. They both have their logo as the profile image, one has included their logo on their cover image. And the other does a really nice job of incorporating their brand colors and logo into each Instagram post that they're doing. So when you're analyzing your social media channels, you do want to take note of any opportunities to really incorporate your brand image even more.
Spencer: You'll also want to confirm all of the sections there are filled out and accurate, stuff like contact info and bio. Then take stock of, "Hey, how many followers do I have on each of my accounts? How often am I posting on each of these channels? What engagement is typical? Do I get direct messages through this account a lot?" And see when people do engage with you, how frequently is your agency responding to comments and messages. Take a look at, are there accounts out there that you have claimed, but you're never active on? "Hey, we've got a strong Facebook following, but hardly any on Instagram," that sort of thing. Make sure you've got the time to commit to managing all of these. So the last category of your online reputation assessment is to audit your competitors. Repeat the last few steps for your competitors' pages. Look at, "Hey, what are they doing well? Can they improve?" You can really see if there's an opportunity for you to fill a gap that your competitors might be leaving in how they go about things or deliver on customer experience.
Spencer: And knowing more about your competitors and what their clients like and don't like can really give you a lot of ammunition to improve your own marketing efforts and focus on, "Hey, every agency around me is talking about this or has this issue. So here I'm going to address what problems their clients have and all of my marketing language to really set me apart." Now let's take a moment and launch another poll before we dive into some actionable steps you can take for your online reputation. Alright, let me get that rolling out for you guys. And that should have popped up for everyone. The question on this one is, which of these elements of an online reputation assessment do you conduct in your agency at least once a year? And just as a reminder, this is anonymous and you can select any and all that apply. I'll go ahead and leave that open another 15 seconds or so. We'll give folks a chance to respond. Alright. Let's take a look.
Spencer: I accidentally clicked too soon there. And let's take a look at our results. That's not bad. We've got half the folks who are taking steps to engage with things. It looks like checking for those online reviews as we saw in our last question is the most common response. It's great seeing you get a little more engagement, making sure to respond to those reviews. We'll dive a little into that later. Some of these are good action steps. Posting on social media, that's good. So definitely, it's good to see folks taking some steps, and definitely some are using it where we can grow. And thanks again to everybody who participated on that one. So now, let's go ahead and dive into the last of those three A's of reputation management, which is action. So the steps are probably the most important, but I understand, it's the easiest to not get all the way through because of all the effort it can take to effectively execute this stuff.
Spencer: So given everything you've uncovered in the process of assessing your online reputation will probably have uncovered some areas for improvement and ideas about how you can take things to the next level with your reputation. So, first and foremost, we eluded to it a little earlier, but you really want to be proactive rather than reactive, claiming and filling out all of your local business listings or profiles on social media that aren't claimed. So again, this is stuff like Yelp, Google My Business, Better Business Bureau, Facebook, LinkedIn, etc. So next you want to take a look at the reviews you do have out there and categorize your negative and positive ones. Look for common themes "Hey, what are things people love about us? What are some common things folks have complaints or say needs improvement?" While poor reviews help your agency learn and grow, those positive ones also give you insight into your strengths. That again, you can tie it back into your marketing messaging. If you don't do anything with those reviews, you're going to miss out on a lot of opportunities to improve your reputation, both online and offline.
Spencer: So, you want to make the decision to start responding to your reviews if you haven't done that consistently in the past. So, while 75% of businesses don't respond to their online reviews (Womply), that can really help you stand out. When folks see, "Hey, I'm looking at Acme Agency and they respond to clients' feedback. Hey, these other three competitors don't look like they ever answer a customer's concerns or thank them for reviews." That can help differentiate you, and then it is going to help you stand out from the crowd. Because while a lot of businesses don't respond to them, 89% of customers do take the time to read businesses' replies to reviews (BrightLocal). They want to see how issues were resolved or get a better picture of how the company actually communicates with its real clients. So when you respond to a poor review, don't let the negative comments get the best of you. I know it's really hard not to take it personally when it's your brand that you've worked really hard on. You want to apologize for the customer's experience and really offer a way to resolve that situation.
Spencer: So remember when you're responding to a negative review, it's not just that individual person you're responding to, but potential customers who see that later. So for example, you could say something like, "Hey John. We're so sorry. We expect to provide great customer service, so we're really sad to hear whenever that's not the case. And we'd love to hear more about what happened and discuss it to help solve that situation for you. Hey, here are the next steps to get in touch with us so we can get a solution for you." And once you've spoken with that client and they're happy with your resolution on it, a lot of times folks will be willing to update their negative review to a positive one. Many individuals are really willing to do this when asked. Don't forget to respond to your positive reviews as well. When you do that and really enhance the reviewer's customer experience by showing appreciation for the effort that they put in to write that nice review for you. Also, when prospects later come into your accounts and see those reviews and replies, that tells them, "Hey, they're active and on topic communication."
Spencer: Now's also a good time to consider opportunities to highlight what your customers mentioned in those positive reviews, in your actual marketing messaging. So when you take what people actually like the best about you, that's really going to strengthen your social proofing. People will see on your website or on your marketing, "Hey, they say they do A, B, and C to have great service. Now I'm looking at these reviews and have backed up, actions speak louder than words." So it really helps portray, "Hey, this agency knows what they're good at and honest. They say they're great at this, and the reviews bear that out." This new standard will also help you determine what aspects of your negative reviews you should consider improving first. So, for example, if you see, "Hey customer service is really one of our key strengths," but the last few reviews mentioned poor customer service, then you'll want to address that issue first to keep your online reputation aligned with the benefits that you're telling consumers they can expect by choosing to engage with you. The next action that you should take, is to actively seek out new reviews.
Spencer: Studies show that 80% of reviews originate from businesses sending follow-up emails, asking customers to review their purchases (Spiegel). So one really simple, effective way to do so is through Net Promoter Score or NPS surveys. So that's just a simple, one-question survey to ask, "Hey, how likely would it be that you'd recommend us to a friend or a colleague on a scale of one to 10?" At BrightFire, we send those surveys to our client's policyholders twice a year. Once a customer rates your agency, they'll get the opportunity to leave text feedback, with any additional remarks they want for context. They'll also be prompted to consider leaving a public review on places like Google, Facebook, and Yelp. So those Net Promoter Score review generation campaigns. It can be one easy way that your agency can easily get that overall review count climbing and improve your average star ratings. So, if you're interested in more tips on everything you need to know about your agency's online reviews, you can check out our Ultimate Guide to Online Reviews here at www.brightfire.com/ultimate-guide-reviews.
Spencer: So when it comes to taking action on improving your online reputation on your social media channels, it's great to make a content calendar. So you can really keep up-to-date with things, things you should be posting and helping you brainstorm ideas for future posts. Much easier to get out ahead of it and have even distribution versus just a lot of content coming one day of the week. So those social media networks give more visibility to the accounts that are most active and posting consistently. So it's great to plan a post on each account, at minimum once per week. Just set aside a time that works best for you to plan and schedule content out ahead of time. And if you don't have time for that, I know a lot of agency owners have tons of balls in the air that they're juggling. BrightFire can help by writing and posting content to your social media sites each week, as part of the social media marketing and service we offer.
Spencer: You should also make sure that you have a notification set up properly for your social media accounts so that you can engage with your followers and make sure if somebody leaves a comment or directly messages you, people hear back from you in a timely manner. Finally, the last action item for today from our online reputation assessment is to beat the competition at their own game. So, after you go back to what we were talking about before finding out what consumers say about your competitors, it's great to take any actions possible to offer them more value, such as providing customer service through different channels that others may be missing out on. If somebody wants to message you on your Google My Business page, or Facebook messenger, providing live chat on your website. So for instance, if you enable the Google My Business messaging and repeatedly fail to respond to folks within 24 hours, Google will revoke that ability of your business to use their messaging feature. And the next few items are simple actions you can take to improve your online reputation as a whole.
Spencer: Basically when you set up your prospects for success, you want to give them clear expectations. How quickly can they expect to hear back from you, or start on a new policy with you? Should they expect to hear back with next steps, by email or call or a text message? It's really good to underpromise on expectations and then overdeliver, So they're really pleased. Also want to delegate different tasks related to your online reputation, if possible. So you're not stuck with all of this as an extra burden on you as the owner. Who should be responsible for responding to reviews? Who should be checking regularly for duplicate listings online? Making sure these things get taken care of on a regular basis is really essential to the success of your online reputation strategies. And finally remember that your online reputation is ongoing and not just a one-time thing. The people and the search engines are both looking for recent and new reviews, so there's no finish line, "Hey, I got 30 reviews. I'm good to go."
Spencer: It's really an ongoing cycle of building those reviews and monitoring, or assessing, "Hey, where are things at? What can we be doing to grow and do differently?" I realize I've gone through a lot of info, and it definitely seems daunting to develop and maintain a really consistent and effective strategy to address your reputation. So that's why our Reviews and Reputation Management service is designed to take that burden off of you and help grow your agency easily. Get those new reviews coming in and really protect that online reputation. So our digital marketing experts can review your agency's current online info and reputation, offer tips and advice to help you improve it, and then we take care of the heavy lifting for you, so you can focus on selling policies and growing the business. So we provide everything you need to successfully monitor, manage and grow your online reputation, including a reputation management dashboard. Twice a year we'll do all of the leg work of getting those email campaigns out, to get reviews and ratings for you guys.
Spencer: We'll set up automatic review monitoring, generate reviews through campaigns for you and alert you on any new reviews that you get. Our Social Media Marketing service can also help with your online reputation by professionally branding your social media accounts, publishing helpful content related to the types of policy that you actually sell, multiple times a week. Once you're enrolled in that service, you get, again, the professional branding and posts. We want to help you build your audience, so folks are actually seeing what you're posting. You'd have a dashboard where you can see all of your info and go, "Hey, respond directly. Hey, I got this Facebook message or this comment on this LinkedIn post." And just see everything right there. We can also do custom campaigns for an additional fee where we build out social media posts completely from scratch, from the ground up for you. So how can you get started? So our Reviews and Reputation Management service costs $80 a month. Additionally, our Reviews and Reputation Management is also included along in our Ultimate SEO Bundle, since that is, again, something search engines are wanting to see.
Spencer: That bundle costs $190 a month, and that would basically save you $30 a month, over the standalone prices of doing all of those three services individually. Our Social Media Marketing service is also at $80 a month. You do have the option to purchase those custom campaigns I mentioned. You can do a subscription for one a month or multiple a month, or even just add those on a one-off basis. So, an example of that would be promoting contests you're running online or highlighting something you're doing with the local community. "Hey, we have this charity event we want to make sure people are aware of." None of our digital marketing services have any setup fee or contract. And we include a 30-day money-back guarantee on everything we do. So, our onboarding, we really want to take the burden off of you as much as possible. And for these services, it would typically be just one 30 minute phone call. Typically, we can launch either the Reviews and Reputation Management or Social Media Marketing service within about a week of when you initially sign up.
Spencer: So as a thank you for attending today, we are offering a $50 promo to webinar attendees. You can receive a $50 account credit for signing up for either service, and that promo ends next Wednesday, August 4, 2021. So to get started with a reputation management strategy, managed by our digital marketing experts, you can visit us at brightfire.com, or always feel free to give us a ring at 888-778-4393. And that concludes our presentation on The 3 A's of Reputation Management for Insurance. I'll now pass it over to Chelsea to start that Q&A session if anyone has any questions.
Chelsea: Great. Thank you so much, Spencer. As a reminder to all of our attendees, we will do our best to answer all the questions that come through, but if we aren't able to address them, we will reach out to you personally afterward. So let's get started. Spencer, the first question we have is, "Should I go back and respond to my old reviews?"
Spencer: Oh, that's a really good question. So, you do want to respond to everything up to a point, if anything's less than a few years old. You're responding to Joe Smith's negative review three years ago, and he's already canceled with you. You're not going to win him back as a policyholder, but it can definitely still help your prospects who are looking at how you respond to things. Folks are going to still look back and scroll down and see, "Hey, how often do they reply to people? When people have issues, the way you stand by things and want to engage and try to make it right for them."
Chelsea: Yeah, absolutely. That's a great point. Okay. The next question we have is, "Do people really care about how old reviews are, as long as I have 4.9 stars on Google?"
Spencer: Yeah, that's another good one. So, that goes back to what we were discussing earlier about assuring consumers that, just because you had good service two years ago, they can expect to see the same thing. Thinking about that stat we talked about, back towards the beginning, so consumers know things are going to change with businesses. You might have producers leave and new CSRs, versus when people left that review two years ago, now ownership can change. Things can change, so it's really reassuring to see, "Hey, they used to have good experience for customers and it looks like they still provide that," versus just, "Hey, what happened in the last six months? Are they not getting new clients anymore? Why are there no reviews?"
Chelsea: Yeah. Awesome. Well, I think that's all the time we have for today for questions. Again, thank you to those that submitted a question. And if you do think of another question afterward, you can always email us as well. We'll reach out to you with that response. But before we close today, I would like to remind everyone of our upcoming 20 Minute Marketing Webinars. So our next webinar in August is titled, Unlock the Power of Engagement in Insurance Social Media Marketing. In today's digital age, there's definitely no question that social media should be a part of your digital marketing strategy. But to truly increase brand trustworthiness and loyalty, your agency should go above and beyond simply being present and occasionally posting on social media. So if you join us in this webinar, we'll dive into how engaging with followers on your social media channels can have a substantially positive impact on your brand and book of business.
Chelsea: This webinar will be held on Thursday, August 26th at 2:00 PM Eastern, or 11:00 AM Pacific. And then our webinar in September is, Humanize Your Website & Boost Sales With My Agent Personalization. As an independent agency owner, you understand that building relationships with policyholders and prospects is absolutely crucial to growing your book of business. So now more than ever, it's really important to maintain those same personalized experiences on your agency's website. So in this webinar, we'll unpack what BrightFire's My Agent Personalization tool is and how your agency sales team can leverage it on your Insurance Agency Website so that you can improve your customer experience, increase efficiency and boost your agency sales. This webinar will be held Thursday, September 30th at 2:00 PM Eastern or 11:00 AM Pacific. You can reserve your spot to any of our webinars by visiting our webinars page at our website, brightfire.com/webinars. And that does it for today. From me, Spencer, and the rest of the BrightFire team, we'd like to thank you all so much for attending today.