In 2023, having a positive online presence is key to an agency's success in the modern marketplace of insurance and connected customers. Along with websites, blogs, and social media profiles, positive online reviews can play a defining role in the success of your agency. In fact, 97% of consumers read online reviews for local businesses, most of whom trust the reviews just as much as they trust personal recommendations.
Online reviews are one of the most effective ways to drive potential customers to your insurance agency. BrightFire has created this guide for insurance agents to help them learn why online customer reviews are important and how to continuously generate more positive reviews.
Part 1 – What Are Online Reviews & Why Are They Important?
Key Takeaways
Reviews are essential to creating a reputable brand name online.
Reviews increase online visibility and build customer trust.
Generating Google reviews will improve your overall search rankings.
Reviews provide "social proof" for insurance buyer decision-making.
What Is An Online Review?
An online review is publicly-available feedback coming directly from a customer. Customers leave these reviews on third-party review sites such as Google My Business, Yelp, Facebook, YP.com, Better Business Bureau, and others.
Consumers use online reviews during the purchasing process to understand which insurance agents are trustworthy, credible, and have a history of good customer experiences.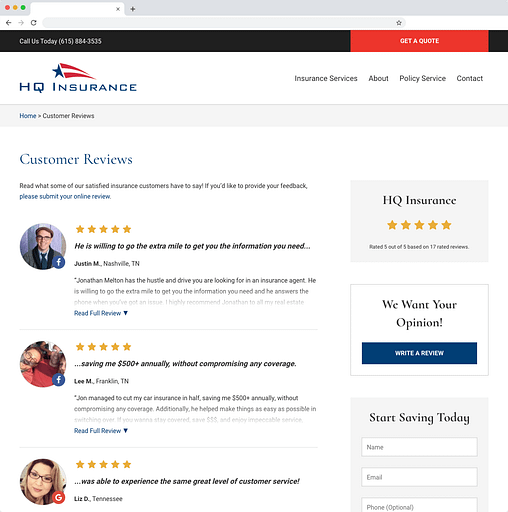 Why Online Reviews Are Important To Your Agency
Customers Seek Out & Trust Online Reviews
In a perfect world, every potential customer would come into your office and allow you to explain firsthand why you are the right person to be their trusted insurance agent. But that is not reality. Instead, most people today turn to the internet when it is time to search for a new service or business. Fortunately, many of these consumers value online reviews just as much as personal referrals.
These testimonials are so powerful that there is an entire industry built solely upon collecting and displaying online reviews. Love it or hate it, Yelp is a billion-dollar company because it is fulfilling that demand. Now more than ever, consumers will not make a purchase until they have "social proof" that your business can deliver on its promises.
Reviews Help Your Website's Search Engine Rankings
Reviews can do more than just help customers trust your agency. The presence of reviews on your business listings can increase the clickthrough rate ​to your website, which in turn can boost your website's search engine rankings. In particular, Google uses the reviews compiled on a business's Google My Business listing to help determine how that business will rank in their search results. The more positive reviews there are for a business, the better that business's chances of ranking highly on Google.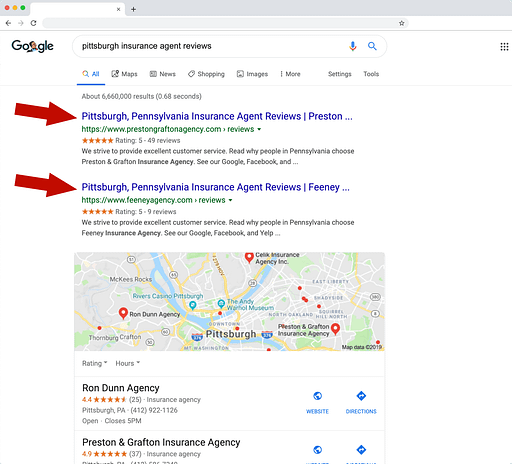 Boost Conversions on Your Website
Because of the prevalence of user review websites, you may think it's unnecessary to implement reviews on your own website. However, placing authentic reviews from real people on your agency website, especially near contact and quote request forms, can have a major impact on converting a website visitor into a prospect.
At BrightFire, we curate the reviews on your website to make sure they provide the most impact on conversions. We curate your reviews from 18 network sites, including the most important sites like Facebook, Google, and Yelp.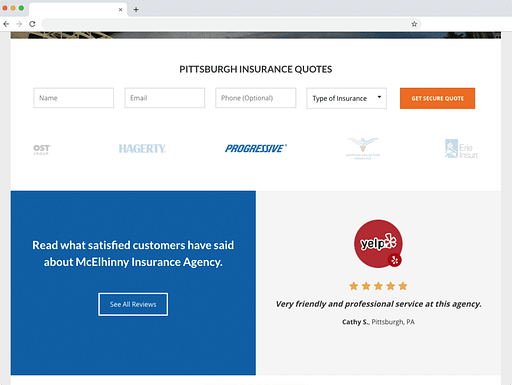 Reviews will include the review text, review site, star rating, and the reviewer's photo. The best reviews from a variety of sites will get the best exposure on your website.
Part 2 – How Do I Generate Online Reviews?
Key Takeaways
Most customers will leave a review if asked.
Fake reviews will have negative consequences.
Google is by far the most important place to have reviews, followed by Yelp and then Facebook.
Getting Started
The first step in generating online reviews is to make sure you have a business listing at the major review networks (Google My Business, Facebook, and Yelp). If you've never had a customer leave you a review, it's likely because it hasn't crossed their minds.
There are several passive and active ways to generate online reviews.
Passive Methods
Use a website review widget to feature previous reviews as well as a call-to-action to write a new review.
Include a link to your website's review page in your email signature.
Active Methods
Just ask in person – at the right moments! There are several opportunities to ask your policyholders for a review, such as after you've sold them a policy, after you've renewed their policy, after in-office service, or after a positive claims experience.
Send personalized follow-up emails a few weeks after doing business with them.
Share new reviews on social media and ask for more.
Publish social media posts directing them to your website's review page.
Include a review link in a customer survey or newsletter.
Mail out personalized postcards that include URLs to your review page.
Where Should I Tell Customers To Leave Reviews?
While there are several review websites and services across the web, there are three major review services we recommend to our insurance agents.
Google My Business
Google is far and away the best place for customers to leave reviews, as these reviews will directly affect your search rankings. Once you have ten positive Google reviews, Google will reward you by giving your site more priority when displaying results to potential customers.
Yelp
Yelp reviews carry less weight than Google reviews, but they still play an important part in maintaining a positive brand name. Millions of consumers use the site and trust the feedback it provides. Yelp reviews control your ranking within Yelp itself, so good reviews can go a long way toward drawing in new customers.
Facebook
Facebook may not affect your rankings like Google or offer a review-specific service like Yelp, but it is still a critical piece of your larger social media presence and branding. Even if your website looks professional, a customer who sees that you have numerous bad Facebook reviews might be hesitant to give you their business. Facebook reviews can also be displayed in the Google Knowledge Graph when a user searches for your agency by name.
Part 3 – How Do I Respond to Customer Reviews?
Key Takeaways
Responding to all reviews is a great way to build your brand.
If you get a negative review, you can still spin it in a beneficial way.
Spam reviews can be appealed and removed.
Engage With Your Audience (Reviewers & Prospects)
When someone leaves a positive or negative review, it's important to respond and let them know that you value their feedback. Not only does this show that your business is appreciative, but it also helps you maintain a strong online presence. People who see your replies will have an easier time seeing the human element in your agency, which in turn can make them more likely to give you their business.
What About Negative Reviews?
Negative reviews can have a crippling effect on insurance agents, especially if the agency has few reviews to begin with. But even worse than getting a negative review is never responding back to one.
Replying shows other readers that you are not shady or dismissive of customer feedback, and that you have taken steps to ensure this problem won't happen to the next customer.
When you're responding to negative reviews, remember that you're not just replying to the one reviewer. You're speaking to everyone who reads the review, including potential future customers.
The best thing to do when you receive a bad review is to react quickly and professionally. Replying to a negative review is your opportunity to make things right. If a customer brought a complaint to you in person, you would try to make it right. The same holds true for online reviews.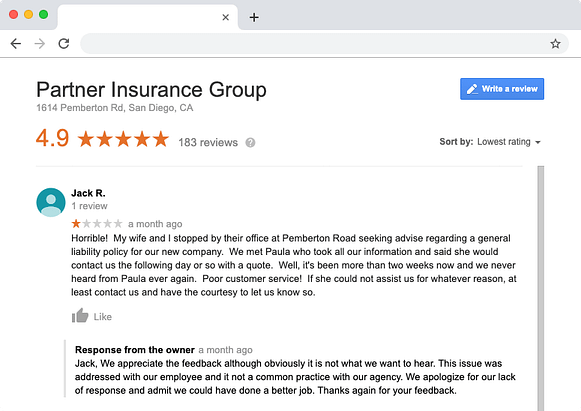 Step 1: Apologize and sympathize in your response to the negative review.
Acknowledge the customer's concerns, even if you believe they are unfounded. Show sympathy that they had a bad experience. "I'm sorry to hear about your bad experience."
Sometimes with insurance agent reviews, the customer had a negative experience with the insurance carrier but left a negative review for the insurance agency since they didn't understand the difference.
Step 2: Insert a little marketing in your response to the bad review.
Explain what your customers usually experience at your agency. "We're normally known for our exceptional customer service, and we regret that we missed the mark here."
Step 3: Move the conversation offline.
Provide contact information for yourself or someone at the agency so you can discuss the problem directly with the customer reviewer. If the situation is explained or the issue has been resolved to the customer's satisfaction, the reviewer is able to remove or edit the original review.
Part 4 – What Should I Avoid When Generating Reviews?
Don't Review Gate
Prohibited by Google, review gating is the practice of discouraging or preventing negative reviews or selectively soliciting positive reviews from customers. It's important to give every customer the same experience and opportunity to leave a review.
Don't Use Fake Reviews
Reviewing your own business, purchasing fake reviews, or asking friends, family, or employees to review your business when they are not customers are all strictly prohibited. If you know that asking a particular person for a review represents a conflict of interest, avoid asking this person.
Don't Force Customers To A Single Review Site
To make it as easy as possible for your customers to leave a review, offer them more than one review service. When leaving a review, the customer will need to have an account on that review network. Additionally, some customers may be power users or "local guides" on certain websites, so it's important to allow your customers to leave reviews on the networks where they are the most active.
Don't Use Review Generating Vendor Services
Don't purchase review generating services that focus on building reviews on their own service or website. When you cancel your monthly subscription to these services, you will lose all of your reviews. Instead, your review building efforts should be focused on generating reviews directly on review sites such as Google, Yelp, and Facebook. Reviews on these sites are not tied to subscriptions, so they are much more trusted and permanent.
Don't Argue With Reviewers
When you respond on review sites, you're not just talking to that reviewer. Other potential customers will see how you handle negative feedback, so keep it professional. Seeing how a business handles a negative review can be very telling, and it may provide more insight to a consumer than a positive review.
Don't Use Text-Only Reviews On Your Website
Website visitors have very short attention spans these days, and they will likely not read multi-paragraph reviews in their entirety. Instead, your reviews page should display snippets of longer reviews, icons of review networks, and profile photos of the reviewers. This will quickly communicate the quality and authenticity of your reviews to prospects without forcing them to scan pages of text.
Putting It All Together
No matter the size or location of your business, online reviews are a critical part of drawing in new customers and building a reputable brand. These reviews allow clients to share what makes your business unique and successful, which in turn will help attract more web traffic and better Google rankings.
---
BrightFire's Reviews & Reputation Management service provides everything you need to easily manage your online reviews.
---