Ever ask a customer, "how'd you find out about our business?" With Pay-Per-Click Advertising call tracking from BrightFire, you'll know the answer. Even better, you'll know which ad or campaign sparked your best leads to call, click, and convert.
View this webinar on-demand as BrightFire's Sales Advisor Spencer Breidenbach discussed how implementing BrightFire's new call tracking feature into your pay-per-click advertising can help you better understand your marketing efforts and track your conversions.
What to expect from this webinar:
The Importance of Pay-Per-Click Advertising
The Call Tracking Feature
How Call Tracking Works
5 Reasons Why Call Tracking is Essential to Lead Generation via PPC
Finally, they'll dive into how BrightFire's Pay-Per-Click Advertising with call tracking service can support your agency to quickly and efficiently generate targeted insurance leads.
Watch The Webinar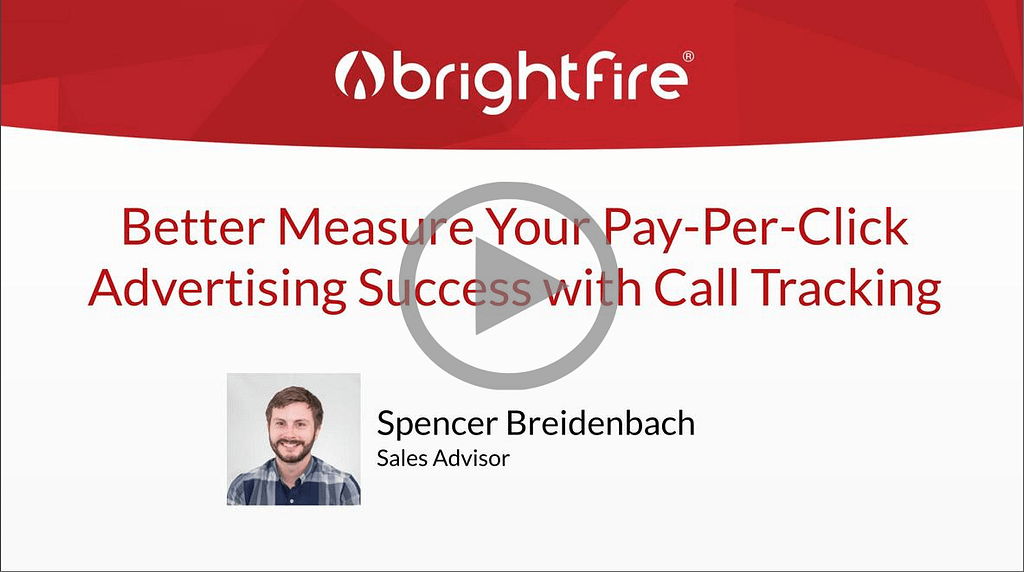 Additional Questions?
If you have any questions about this webinar or our Pay-Per-Click Advertising service, please contact us or call us at (888) 778-4393.
Webinar Transcript
Princess: Alright. Since it's 2:00, we'll go ahead and get started. Hello everyone. Thank you so much for joining us today. My name is Princess Ruff, and I'm a digital marketing coordinator here at BrightFire, as well as your host for today's webinar. In August, we covered, Unlock the Power of Social Media Engagement. And if you missed it or any of our previous webinars, the 20 Minute Marketing webinar series can be found on demand by visiting brightfire.com/webinars.
Our goal with these webinars is to provide you with digital marketing advice and discuss current digital marketing topics in a brief 20-minute format followed by Q&A and an opportunity to answer a few polls as well. If you have any questions during the webinar, please use the Q&A feature in Zoom found at the bottom of your screen. We'll do our best to answer all of the questions that come through. Otherwise, a member of our team will personally reach out to you afterward.
Today's webinar talk topic will be Better Measure Your Pay-Per-Click Advertising Success with Call Tracking and it will be presented by Spencer Breidenbach, one of our sales advisors here at BrightFire. So to give you an overview of what we'll be talking about today, you've probably asked a customer, "How'd you find out about our business?" With pay-per-click advertising with call tracking from BrightFire, you'll know the answer. So with call tracking, we have the ability to assign dynamic phone numbers to each of your PPC campaigns. This new feature really takes the guesswork out of analyzing your PPC campaigns and helps you better understand your advertising marketing efforts and how they impact your bottom line. When you understand which marketing efforts make your phones ring, you'll stop wasting money on efforts that don't.
Today's webinar is also being recorded. So everything we discuss will be saved and emailed to each of you in the next business day or two, so that you can watch it later on-demand. Lastly, we do have a few polls in today's webinar. So when they're launched, you'll see the webinar question, the poll question pop up on your screen. And from there you can select multiple choice options. They are anonymous. So you can select as many options that apply to you. We'll give you roughly about 30 seconds to share your response, and then we'll discuss the results with the group. And with that being said, I'll go ahead and hand it over to Spencer to kick off today's webinar.
Spencer: Awesome. Thanks so much Princess. And thank you for everybody joining us this afternoon and this morning for all of our West Coast folks. So I know as agency owners, definitely a top, top priority is generating consistent leads coming in. And additionally as those come in, it's really important to know, "Hey, for this marketing expenditure I've got this and this and this other effort I'm doing. Which slices of the pie or what are having the most impact and ROI for me?" So in today's webinar, we'll talk through pay-per-click advertising. We'll start off by covering why it's important and how call tracking will help you understand those conversions, and which ads are generating the most actual calls. So again, you can really get a good sense of the impact and what's having the most impact for you. We'll also dive into how call tracking works, and why it's a really essential part of your overall lead gen strategy. And then finally, I'll talk through how BrightFire can help you better understand your advertising efforts with our PPC advertising service that also includes that call tracking.
So before we really jump into things, here is just a brief background on BrightFire. And so I know as usual, we've got a mixture of both current clients and agents that are new to BrightFire attending today. So we started out providing insurance agency websites in 2000. And then over the years as the needs of agents have grown and consumers get more and more into doing research online, we've expanded our digital marketing services beyond just the websites to include things to help with lead generation like SEO, helping clients garner more reviews and build a positive reputation, managing all their local listings online, pay-per-click advertising like we're talking about today, and helping folks to build a content marketing audience on social media. So currently we've got over 2,500 clients or independent agencies who use at least one of our digital marketing services.
With that little background out of the way, let's go ahead and jump in. So now the first thing we'll touch on today, which I know is a key question for everybody, why is this important? So I know lead generation is a really big business goal for agents. Traditional marketing tactics like referrals, word-of-mouth, networking — those are all still valid, tried and true ways to generate leads. But for many of us or for many of our clients as well as BrightFire, there's nothing quite as powerful as pay-per-click advertising for lead generation. A really key piece of this is pay-per-click ads let you reach your audience in the moment that they're actively searching for insurance.
Bob Smith is out there doing a search for an auto insurance quote. If he sees you, he's at a point where he is like, "Hey, something's happened where this is top of mind for me. Hey, I'm not plugging around or researching this for fun. I want to get in touch with an agent and look to make a buying decision quickly." So in fact, research shows that 33% of online users click on a paid search ad when it directly answers their question or issue. Simply put, if your ad is a solution to the problem that that user has, they're way more likely to reach out to your agency to help fulfill that need. So secondly, besides that intent, you target users based on their specific geographic location and the specific keywords or phrases that they're searching for. So you can really tightly focus your budget on qualified leads, selecting, "Hey, this is exactly the type of policy, the type of area I want to be generating these leads from."
And then next, pay-per-click ads can also help you if your SEO has not been successfully getting your website ranked high in search results. Ads in the search result pages take up a big amount of real estate up top before folks even see those organic search results. Also, we'll sometimes talk to clients where maybe, "Hey, my focus is on commercial policies and beyond my immediate actual area where my office is, we really want to be doing business one state over or three counties away from us." So with SEO, even if you're doing a great job, it's going to be really tricky to show up that far out. So that's where pay-per-click lets you really define, "Hey, this is the specific area I want folks to be able to find us." And finally, the last reason that it's important is because of how quick the results are. Pay-per-click advertising makes it possible to reach your target audiences really quickly. Especially when compared to SEO, which don't get me wrong, is very critical, but it is more of a long-term investment at BrightFire.
We'll typically launch a pay-per-click campaign about a week after your initial onboarding call with your Digital Marketing Strategist. So your ads will be displayed in search results very quickly for the keywords that you want to be showing up for. So now that we've discussed why this issue, in general, is important and how pay-per-click can be a profitable channel as part of your marketing strategy, let's talk through call tracking.
So call tracking is a type of conversion on a pay-per-click ad that shows how many prospects have called your business after engaging with one of your pay-per-click ads. So with call tracking, we have the ability to assign a unique phone number to each campaign you're running. "Hey, this is the number associated with this auto insurance campaign. This is the unique number associated with my life insurance campaign." Thus, you can definitively see the value of your advertising program and understand, "Hey, which of my campaigns and ads are the ones that are driving my inbound calls?"
So when you've got those tracking metrics available for you, it's way easier to have a really accurate, all-encompassing view of your return on investment and what's going on. So now sometimes I'll hear in this digital era folks feel like, "Hey, phone call leads might not be a quality lead source. I'm expecting conversions on forms." However, there's a lot of research like according to Power Traffik out of all mobile customers, 70% call their target business directly through Google Ads. So there's definitely a lot of mobile users who choose to just actively call a business simply from being served their ad when they're trying to research the issue that they need to get resolved. So now that you understand what call tracking is, we can roll into our first poll question. I'll get launched in just one moment for you guys. 
And again as always, all these are totally anonymous and you can select as many of these as are relevant for you. So go ahead, I'll leave this open for another 15, 30 seconds. Give folks a chance to respond. And the question here again is, have you ever used any form of call tracking before? I'll leave that up a little bit longer. All right. Let's go ahead and share those results. So I guess it is to be expected. We've got a few folks who have used this before, which is great that you've jumped on and been early adopters with call tracking. And that looks like we've got a pretty sizable majority of folks that haven't used it, which I guess is definitely to be expected. If you're coming here today to learn more about call tracking and how to take advantage of that, that's to be expected. That's perfect. That's great. You guys are looking to learn more about things like this.
Awesome. So thanks again to everybody who participated in the poll. So next, how exactly does call tracking work? So first, call tracking has two big functions. The first one is, again, associating that unique tracking number for each campaign. So all calls may get attributed correctly to the actual ad campaign. And really the goal is to take the guesswork out of analyzing, "Hey, where are my leads coming from when they come over the phone? Which ad or other activities is it that is making folks call?" 
Secondly, that unique tracking number can be displayed in a Google Ads call extension, click-to-call ad, and on the unique landing page where folks are taken if they engage with your ad and click on it. So that feature helps you understand how well your ad, your ad groups and your campaigns are working for your business, allowing you to invest more wisely and help boost your return on investment."Hey, these are areas that have the biggest margins for me. Let's funnel more of that marketing slice of the pie over to that where I'm getting the most bang for my buck."
So now that we've covered call tracking and how it works, we'll dive into five reasons why this powerful feature is really essential to further generating leads for your agency. So with that info about call tracking, that would be a good time for our second poll today. And again, these are totally anonymous and you can select as many of those options that apply for you. Okay. So the question on this one is, which lead channel do you believe produces the best quality lead?
And let's go ahead and take a look at those results. So it looks like our number one choice about three-quarters of the votes is referrals. Which yeah, definitely that's always going to be your golden one. And we talk to agents a lot who say, "Hey, we've got a great referral base and nothing can replace that." And those are coming into you as qualified. And then it looks like our number two is phone leads, which definitely makes sense. Folks when they're calling in, you can control the context of the conversation and track them and demonstrate, "Hey, I'm a reliable friendly person." You'll provide some added value for them versus them just getting a number off of a rater for example. Oh, perfect. And thanks again for replying to those guys who participated and gave your feedback.
So first, as we mentioned earlier in the webinar, call tracking allows you to know the exact source of your phone leads. And this properly attributes conversions for leads who call that unique tracking number that is placed on the ad, and the unique landing page created for it. So according to Salesforce, since over 92% of customer interactions happen over the phone, it's important to know where those phone leads are coming from. So without properly attributing conversions for those phone leads, your pay-per-click metrics are going to appear to be very different. Likely very much performing worse than they really are. Secondly, phone leads have a higher conversion rate. So research from Marketing Sherpa and HubSpot shows that, it's believed that about 25% to 40% of inbound phone calls to local businesses turn into customers. So it definitely sounds like you guys are already well aware that phone interactions are definitely a great source of leads and a good place to focus your marketing strategy.
The third reason call tracking is essential is that mobile search trends are driving more inbound calls. So for example, including a click-to-call feature in your ad, is way easier for somebody on a phone or their iPad than clicking with their phones or taking one finger to fill out a whole form if they're on a mobile device. And according to Google, 60% of folks who use a smartphone have used that click-to-call feature in order to get in touch with a business.
Our fourth reason why call tracking is crucial is the additional insights you can gain. Like we've alluded to earlier in addition to that stuff, if you set up user analytics and call recordings on the numbers that are associated with it, it can provide you really good insights into how your sales staff and your ad campaigns are performing. Those recordings can be used to identify areas of improvement and processes or ideas to better train your staff. "Hey, what pitches or approaches are getting the most traction and motion forward with clients to close?"
And then finally, the last big reason, phone leads can be automatically captured in your CRM in a lot of cases with some automated integrations. So some CRMs can be integrated with popular call tracking services. Meaning if you get a call from a number that's not already associated with an existing contact in your CRM, it's going to trigger, "Hey, here's this unknown number. Let's create a new contact for that in the CRM." So that prevents your phone leads from getting missed out when you're going through all your reports in your CRM, and also takes out all the boring drudgery, "Hey, I've got to look at this list and pull all of this manually in it and enter that."
So with that info on pay-per-click advertising and call tracking, here's a little look at how BrightFire can help you get started from generating some of these high converting phone leads. So with our Pay-Per-Click Advertising service with call tracking, we want to take the guesswork out of analyzing your pay-per-click campaigns. We're proud to announce we're now offering this new feature with our pay-per-click ad service at no additional cost. Our team of Digital Advertising Strategists as well as our Web and Graphic Designers, we really want to support your efforts to build a strong advertising strategy. So at the beginning, we'd want to discuss your agency's needs and goals and situation. We'll have all the details and be equipped to design an ad campaign for you to target your ideal audience, and help you stand out locally against some of the bigger names.
So in addition, we're also an official Google partner. So we've earned that designation by continuously demonstrating our expertise in Google Ads. And we have both Google Ads certified and Google Analytics certified experts on staff. In addition, we also do a lot of work with Google Ads, Facebook Ads, and Bing Ads which they've recently rebranded a little bit ago to Microsoft Advertising. And we want to provide everything you need to be successful and generate leads with pay-per-click advertising. So we do the initial account setup on the platform for you, copywriting, graphic design, custom ad design, a custom landing page for each campaign you're doing, call tracking like we've been focused on today, and then want to help generate a return on investment analysis after three months in. 
And then along the way, we don't want to just set it up and forget it. You're going to get monthly reporting and consultations from our Digital Advertising Strategists. So with the help of our Google Ads certified experts taking care of that for you, you'll be able to spend more time tending to and managing the leads and save you both your time and make sure that you're getting the most bang for your buck out of the money that you're investing in the Google Ads. So how can you get started? So our pay-per-click ad service is at $100 per month per ad campaign. And then there is a $200 monthly minimum ad spend budget per campaign. And what I mean by that, it's $200 that goes towards those interactions on the ad network that you want to use. Our Pay-Per-Click Advertising service, as with everything we offer, doesn't have any big upfront fees or contracts.
We also include a 30-day money-back guarantee on it. Onboarding is easy. Typically, it'd be two 30-minute phone calls and then we'd love to have those ads going live within about a week of when you first sign up. So as a thank you for attending today, we are offering a $50 promo to webinar attendees. So if you sign up by November 30th for our Pay-Per-Click Advertising service, you'll receive a $50 account credit that'll get applied for you automatically. So if you want to get things started generating leads with BrightFire, please visit our site at brightfire.com and we'll be happy to help you. If you want to speak with one of our experts, you can call 888-778-4393. So that concludes our presentation on Better Measure Your Pay-Per-Click Advertising Success with Call Tracking. And now we'll hand it over to Princess for a Q&A session if anyone has any questions they want to send over.
Princess: Alright. Thanks, Spencer. And as a reminder to our attendees, we'll do our best to answer any questions that come through. And if we aren't able to address your question during the webinar, someone from the BrightFire team will follow up with you via email to answer your question. Alright. So it looks like we had one question come in. It said, "Is call tracking an additional cost or included on all ads, also are landing pages included?" So call tracking and the unique landing page is included in our PPC at no additional cost. We do offer that as a part of the pay-per-click advertising service itself.
Someone else asked, "do you have vendors that you like for providing the phone numbers?" We actually provide call tracking as part of our service. So outside of what we do directly for our clients, there's not a particular vendor that we recommend.
All right. Another question is, "Will the phone number on my website change?" I think that's a question for you, Spencer.
Spencer: Oh, sure. That's a great one. So the phone number on your public website wouldn't change. That unique call tracking number would just specifically get used for your ad, and then on just the landing page that's associated with that individual ad campaign. So we really want to help keep that separate from everything else so that if somebody's calling because, "Hey, they saw my ad for contractors' insurance." Boom. "Hey, this person saw my pay-per-click ad." And it's easy to differentiate from, "Hey, this is somebody who landed on our website and saw my main number from there and then called me about contractors insurance." So we really want to take out a lot of the guesswork for where those things are coming from.
Princess: Yeah. Another question is, "could someone see my phone number on the ad and just call the number without clicking the ad?"
Spencer: Yeah. That's another good one! So yes, somebody can call your unique call tracking number if somebody's sitting on their desktop computer and sees it and they just bring up their phone and dial it directly. Yeah. They can call it. And then the awesome thing about that, you're still going to get that lead and it's going to be a free one for your agency since Google can't tell like, "Hey, Bill over here actually saw it and was looking at it and then just typed it in on a different device."
Princess: And we have another one that came in from a couple of attendees. "How many landing pages should one have? What would you recommend?"
Spencer: Oh, sure. Yeah. We'd recommend you have one associated with each campaign you're doing. So what I mean by that. So let's say, "Hey, I want to do two campaigns. I want to generate trucking leads and I want to generate personal auto leads." So with that, you really want to have two separate campaigns. If somebody is, let's say, a trucker and they find your ad, if you've got everything combined together like, "Hey, let me throw my personal stuff in with my commercial," they're going to go, "Well hey, they're talking about personal auto quotes here. Hey, I'm a trucker. I want somebody who really specializes in and is knowledgeable about that world. I'm just going to skip this one."
Versus if they see, "Hey, here's everything in the ad and everything in that landing page is just talking about trucking policies." They go, "Hey, all right, Smith Insurance Agency, it looks like this is really their realm and they're experts at this. Here, let me give them a call." So you just want to have one dedicated landing page that's really specific to the type of campaign, pardon me, the type of policy you're going after in a given campaign.
Princess: Awesome. Another question came in that says, "Is the unique number forwarded to our landline?"
Spencer: Yes. Great question. You can forward that to whatever phone number you want that to go to. So you can have your specific landline for the office or your mobile number. We'll have some folks where they've got, "Hey, Samantha is my producer on life insurance and William handles all my personal stuff." You can set it up. So, "Hey, my life insurance campaign, that tracking number is going to forward right to Samantha and then my home and auto one's going to forward right to William's number." So yeah, we can get it out and break it down really specifically where you want those individual ones to go even if you've got multiple campaigns going. That's a good question.
Princess: Yeah. Awesome questions you guys. Another one came in, "Is there an additional charge per inquiry?"
Spencer: So it would be that pay-per-click cost earlier when we were talking about that $200 ad spend budget. So it's basically when somebody clicks on the number to call you or clicks to visit that landing page, that would be, hey, the fee per inquiry. So again, that's the ad spend budget we're talking about. That's not going to BrightFire. That's going directly towards, "Hey, this is my Google Ads campaign, or on Bing through my Microsoft Advertising." And this is basically, we want you guys to have really controlled and predictable costs and not just like, "Hey, cool. This month I got a bill for $150. Oh, whoa, next month I got this bill for $900 out of nowhere I wasn't planning for."
So that budget that we're talking about allows us to plan your campaign. "Hey, this is their cap, Smith insurance, they don't want to spend any more than this." So basically that helps Google, for example, keep that in mind and make sure, "hey, their total bill for the month is going to come at or under that $200, if that's what they set their budget at."
Princess: Okay. And then we have another one that came in. "What does $200 look like on generating leads?" So what is the typical budget for these campaigns?
Spencer: Oh, sure. Yeah. We do have a wide range and we've got folks who've been at that $200 a month minimum for a long time. A lot of times folks are looking to go after a more aggressive campaign like a ramp up and looking for a lot of faster results, do $500 or $600 budget. We have folks all the way up to doing a $3,000 or $4,000 a month ad spend budget. So it really depends on what that client is looking for. We can definitely give more feedback and advice on a particular situation if you want to chat as far as, "Hey, you're trying to go after this type of policy, and this is my volume expectation or the geographic area I'm trying to go after." So yeah, there's definitely a lot of flexibility and would love to give you more detailed feedback and just to learn about that specific situation for you.
Princess: Awesome. And we have another one here. You guys are asking great questions. "Typically, how long should a campaign run?"
Spencer: Oh, sure. So usually folks will treat it as, "Hey, if this is working for me, I want this to go indefinitely." So we have folks who have been doing the same campaign for years because basically that ROI consultation we were talking about, they know, "Hey, for X money that I put into this thing, Y money comes back out on top of what I spent." If they know, "Hey, this is working great for me." It's reliable and has the same ROI, they'll just want to keep that going. And definitely, if they know that it's working for them, we'll usually see maybe somebody who starts out with one or two campaigns and then, "Hey, great. These are optimized and dialed in and getting reliable results for me." They might explore, "Hey, let's add on a third one." "Hey, we're coming up on open enrollment in two months, let's start planning and look at what we could do for an ACA campaign," for example.
Princess: All right. And then we have one more that says, "how much per call in?"
Spencer: Oh yeah, it varies. So that's part of what we'd help for you. So just keep in mind that overall ad spend budget. It does vary. It's basically for these calls or people clicking on your ad, it's like if you think about a 24/7 eBay bid going on in the background, "Hey, this is how much this agency is willing to spend on a click for these keywords in this area. Hey, this is how much they're willing to spend." So part of it we want to really dial that in for you and get that at a manageable cost. So part of why we're certified with Google Ads is we know these are the things that Google is looking at to give favorable ad placement.
Princess: Okay. And we had one earlier about forwarding to the landline. But can they forward different tracking numbers to different agent phones?
Spencer: Yeah. Absolutely. So, yeah. Again, if you guys have things split up, "Hey, I've got a trucking campaign and a homeowners campaign," and you've got two different people who specialize in those things. You can absolutely have it set up, "Hey, this tracking number BrightFire, I want that one to go to this person and this other one can go directly into that one."
Princess: Awesome. Well, I think that is all the time we have for questions today. Thank you to everyone who submitted a question. And again, we'll follow up with you individually after the webinar if we didn't get to your question. Before we close, I'd like to remind everyone of our upcoming 20 Minute Marketing webinars. So in January we'll be discussing, Humanize Your Website and Boost Sales with My Agent Personalization. As an independent agency owner, you understand building relationships with policyholders and prospects is a really crucial part of growing your book of business. And so now more than ever, it's very important to maintain those same personalized experiences on your agency's website as well.
In this webinar, we'll really unpack what BrightFire's My Agent Personalization tool is and how your agency's sales team can really leverage its functions on your insurance agency website to improve the customer experience, increase efficiency, and overall boost your agency sales, which is one of the main goals here. This webinar will be held Thursday, January 27th at 2:00 PM, Eastern or 11:00 AM Pacific. You can reserve your spot at this webinar by visiting the webinar's page on our website at brightfire.com/webinars. So that does it for today. Again, thank you everyone for attending. From me, Spencer, and the rest of the BrightFire team, we hope you guys have a great day and thank you for joining us.