We're all dealing with the impact that the coronavirus (COVID-19) outbreak has had on our personal and business lives. We're all taking precautions. We're working from home. Our kids aren't in school. We can't visit our friends. We can't go out to the movies or eat at our favorite restaurants.
As insurance agents, this is a time to really show empathy to others and help out where you can. This is a time we all need to be sensitive to current events, but it's also a great opportunity for your agency to reach your audience of policyholders and potential customers and provide them with helpful information, timely actions, ways to save money, and relevant resources.
Don't be too salesy or pushy. Instead, stand out during difficult times by providing value and building relationships that will last for years to come.
With more people at home now than ever, digital marketing is the optimal marketing strategy for insurance agencies. Online engagement is surging with social distancing in place. More people are spending more time online and on social media than ever before.
An Agency Website & Local SEO Are More Relevant Than Ever
We've all reduced or eliminated our travel and are staying close to home. The few times when we do leave our home, we're looking for nearby destinations for services and supplies. Even before the coronavirus, over 70% of all insurance purchases began with an online search.
Over 70% of all insurance purchases began with an online search.
So you want to make sure your insurance agency is using local SEO strategies to optimize your website for "near me" and local geographic searches, such as "your-state auto insurance" or "your-city home insurance". Your website is your best sales tool, especially right now. It communicates your insurance services and showcases how you can help your customers.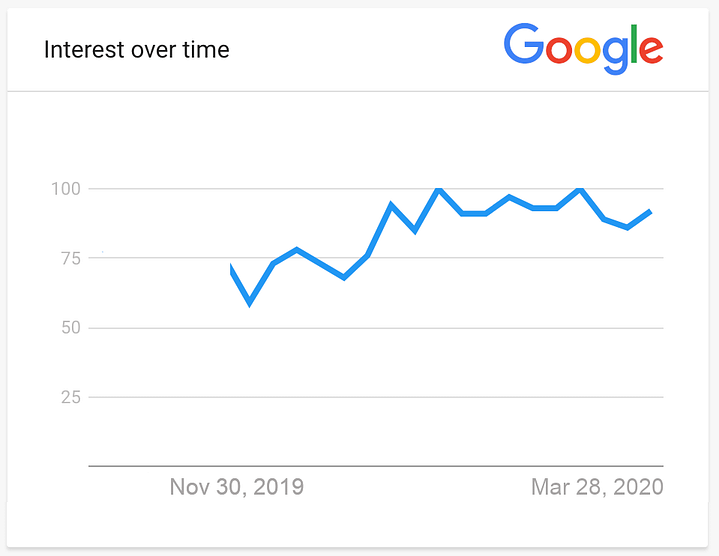 Google considers most types of insurance a local service, so you want customers in your area to be able to easily find you online so they turn to you first. At a time when we're all looking to save some money, this gives your agency a chance to provide assistance during a critical time for families and businesses.
Besides an SEO-friendly website, having an optimized Google My Business profile is another critical component for your insurance agency to be found on Google. With a Google My Business profile, you can display your business hours, address, posts, photos, and even reviews across Google search and Google Maps.
Engage Your Audience on Social Media During This Time of Need
Your customers expect that your business might change during the pandemic and they're looking for updates to confirm if and when you're open. Some will turn to Google or your agency website, but many others will try to find your most recent posts on Facebook or Twitter. If they can't find you on social media, they're less likely to trust you'll be there to help them and maybe unsure if you're still open. At a minimum, stay active on Facebook posting regularly to give your policyholders and potential customers consistent updates so that they know your agency is still open and available to answer their questions.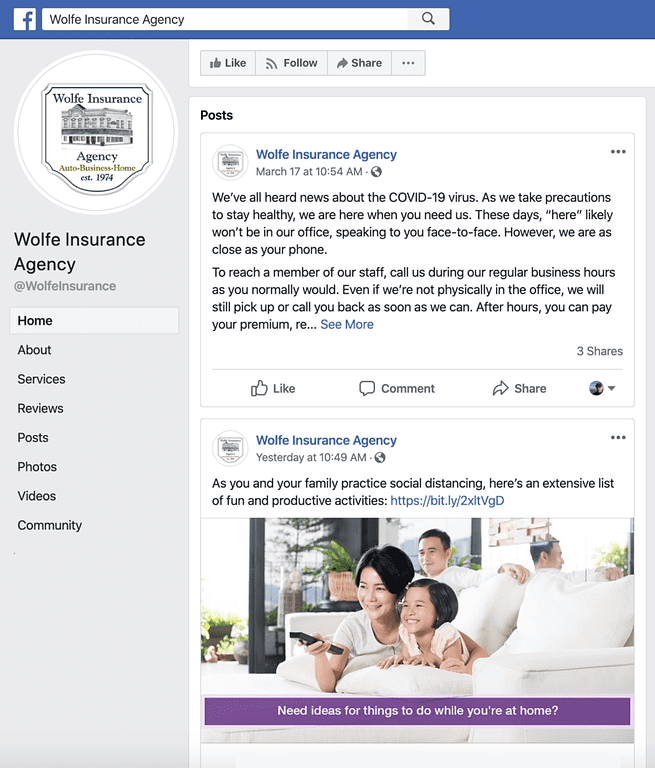 The content you post to social media can become a quick and effective way for you to remain in touch with your policyholders and increase lead generation during this time. Give your customers timely information and knowledge-based content. The agencies that will thrive during this time are the ones that educate, support, and provide real value. Rather than using your marketing to sell, show customers how you can help them.
Connect With Local Customers Through PPC Advertising
While people are spending less time out in brick and mortar businesses, internet use is up nearly 50% since COVID-19 became a pandemic in early March. With more people at home in front of their screens, it's a great time for insurance agencies to use PPC (Pay-Per-Click) advertising to connect with new customers that may be looking for insurance savings because of recent financial hardships.
Within PPC advertising, there are two ad formats – search ads and display ads which include remarketing ads. Search ads are displayed on Google search results pages. Display ads are graphic ads shown on various websites across the web. According to Wordstream, over the past week, traffic from the Google Display Network grew 13% since the beginning of March and YouTube views are up 21%. Keep in mind that YouTube is also a Google service with ads.
Since the beginning of March, traffic from the Google Display Network grew 13% and YouTube views are up 21%.
It's a great time to start PPC advertising as other industries, such as retail, travel, and sports, go offline. Insurance agencies can capture traffic and conversions because of reduced competition and ad volume. Across the PPC advertising campaigns we manage, we have not seen a noticeable decrease in traffic or clicks.
Build Long Term Relationships Today
People are looking to the web and social media for updates on closures, new procedures for businesses, and ways to save money. They will also be looking to see how businesses are reacting and supporting each other in the current environment – especially trust-based businesses like insurance agencies. Be sensitive to current events. Address people's needs without taking advantage of their situation.
During this period of uncertainty, you have the opportunity to show support for your customers and build long term relationships. Keep your digital marketing plans steady, or even boost them, keeping in mind this won't last forever.
The coronavirus outbreak will eventually fade. That's when life returns to normal and consumers' spending habits will stabilize. In many ways, digital marketing is more of a long-term strategy. Before we know it, we will all be back shaking hands and eating in restaurants.
---
BrightFire Can Help Your Agency During Coronavirus
BrightFire has the digital marketing experience and expertise to help you connect with your policyholders and find new customers during this uncertain time. Contact us or call (888) 778-4393.
---