As an independent agency owner, you understand building relationships with policyholders and prospects is crucial to growing your book of business. Now more than ever, it's important to maintain those same personalized experiences on your agency's website.
View this webinar on-demand as BrightFire's Sales Advisor Spencer Breidenbach discussed how your agency's sales team can leverage BrightFire's My Agent Personalization tool on your Insurance Agency Website to improve your customer experience, increase efficiency, and boost your agency's sales.
What to expect from this webinar:
A breakdown of BrightFire's My Agent Personalization tool and how it works.
Features included in BrightFire's My Agent Personalization tool.
The benefits of BrightFire's My Agent Personalization tool.
Finally, they'll dive into how BrightFire's Insurance Agency Website with My Agent Personalization can support your agency in fostering stronger customer relationships as you guide them through the entire buyer process.
Watch The Webinar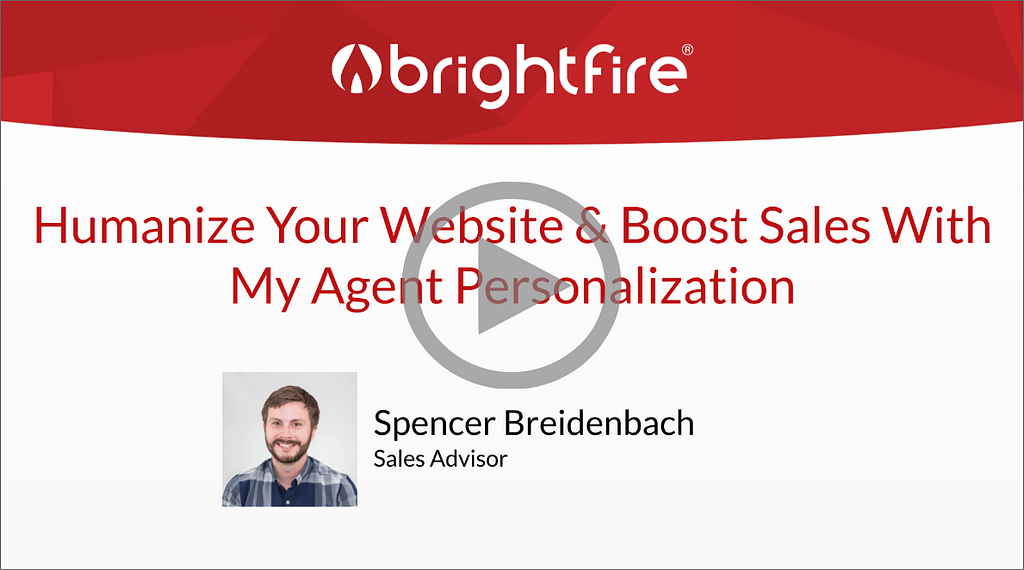 Additional Questions?
If you have any questions about this webinar or our Insurance Agency Website service, please contact us or call us at (888) 778-4393.
Webinar Transcript
Princess: Hello everyone! My name is Princess Ruff, and I'm the Digital Marketing Coordinator here at BrightFire, as well as your host for today's webinar. Thank you everyone for joining us today. In November, we covered Better Measure Your Pay-Per-Click Advertising Success With Call Tracking. If you missed it or any of our previous webinars in the 20 Minute Marketing webinar series, you can access the whole series on demand by visiting brightfire.com/webinars.
Our goal with these webinars is to provide you with digital marketing advice and discuss current digital marketing topics in a brief 20-minute format followed by a Q&A period to answer any questions you may have. If you have any questions during the webinar, please use the Q&A feature in Zoom, found at the bottom of the screen. We'll do our best to answer all the questions that come through, otherwise, we will personally reach out to you afterward.
Today's webinar topic is Humanize Your Website and Boost Sales With My Agent Personalization, and it will be presented by Spencer Breidenbach, one of our sales advisors here at BrightFire. As an independent agency owner, you understand that building relationships with policyholders and prospects is very crucial to growing your book of business, and now more than ever, especially, it's important to maintain those same personalized experiences on your agency's website as well. So in this webinar, we'll unpack what BrightFire's My Agent Personalization tool is and how your agency sales team can leverage it on your insurance agency website to not only improve your customer experience but also increase efficiency and boost your agency sales.
Today's webinar is also being recorded. So everything we discuss will be saved and emailed to you in the next business day or two so that you can watch it later on-demand. And lastly, we do have a couple of polls for today's webinar. When those are launched, you'll see the poll pop up on your screen with the question and multiple-choice options. You can select more than one response and every poll is anonymous, so we'll give you roughly 30 seconds to share your response, and then we'll discuss the results with the group. With that being said, I'll go ahead and hand it over to Spencer to get everything kicked off.
Spencer: Awesome. Thanks so much, Princess. And thank you to everybody for taking the time to join us today. So, I know during your time as agents, you've had to build relationships with clients and you understand the importance of cultivating and maintaining that relationship throughout, not just the sales process, but their whole customer life cycle. So, in today's webinar, we'll discuss how our My Agent Personalization tool can help your agents connect with their prospects at every stage of the buying cycle, and help nurture a sense of trust between your prospect and your agent. Then we'll also dive into the unique features and benefits of why you'd want to implement this tool on your site. And then finally we'll cover how we can help you cultivate those memorable relationships with those prospects and get started with that tool right away.
Before we get into the specifics of My Agent Personalization, we do have a mix of both current clients and agents that are new to BrightFire attending today. To give everyone a brief background that hasn't worked with us before, BrightFire started out providing insurance agency websites back in 2000. Over the years, the needs of insurance agents have grown and more and more consumers are relying more heavily on the internet for research when they're trying to make decisions. So we've expanded our digital marketing services beyond agency websites to also include search engine optimization, helping agents to build their review and reputation online, getting all their local listings for SEO, lead generation with pay-per-click campaigns, and helping them with content marketing on social media. So, currently, we've got over 2,500 independent agencies across the country that are using at least one of our digital marketing services.
With that little background out of the way, let's go ahead and dive in. BrightFire's My Agent Personalization tool is a really easy way for agency owners to personalize their website for each agent or producer by sharing a unique link with any of their clients. Here's a sample screenshot of a website homepage showing the agent's custom URL. And then with that appended at the end, that's causing their agent's photo and contact information to appear lower down on the website.
Every employee on your BrightFire website has a default identification method known as a handle, which is usually by default going to be their first and last name separated with a hyphen like this example here. Without any additional setup, there's a lot you can customize with it that we'll get into later. If you already have a website with us, this feature is set up and you can start sending that with your name appended to the end of the link.
Without any setup, you can use those default handles and all you'd need to do is take your agency's normal website link and then add the "@" symbol. You can do that either on the homepage like this example or you can do that to any specific page on your website by just adding the custom text at the end. Your agents can share that unique link with any client or prospect. And when a prospect uses one of those links, every page on your site will display that agent-specific name, picture, and contact info. With My Agent Personalization, once a prospect uses the link and returns to your website later, on the same device, the agent's contact information will continue to follow them around your website.
That allows for ease of access if the client is reviewing what was said and if they think of a question or concern while they're browsing your website. It can help eliminate some of the additional follow-ups needed to nudge them along. They can say, "Hey, I know I'm looking at this and reviewing over the info and I see right away who I can get in touch with and what I should do to get my questions answered."
With that info on BrightFire's My Agent Personalization, we can roll into our first poll question. Remember that all of these are anonymous and you're able to pick as many of the options as apply to you. So, let's get that started. The question is, "Which channel do you use the most to stay connected to prospects during your sales process? Email, phone calls, text messaging, messaging through social media, or traditional mail." I'll leave that up for another 10 seconds or so, and then we can take a look and talk through the results.
Looks like a lot of folks have had the chance to send that in. No surprise there; it looks like emails are really popular, and so are phone calls. Surprisingly, not a lot of folks are using social media messaging. I know, of course, that's going to vary depending on just the local preferences and your target market. Text messages are a lot higher than it would've been if we had asked this a couple of years ago and I think that's going to continue to grow for a lot of agents. Thank you guys for participating in that.
Now that we've covered what that My Agent Personalization tool is and how it works, let's dig a little more into the features. So this tool is agent-personalized, meaning you can create an unlimited number of unique personal links to your agency website for every member of your sales team. Again, each agent can have their unique link to share with their prospects and clients to stay connected and continue to build that agent-client relationship as things progress along the client lifecycle. It can help alleviate any confusion or frustration if your prospect's confused.
A Salesforce report showed that 84% of consumers say that feeling like they're treated like a person versus a number is important to winning their business. So by keeping that info top of mind for your prospect, you also help foster trust and connection through your sales cycle. They won't feel like just another lead. You'll help them feel like their potential questions and concerns matter to you. And there's an individual, real human being on the other end who's a call or an email away to help out if they need it. They can feel like, "Oh yeah. That's right. This is why I'm choosing to reach out to a local independent option instead of just calling into a national brand and just being a number in a call center somewhere."
While the My Agent Personalization tool is set up and ready to go, you can also customize it and adjust those settings to display as much or as little information as you want. So it's optional to show the photo or the name or email or phone number. You can have all of those fields filled out and show as much or as little as you'd like.
This tool is specifically displayed throughout all the pages of your website. So as your prospect's browsing and clicking through different pages, that agent's profile will continue to appear on every page for a rolling period of 30 days, even if that visitor leaves your website and returns later. And that timer of 30 days resets every time that prospect visits your website from the same device. Plus it makes it easier to connect when they have a question as they browse or if something comes up and selecting insurance is on the back burner for a week or two.
Additionally, if a prospect submits a form on your website while that My Agent Personalization feature's active, the email notification you get about that lead will let you know that My Agent Personalization was active and which staff member it is that the prospect's been working with. And if there ever comes a time that you need to remove an employee from your website, all your personalized links tied to them are going to be disabled immediately when they're removed. So when a prospect visits a personalized link that's disabled, your website will load normally and that employee's information will not be displayed.
Another cool feature is that the agent profile is mobile-responsive. It is designed to look good and size properly on any device or screen they're working with. It's going to present well and be usable whether it's a desktop, on a massive gaming monitor, or if it's on a smaller smartphone.
Lastly, you do have the ability to choose your link. So, if you don't want that default first name-last name, you can adjust the handle. And since we've discussed the features that come with My Agent Personalization, that would be a great time for that next poll. And as a reminder, all these polls are anonymous and you can pick out as many as apply to you. So let me go ahead and get that launched for you guys.
So our question this time is, "Have you tried personalized marketing like this before?" Looks like a good majority haven't tried it. I'm surprised we've got relatively few that haven't heard of it. This is a really good idea. It's one of those things that's, "Hey, I read about this in your publication and it sounds great, but how do I implement this?" We appreciate your participation in that.
With that info on the features of BrightFire's My Agent Personalization, let's move on to the benefits of using it and the difference it can make on your website. Why should I use My Agent Personalization? The first benefit of this tool is the humanization effect that it can bring into your sales cycle. It adds a real face to the name of the agent assisting the prospect and selecting their policy. If folks are still a little gun-shy about meeting face-to-face or coming to your office, they can see, "Hey, this is the human being I'm talking to and it's not just an anonymous voice on the phone." That can help build a connection there. It allows folks to relate to you and your team and feel like they're talking to somebody who understands their needs. They want to be a human being and not just another number in your CRM. So humanizing that buyer experience makes them feel like they're working with an agency that understands their needs.
According to Salesforce, 70% of consumers say a company's understanding of their individual needs has a big influence on their loyalty. So if you can show that you value a prospect and their individual needs at every stage of the sales cycle, you're going to increase your chances of winning over their loyalty and trust. And that can't be replaced.
We've touched on how this tool will help you foster relationships with your prospects. Sharing those unique links will help you guys stay top of mind, whether they think of a question at the beginning of the sales process or two years down the road. When clients know that they've got an expert there to lean on if something comes up they need help with, it helps to build a trusting relationship between you and that prospect. If they're not sure who their agent is or how to contact them, or where to turn to if something comes up that they need assistance with, they're more likely to not feel a bond and take their business elsewhere.
So it can help alleviate potential confusion with prospects being hesitant by keeping your name and contact info really at the forefront at all times with the process. Over time, you'll form a trusting relationship with your prospects that makes them feel comfortable bringing forward their concerns and looking to you for guidance with insurance issues.
And then finally, this tool will help streamline your sales cycle, making it a little more efficient and effective process. So making sure that your prospects always have your contact information handy helps give them peace of mind no matter where they are in that sales cycle. That can help prevent folks from dropping off out of your sales funnel because they're unable to get ahold of their agent or feel some hesitancy, "Hey, I'm not sure who to go to or how to contact them to get back with the specific issue." According to Adweek, personalization can reduce customer acquisition costs by up to 50%. Imagine you're potentially cutting down your cost of acquiring new clients just by simply implementing small tools like this on your website. If you've got your info always readily available, that can alleviate many objections that arise early in the sales process.
Now that you have an understanding of our My Agent Personalization tool, its features, and what kind of difference it can make in your prospects' experience, let's talk about how we can help you get started with that. BrightFire provides a built-in sales tool suite with all of our websites for clients. And that includes My Agent Personalization as well as several other sales tools. Our Sales Tools Suite also includes the ability to send video proposals, receive customized content and blog posts. We can integrate the ability to give people real-time quotes, program our quote forms with logic, integrate with appointment scheduling platforms, and any kind of live chat or conversational chatbots that you wanted to use. Lastly, your website does have a notification bar that can display across the top. So, if you've got a promotion you're running or an alert such as a hurricane coming into the area and you want to share where to go to file claims, you can use that feature.

If you're currently enrolled in our insurance agency website service, you already have access to My Agent Personalization and those other sales tools at no additional cost. Like we talked about earlier, that's ready to go if you want to start using it and there's nothing additional setup needed. If you're new to BrightFire and wanted to take advantage of that feature, you can sign up for the insurance agency website and get started for $115 a month. There's no big upfront cost. So, like all of our marketing services, we don't have any contracts and also include a 30-day money-back guarantee. We want people to be working with us because they're getting value out of it. Not, "Hey, I'm trapped in this year-long contract."
We want to make onboarding easy which is why onboarding consists of two 30-minute phone calls and maybe about an hour of your own time to review the website that we're building. We'll work with you until you're completely happy with your new website.
As a thank you for attending today, we're offering a $50 account credit as a promo for our webinar attendees. And you can receive that account credit by signing up for our insurance agency website service. And that's available through February 4th. So if you want to get started or learn a little more, feel free to visit our website at brightfire.com or you can always give us a call and we're happy to help at 888-778-4393. And on our website, that's where you'd go to get started and submit that purchase, schedule a call with someone, or start a live chat to get connected with someone to help answer your questions.
That concludes our presentation on Humanizing Your Website and Boosting Sales With My Agent Personalization. I'll now hand it back over to Princess for a Q&A session if anyone has any questions.
Princess: Thanks, Spencer. And again, as a reminder to our attendees, we'll do our best to answer any questions that come through. If we aren't able to address your question during the webinar, someone from BrightFire will follow up with you via email to answer your question specifically. So let's get started. The first question here is, "Does the prospect have to include the personalized link name each time they return to my website?"
Spencer: That's a great question. No, the client doesn't have to include the personalized link each time. After they visited the first time, your agent's personal information is going to be displayed each time, even if the client doesn't use that custom link ending at the end. And then that'll continue to display her personal information for 30 days at a time. Again, that 30-day account's going to reset each time that client revisits your website another time.
Princess: Awesome. Another question that we have is, "Can a prospect click on a personalized link on one device, but return to my website on a different device and still see the agent information display?"
Spencer: That's a really good question as well. That functionality is unique to each device the client uses. So, in this case, if somebody visits that personalized link on their phone and then later returns to your website, but they're on their laptop this time and on their laptop, another time and they don't click that personalized link at the start, they're not going to see that personalized agent information on that new device. They will, however, still see that personalized agent info over on their smartphone.
Princess: Another question that came in says, "Does BrightFire offer website management for current websites?"
Spencer: So the architecture is set up to be able to integrate some of these tools. We would be able to build a new website and we do have folks come in, "Hey, I like the look and feel on my website, but I'm not getting SEO results out of it. I don't have sales tools like this." In that website design process, we have had agents that like the look and feel of their current website and want us to create a website that echoes that or brings over a similar aesthetic and feel but improves on the functionality and performance of everything.
Princess: Awesome! We have another one here that says, "What if two agents send their personalized link to the same prospect?"
Spencer: Oh, good question! If an agent sends a client their personalized link after somebody's already clicked on another one, the most recent one is the link that's going to take precedence over any link. The link that is clicked first will take precedence over any new links.
Princess: Yeah, that's a really good one. I think those are all the questions that we have and that's all the time we have for questions today. Thank you to everyone who submitted a question and again, we'll follow up with you individually after the webinar if we didn't get to your question today, but before we close, I'd like to remind everyone of our upcoming 20-minute marketing webinars.
Our webinar in March is Five Common Mistakes With Local Citations. So, whether you're a new agency or have been around for generations, we know that visibility is heavily important for gaining new clients as well as SEO ranking. That's why it's important to ensure that your agency's local listing profiles are set up, up-to-date, and are being monitored regularly just to keep them up to par with local listings requirements.
In this webinar, we will discuss common pitfalls that are made when it comes to local citations, how to navigate them, and how BrightFire, can help you and ensure you're following those best practices for building your local SEO. This webinar will be held Thursday, March 24th at 2:00 PM Eastern or 11:00 AM Pacific. You can reserve your spot at these webinars by visiting the webinars page on our website at brightfire.com/webinars. That does it for today. From me, Spencer, and the rest of the BrightFire team, we'd like to thank you all so much for attending today. Have a great day!