On August 27, 2020, we held our first webinar in our new 20 Minute Marketing Webinar Series about our Insurance Agency Website Sales Tool Suite.
The BrightFire Sales Tool Suite is a collection of tools that are included in each Insurance Agency Website we produce. They are features created to save you time, strengthen relationships, and increase sales productivity. These include:
Notification Bar
Video Proposals
My Agent Personalization
Blog + Customized Content
Real-Time Quoting
Website Chat
Conversational Chatbots
Appointment Scheduling
BrightFire's Spencer Breidenbach was the presenter for this webinar.
Watch The Webinar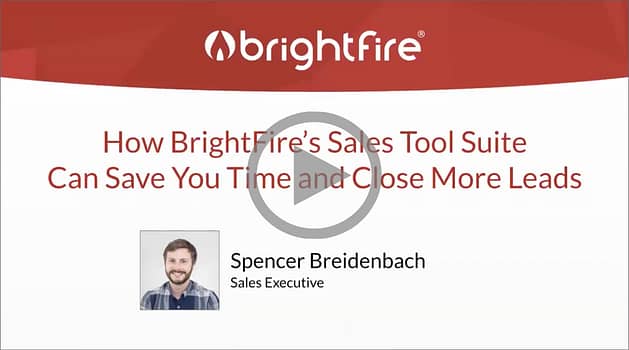 Additional Questions?
If you have any questions about our Insurance Agency Websites and Sales Tool Suite, please contact us or call us at 888-778-4393.
Webinar Transcript
Spencer: So today's webinar is focused on a set of features within our agency websites called our Sales Tool Suite. So our Sales Tool Suite includes a wide variety of features and tools to help insurance agencies sell more and also to help improve customer experience. If you've got any questions at all during the webinar, please use the Q&A feature in Zoom to shoot that over to us and we'll have a session to walk through all of that at the end.
About BrightFire
Spencer: Before we get into our Sales Tool Suite, here's a brief background on BrightFire, since we do have a mix of both current clients and some agents that are new to BrightFire attending today. So BrightFire began by providing insurance agency websites in 2000 and over the years as the needs of insurance agents grew, we expanded our digital marketing service beyond just the agency website to also tackle things like SEO, helping gather more reviews and protect your online reputation. Marketing content on social media, managing their local listings for SEO, and Pay-Per-Click Advertising campaigns.
So today we work with over 2,000 agencies across 48 states and that first insurance client that we got back in 2000, is still a BrightFire customer with us today. So with that background on BrightFire let's get started.
Agency Website + Sales Tool Suite
Spencer: The BrightFire Sales Tool Suite is a collection of tools that's included in every Insurance Agency Website that we create. There are features in there that are created to save you time, strengthen relationships, and increase your sales productivity.
Before we get into each individual sales tool, just to give you kind of an overview of our insurance agency websites. They are custom-designed websites for each insurance agency. We're not a template solution, we don't want it to be, "Hey guys, do like design number one or number two?" Our team's going to work with you to tailor your website design and really want to capture your agency's personality and goals to help you stand out.
Although websites are going to be Google and search engine optimized, we want to make sure they're mobile responsive. So it looks great and is usable for anybody, regardless of whether they're looking on a tablet or a phone or a traditional desktop computer. They're all loaded with ready to go content for all types of insurance, personal, business, life, health, and benefits. And they'll also include a carrier database with over 1,100 insurance carriers across the country.
Spencer: They have a beautiful blog and that's updated with new content every week and tied into the lines of insurance you sell. Again, we want to make sure it's matching up, whether you focus on life or health or personal lines, you'll get content that's tied into those specific things you focus on. The websites also include standard support. So common changes are covered by your team at no additional cost. We also have premium support available on-demand for more involved customizations that come up occasionally at an additional cost.
Meet The Sales Tool Suite
Spencer: BrightFire Sales Tool Suite consists of the following, and we'll review each over the next few slides.
Notification Bar
There's a notification bar that includes video proposals, My Agent Personalization, that aforementioned blog with the customized content tracks, real-time quoting integrations, the ability to integrate website chat and conversational chat bots, and also the ability to have smart quote forms and appointment schedulers integrated in.
The notification bar, our first sales tool will allow you to display important notices or promotions across the top page of each page of your agency website. You can schedule notices ahead of time or leave your notice up until you decide to take it down. It's a quick way to make sure your website visitors are aware of things like altered third business hours, holiday office closures, as well as promotions or charitable campaigns you guys might be running out in the community.
Spencer: A lot of times folks will highlight those things going on. Like, "Hey, please don't come by on Thanksgiving we're going to be closed." Promotional local events, or tie-ins with your insurance carrier campaigns. And then of course, with everything going on in the world the last five months, a lot recently are using the notification bar to get COVID contact and policy information out to clients.
Video Proposals
Next, we've got video proposals. The BrightFire video proposal system allows agents or your sales producers to create personalized videos and share those out to their clients or to prospects. It allows a producer to record any combination of their computer screen using their webcam or audio. So once the agent has recorded a video, our system makes it easy to send an email to your client or prospect to watch the private password protected video on your agency website.
So this is again, something that's been really helpful to clients lately. A lot of folks that are used to like, "Hey, I do great in person. People really build that trust when they can meet with me face to face across the table." And this can kind of help bring a little bit of that back into a picture. If someone's quoting from three agencies and two are just a voice on the phone and with you, they'd be able to see your face and hear your voice at the same time, get a little bit more something touching on that in person experience.
My Agent Personalization
Spencer: The BrightFire My Agent Personalization feature enables agencies to personalize their website, the way it looks for each of their insurance agents or producers. So every agent will be able to create a personalized website link that they can share with their prospects. When prospects use one of those links, every page that they visit on your website will display an agent-specific profile that'll contain the agent's name, picture, and contact information. So this is another thing that we want to do to help you get a more personal touch to it, so that they realize, "Oh yeah, I'm talking to Bob Smith, he's my guy that's helping me out. I'm not like a number lost in a call center or a cog in a machine to them. They've got one person who's helping you out. And I know I can count on."
Weekly Blog Content
Spencer: So you can also educate your customers and build your online reputation with professional blog posts that we can provide. Every agency website includes that blog and that fresh weekly content. So every week we'll publish new blog posts on your agency website that's customized, tied into the actual types of products that you focus on. These content tracks can focus on personal, business, life, health, or group benefits, and you can select as many or as few of those that are applicable to your business model.
Quoting Engines
Spencer: The BrightFire platform also provides two types of integration ability with quoting engines, so agents can provide real time quotes on their insurance agency website. So we support instant quote integration as well as many, many comparative raters that are out there.
So for the instant quote integration, you can integrate several different instant quoters provided by carriers or other services. So examples of that, a lot of big carriers like Progressive, Nationwide, Erie, Safeco, Hagerty, Mercury, USLI, there's a ton of carriers that will provide their own proprietary rater. A lot of times agents like to highlight, "Hey, we're independent of course, but this is a brand we're proud to represent and do a lot of volume through."
Spencer: And then some current integrations of comparative raters include Vertafore PL Rater, Applied, Rater, Compulife, EZLynx, AgentSecure, Boston Software, and BOLT. So these are great to get a variety of quotes and be able to shop it through different providers or carriers. Of course, there are many other instant quoters from carriers and other providers like these out there. And generally, we're able to integrate any of those. It's really rare that we run into an instant quoter that doesn't play nicely with our websites.
Website Chat
Spencer: I'm sure many of you have used website chat in the past or are familiar with that at least. So website chats allow your website visitors to contact you immediately via a live chat while they're on your agency website. So this kind of service has some benefits, including getting additional lead gen by being able to answer their questions and help them move down the sales funnel, right where they're at the moment of being on your site and ready to engage. Many customers prefer messaging in early stages of the buyer's journey. So a lot of times somebody might say, "Hey, I've got five minutes before this meeting to research this, I don't have time for a phone call. I'm okay to contact somebody really quickly on chat to decide next steps." Or it can also be intimidating like, "Hey, I'm going to get stuck on the phone for half an hour, if I call in but here this chat seems convenient and I can engage as much as I want to." And it can be used both for sales and for support with existing clients.
When you're using a website chat service, you don't have to have someone available every minute of every day. If nobody's available to chat with a visitor, they can leave a message for you. And it will be sent to you via email to respond to when you're available. Our currently supported website chat services include Chatra, Facebook Messenger, Zendesk Chat, and many more beyond those three.
Conversational Chatbots
Spencer: Our next sales tool is probably less known than our other available tools – conversational chatbots. So what is a conversational chatbot? It's a website app that helps answer common questions from visitors, or it directs visitors to proper contacts. It can get them routed right to your CSRs or to your producers based on a set of predefined conditions or triggers or events that come up in a conversation interaction. So it's similar to a website chat with an actual human being, but a lot of the communication is taken care of by software. So some of the benefits of this, since it's not on an eight hour workday. It's, I was there, the chatbots never busy with a phone call with somebody else. So if somebody has just got the kids to bed at 11 o'clock and are ready to shop for insurance because that's the only time they've got, they'll be able to get in touch and get some initial info and next steps with that chat bot.
It also helps with lead collection. So at the beginning of each chat session, that chatbot will ask the user for their name and email. So you're able to follow up at a later time and they can't just completely disappear on you.
Today, many customers do prefer messaging over phone conversations in early stages like we were talking about. So chatbots can help take care of some of those really initial contacts as folks build comfort and seriousness about engaging with you. And finally, again like a regular traditional chat, this can help out with both sales and customer service work. The ones we currently support include some of the big ones like BirdSeed, Intercom, Drift, Crisp, Instabot and then many more that are available out there.
Spencer: With human website chat and these AI chatbots. It's not one or the other, many companies using chatbots will use both. So where the chat bot starts out and collects some basic information. It can redirect the customer to the appropriate staff member. "Hey, this has to do with claims. Let's get it over to a CSR. Oh, they mentioned quote or answered that they wanted … " They're not yet a customer. That means it needs to get over to one of our sales people.
Quote Forms
Spencer: Our agency website smart quote forms are smart, customizable, and designed to convert visitors to leads. So there's custom text notification routing and custom email notification routing, so you can select staff members who are going to receive specific quote requests.
For example, if Sally on your team handles all of the personal insurance quotes, they can all go directly to her email inbox or if Bill handles all of the commercial line stuff, any client or any prospect who indicates, "Hey, I want to talk about a commercial policy" can go straight to his inbox.
And our quote forms can be integrated with some of the most popular email marketing and services too, so that all of your leads can automatically be added into your email marketing list.
We can integrate many widely used instant quote services into our quote forms. So if you're using one of these services it's really a great way to capture contact details in case they don't make it all the way through completing that instant quote. If somebody gives you basic contact info and then starts the quote process and gets distracted or says, "Hey, this is too many steps." You've still got that initial contact information, you're able to follow up easily.
Spencer: All of our quote forms are really customizable as well. They're intentionally designed with reduced form fields in order to boost conversion rates. But we are able to add additional fields of various types and add conditional logic in there as well. So when our forms are submitted, we're able to customize the onscreen confirmation to simply display a message, or we can get it to redirect to another page of your website.
Appointment Scheduling
Spencer: Our last sales tool for today is appointment scheduling. Appointment or call scheduling allows your prospects and customers, anybody visiting your website to view the current appointment calendars of your agents or producers. So they can schedule their own sales calls. It's really convenient a lot of times for your customers, because it's easy for them to pick an open time slot and schedule a call at their own convenience. It's also available 24/7. So clients aren't limited to, "Hey, I've got a call in while they're in office hours and hit a receptionist in order to book this specific time." So it's great. Again, that person where 10:30 PM is the first time that day they've had a chance to look at getting a quote they're able to see, "Oh, perfect. I've got one o'clock tomorrow open on my calendar, so here let me book time. I'll link up with this agent and get a little consultation. And a quote from them."
This also does improve the customer experience if they can book a specific time that works with them. And it also saves you time by avoiding those nasty games of phone tag. Hey, perfect. One's great for them. One's great for me, we're all set and that client can get a reminder. It's also, your customers are able to add the appointment to their own online calendar. So as they're going through their workday, they remember and can see, "Oh, Hey, I've got this appointment with Smith Insurance coming up. So I better not double book that time slot."
Spencer: Benefits for agencies also include the fact that it's always on and your staff doesn't need to be available 24/7 to manually work out details for appointments. That also increases operational and staff efficiency. So there's less time booking and managing appointments and a lot more people taking care of stuff on their own and booking out their calendar in an efficient way.
It will also set appointment reminders to go out to minimize no shows. And if a customer has some fire at the office come up that they've got to put out or something with their family they've got to take care of, they can also use that confirmation reminder to reschedule the appointment for a different time without you having to jump in or sitting there in the appointment waiting for them to call you back.
Agency managers can also get a good view of the staff schedules and see, "Hey, this person's really available today, or hey, this CSR is really booked out with things." Some of the current services that we support include things like Acuity Scheduling, Calendly, Doodle, and many more that are out there. So by connecting your favorite call scheduling tool, every visitor going to your website will have the opportunity to schedule a call with you based on the availability you have on your calendar. You retain the ability to select which hours, days, appointment types and personnel are available as well as how soon in advance appointments can get scheduled. So it's very customizable to your agency's operations.
How To Get BrightFire's Sales Tool Suite
Spencer: The Sales Tool Suite is included within our Insurance Agency Websites and there's two ways to get it. First, the standalone insurance agency website service is at $100 a month. And then the second is our Ultimate SEO Bundle. This is a bundle of services that an agency needs to be successful and generate leads with SEO or search engine optimization. That includes the insurance agency website, helping to generate those reviews that Google's looking out there for, and then managing your local listings online, where Google's expecting to be able to find your name, phone number, and address as well as your website link.
Spencer: Our digital marketing services don't have any setup fees or contracts you're signing your life away too. And all of our services do include a 30-day money-back guarantee. So if you were interested in getting started with a custom-designed agency website loaded with the sales tools we've been looking at, please visit our website at Brightfire.com, or you can also speak with a BrightFire expert at (888) 778-4393.
Q&A on BrightFire's Sales Tool Suite
Spencer: And that concludes our webinar on BrightFire's Sales Tool Suite for insurance agencies. Now we'll start the Q&A session. If anyone has any questions on any of the tools or our agency websites. We'll do our best to answer any questions that come through. And if we don't address your questions during the webinar, someone from BrightFire will follow up with you via email later to make sure that gets addressed for you.
"Would I need to be a subscriber for one of the services listed for web quoting?"
Yes, that is correct. So most of those services like the PL Rater or EZLynx, you would need to subscribe with them in order to have access to it. But there's no additional cost on our end to integrate that into the website. 
Spencer: We've had several folks ask, if we can get a copy of the webinar and yes, we can definitely send that out. A copy of the recording, all of the attendees and folks that weren't able to make it today. And we had a question, is there any history of success or are things too new? So feel free to look up on our website. We've got a number of testimonials from current clients, and if you look out there for our reviews, independent places like Google, you'll see that we've got a really strong reputation with folks.
"Is the notification bar and video proposal option only available on the website packages or is that only available in the Sales Tool Suite?"
That's a great question Brandon. So the Sales Tool Suite that we've been talking about, that's actually something that's included if you have any website with us. So if you have either just the plain Jane website itself or that SEO Bundle, yeah you would have access to everything in that Sales Tool Suite, it's not an additional product that you'd need to add to your services. 
Spencer: And that's all that we have time for today. But again, any questions that we didn't answer, we'll make sure to follow up with everybody by email. And I wanted to say, thanks again. It's been great. Glad that everybody was able to join today and that concludes our webinar. Again, thanks from me and the rest of the BrightFire team. We really appreciate you attending the webinar. Thanks so much, everyone. I hope you have a great rest of your week and hope to see you again soon for one of these, take care.